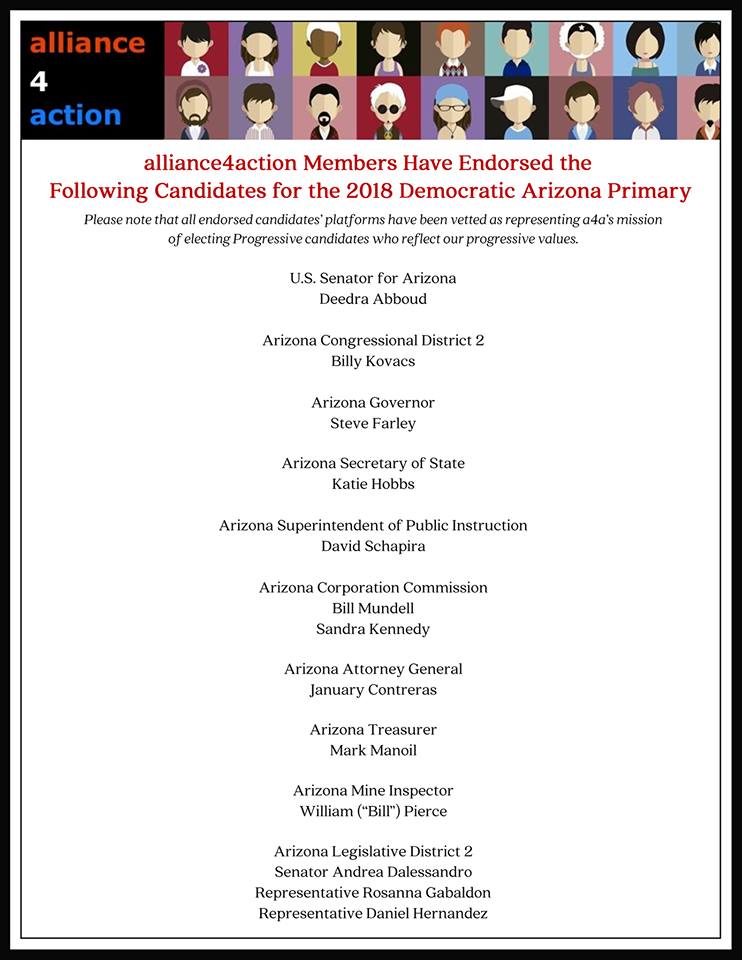 from their website, www.alliance4action.org:
"Who We Are
We are an alliance of progressive individuals in southern Arizona working to ensure a caring and inclusive country. We will act together to protect and strengthen our values, human and civil rights.
The alliance4action (a4a) is a citizens activist group that has become a powerful agent for creating and transmitting responses to current and anticipated actions by our State and National governments.
Based in Green Valley, a4a was created by the leadership of changeishappening! (cih!) and the Democratic Club of the Santa Rita Area (DCSRA) in November 2016. About 40 people, including leaders of several local organizations including faith based ones, attended the first meeting. By the end of January 2017, over 500 individuals had subscribed to the a4a email distribution list.
Recognizing that we will be more effective if we target our efforts, we formed action groups on the following immediate issues:
· Immigration
· Climate
· Heathcare (including ACA, Medicare/Medicaid)
· Education
· LGBTQ Rights
· Election of Progressive Candidates"
Carolyn's note:  Uncontested Democratic races for the Primary: Sec. of State, Attorney General, Treasurer, Mine Inspector and State Senate & House for LD 2.  But there is Republican opposition in the General Election 2018.
Vote wisely on or before 8/28/18.