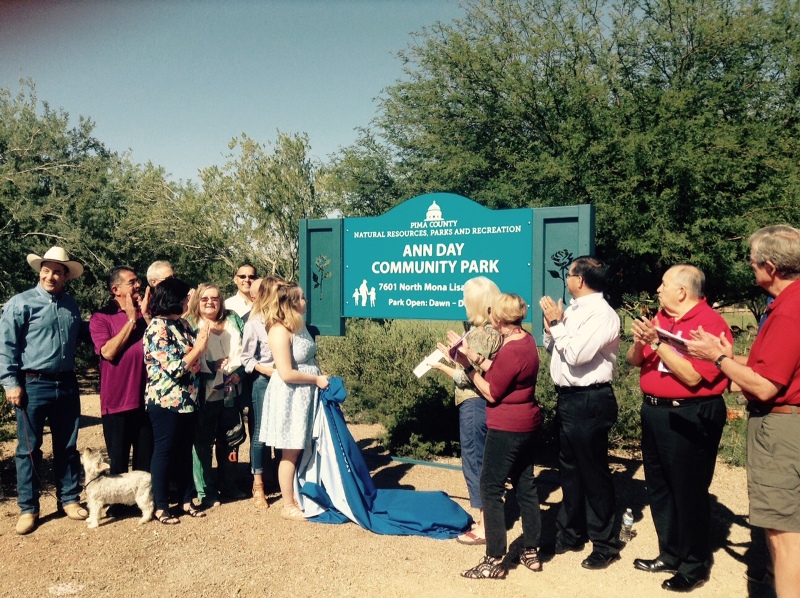 Fitting re-naming of the 34 acre Northwest Community Park yesterday in memory of the late District 1 Supervisor Ann Day, who was killed tragically in a head-on car accident on May 7, 2016. MC District 3 Supervisor Sharon Bronson spoke of her colleague Ann as a "cowgirl and can do person", who loved parks, and had even helped a Maui couple donate a Make a Wish mesquite tree there at the park. She also said that Ann was "a true problem solver across party lines". Day served on the Pima County Board of  Supervisors for 12 years(3 terms) , had retired in 2012.
This park is located at 7601 N. Mona Lisa Road (southwest corner of Magee and Mona Lisa Roads).
Ann Day's daughter Jill Watters, son in law Justice of the Peace Adam Watters (Precinct 1), and their 3 children (Caitlin, Courtland, Cassandra) were in attendance.  The grandchildren led the crowd in the Pledge of Allegiance.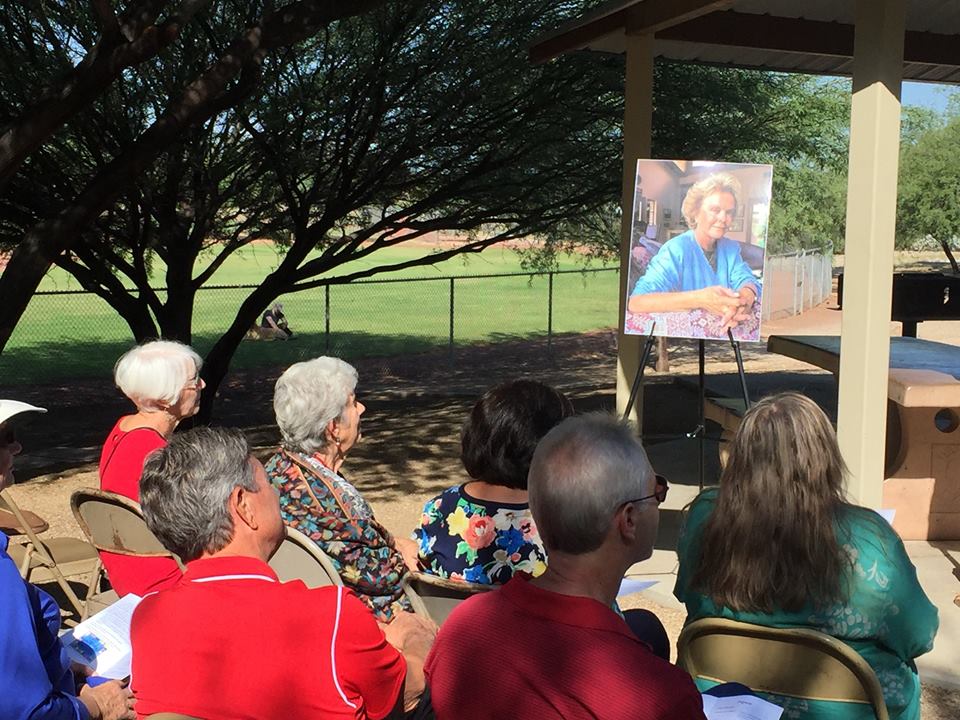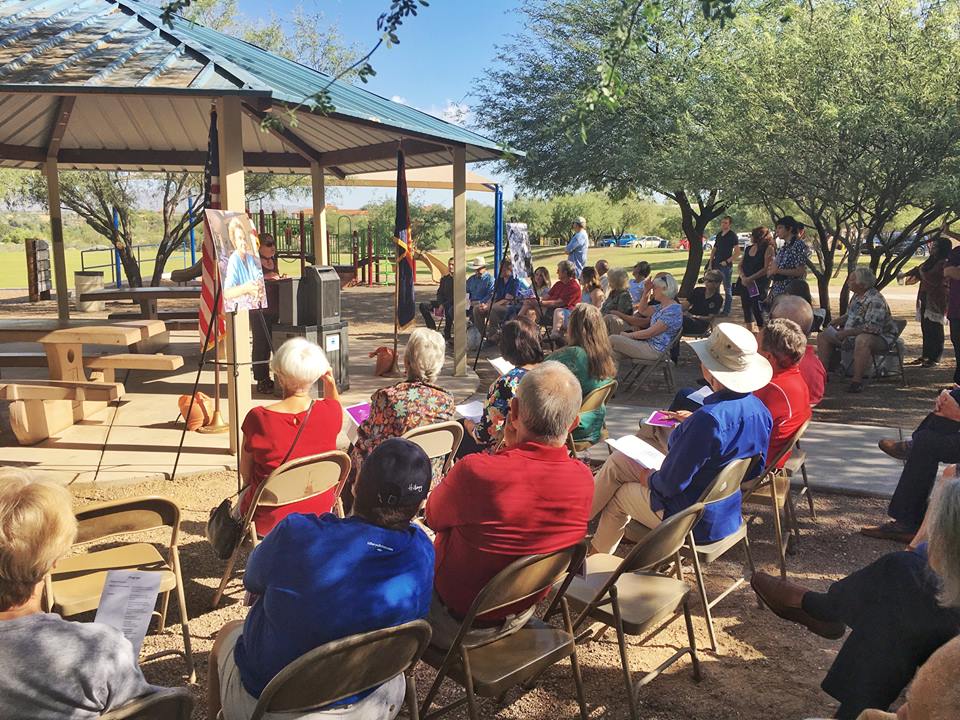 District 5 Supervisor Richard Elias spoke first expressing his condolences, saying he had been "fortunate" to have had Ann as his colleague. He spoke of her strong support of the Sonoran Desert Conservation Plan (SDCP), along with her "abiding love for landscape" and "strong set of convictions for the environment" of Southern Arizona, having grown up on the Lazy B Ranch. He said she will be in "his heart and mind for the rest of his life".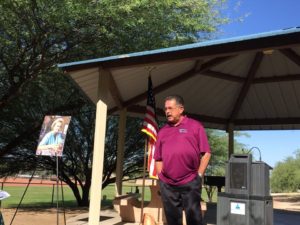 District 2 Supervisor Ramon Valadez jokingly reminded everyone that Ann Day was called "Anna Dias" in Spanish,  that it was great to have such good memories of her and the "happiness we shared with her". He remarked that Ann's legacy was a great example of "the difference one life makes".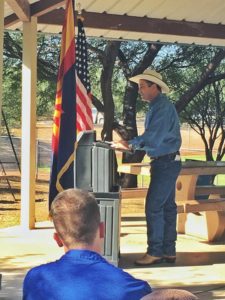 District 4 Supervisor Ray Carroll (her Republican colleague) said that he "loved Ann with all his heart", due to her "simple, fair way of conducting business", with a "lot of charity". He said when Ann was on the Pima County Board of Supervisors it was not "fractured, but congenial", due to her "moderate, reasonable and affordable decisions". He then read a letter from a toddler named Lauren who wanted playground equipment at the Northwest Community Park, which Supervisor Day facilitated in building. Lauren at age 3 attended the dedication of the park equipment and fondly called this northwest park "my park".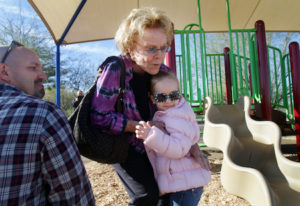 Former District 2 Supervisor Dan Eckstorm also served with Ann and said that there was "peace and harmony despite political differences", that he worked well with her in voting for issues important to her constituents.
Pima County Administrator Chuck Huckleberry also mentioned Ann's ranching background and how he suggested management agreements with ranchers for the SDCP, and Ann retorted to him that she was "glad she thought of it".  He said that he also thought that when Ann served in the Arizona State Senate (10 years) she was the "last member of a rational legislature", with respect to gas taxes and transportation.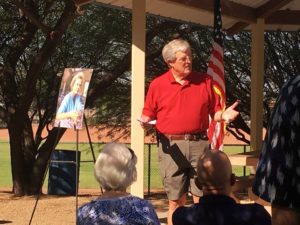 Then 3 neighborhood activist women spoke about how much they enjoyed working with Ann:
Diana Boros, Casa Adobe West 2 Neighborhood said that Ann asked her about "what she could solve", and brought neighbors and developers together, that Ann made her feel "like a friend, not a constituent".
Betsy Sandlin of Romero Neighborhood echoed the same sentiments, that Ann brought "intelligence, eloquence, and elegance" to the Board, and was generous in sharing what she knew.
Finally, Donna Heldinger of La Canada/Magee Neighborhood Assn. said she worked with Ann for all her 12 years on the board, that she was "definitely a friend", that Ann had a "heart for children and pets".
Jill Watters, Ann's daughter then thanked everyone for being present yesterday, for the honor bestowed upon her mother, to memorialize her with this park re-naming in District 1. She also said that the family was also "touched" by a tile for their mother at the Brandi Fenton Memorial Park (another Pima County park, where Ann's memorial service as held in May).
Following the speeches with about 60 persons in attendance, the Ann Day Community Park sign was unveiled (see photo below).
Also present today were Pima County Sheriff Chris Nanos; Pima County Chief Deputy Attorney Amelia Cramer; John Bernal, Deputy Pima County Administrator; and Brian Bickel, Democratic candidate for District 1 Supervisor.  Republican District 1 Supervisor Ally Miller was at this event, but left before the ceremony, allegedly because she had not been invited to speak.