The very popular Tucson Meet Yourself folklife festival has had to "reframe" itself for October 2020, due to the ongoing COVID-19 pandemic. Most of the performances are now virtual for the entire month of October, instead of actual performances live during the 2nd weekend of October.
Here's the schedule to view the various dance and musical acts:
https://tucsonmeetyourself.org/events/
The popular food booths at TMY are now called Tucson Eat Yourself and has been "reframed" as well, and it's not virtual of course. The TMY folks have arranged for 3 eating weekends of food booths/trucks at 3 difference locations: central, west and south, 11 to 5 p.m. all days:
October 10 & 11 at Mercado San Agustin, 125 S. Convento de Avenida (west)
October 17 & 18 at Cafe Santa Rosa, 2615 S. 6th Avenue (south)
October 24 & 25 at St. Demetrios Greek Orthodox Church, 1145 E. Ft. Lowell Rd. (central)
"Food-to-go from beloved TMY food vendors at 3 Tucson locations. Study the menu first then show up to order, pay, and take home. That might mean a little bit of waiting, but that's how it always is! And, while you wait, watch TMY performers share cultural expressions in music and dance on large LED screens in special performances filmed especially for 2020!"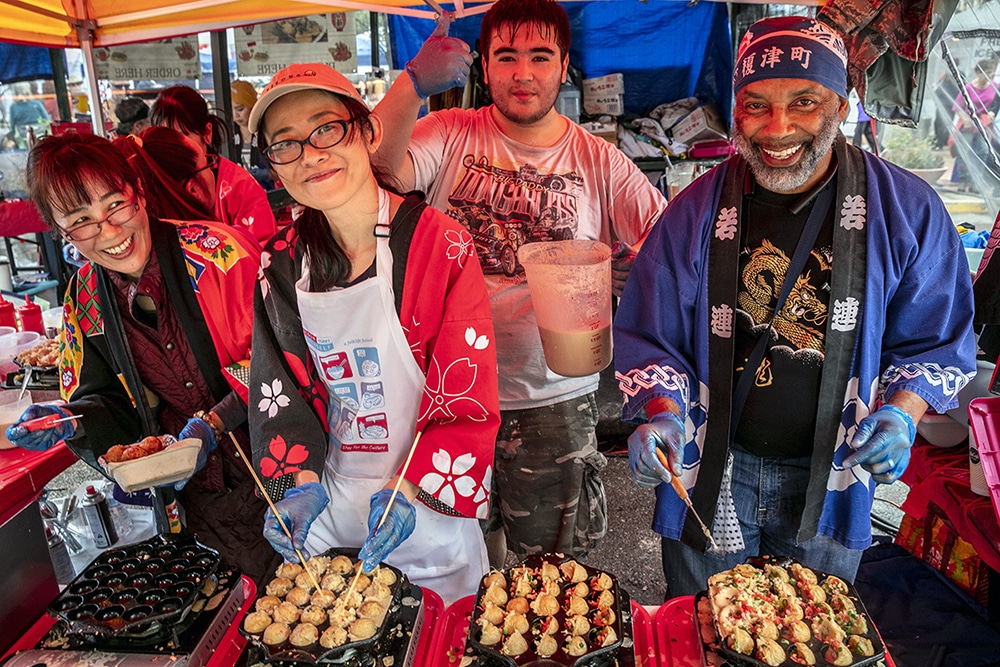 Tomomi Katz (on far left) and her helpers at the Takoyaki Balls Food booth, which will be at the weekend roundups on Oct. 11 & 12 and Oct. 24 & 25.  Photo courtesy of Steven Meckler for TMY.
There are other online events such as eight Folk Arts Marketplace artisans and Lit Up: Traditional Artists on Public Walls as well.
For the finale, Pascua Yaqui flutist Gabriel Ayala will perform live on October 30 at 6:30 p.m. and 8:30 p .m.
Renowned Pascua Yaqui performer Gabriel Ayala closes the 2020 festival with an on-screen drive-in concert at 1055 W. Grant Rd.  Suggested donation $10. 
"View the concert from your car at safe distances from other cars.
Purchase snacks from roving vendors.
Wear a mask, please, when not inside your car."

The 2020 TMY festival promises to be a unique reframing of a longtime Tucson tradition.