The grant application window has closed for school districts and charter schools to apply to receive a portion of the $20 million school safety grant approved by the state legislature.
Approximately 300 school districts and charter schools submitted just under 900 applications to fill over 1100 counseling, school resource officer, and social worker positions.
According to the Department of Education (and illustrated in the below pie chart provided by the Department,), 40 percent of the applicants requested funds to hire counselors; 34 percent wanted to retain social worker services; 26 percent wanted to secure school resource officers.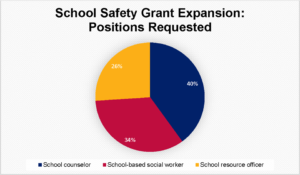 What Happens Next?
According to Richie Taylor, the Communications Director for the Arizona Department of Education, the applications will undergo a review process according to a rubric framework. These criteria will consist of:
"Schools that have no existing eligible positions, or schools that have such large ratios of students to that eligible position that there is presumably similar effect to schools without any positions (e.g., over 250 students to one school counselor); this tier will include schools that are applying for a renewal that would otherwise not have any resources. If there are still more applicants than resources, then ADE will use…"
"School report card data and grades – giving preference to schools that are struggling the most across statewide performance indicators, including schools with low graduation rates for high schools. If there are still more applicants than resources, then ADE will use…"
"School discipline and suspension data reported to the U.S. Office of Civil Rights by Arizona schools and districts."
Taylor also added that:
"Because ADE is enacting a fast-track application process for the School Safety Program, it will not use peer reviewers to subjectively score the quality of an application. Moreover, ADE is not requiring schools to include academic or crime data in their application as ADE has in previous cycles; therefore, ADE has identified already available, school-level statewide data sources that it can use for relevant statistics to assess need."
The application review process will last into November and the schools that receive a portion of the $20 million grant will be approved at the December 2, 2019, State Board of Education Meeting.
What is now Abundantly Clear?
The number of applications for over 1100 well-compensated positions clearly demonstrates that more monies will be needed for counseling, social worker, and school resource officer services in addition to those provided in the $20 million grant.
Commenting on this situation, Superintendent of Public Instruction Kathy Hoffman commented that:
"While it will take some time to get a complete picture of what schools have requested, our initial analysis shows that the demand will far exceed the $20 million in appropriated funds. School safety and the social wellness of our students is a top priority for my administration, and I recognize the urgent need for additional funds to meet the demand of school communities. I look forward to a continuing dialogue with the Governor's office and the Legislature to address the clear and immediate need for more funding for this program. I urge our state leaders to join my call to action to meet the safety needs of our schools without delay."
Later, on her Facebook Page, the Superintendent advised that:
"The Governor has stated he is also committed to adding more dollars for counselors, social workers, and school resource officers. I'm grateful for his partnership on this important issue."
Janine Menard, the former chair of the  Arizona School Counselor's Association (AzSCA) and member of its Board of Directors commented that:
"This is great news! Districts know what is best for their kids and it is clearly school counselors and school social workers. These numbers now give us strong data to go back to the legislators and show there is a need for more mental health services in schools. AzSCA will continue to push for more funding until our ratios are closer to the national average."
Hopefully, when the state legislature returns in January to consider its 2020/21 budget, all the legislators will recognize, like Superintendent Hoffman and Governor Ducey, that additional funds are needed for school and student safety as well as other vital areas for education.
The children of Arizona deserve nothing less.
Featured Image from collegexpress.com