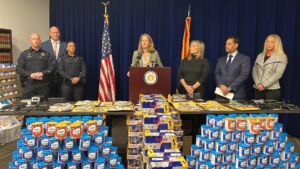 Like Governor Katie Hobbs and Secretary of State Adrian Fontes, the first 100 days of governing have been eventful for Arizona Attorney General Kris Mayes.
From creating a governing team to focusing on issues like protecting seniors, consumers, and children to worrying about what the Republicans in the State Legislature will attempt to do against reproductive freedom and the right to vote, the Attorney General has had a full plate since taking the oath last January.
Despite her busy schedule, Attorney General Mayes graciously took the time to respond to questions about her first 100 days in office.
The questions and her responses are below.
Madam Attorney General, please tell us your overall feelings about being Attorney General after almost 100 days in the position.
"It's been a whirlwind year, and I am so humbled to serve our great state as Attorney General. I'm only the second woman to serve in this position – of course, Janet Napolitano was the first – and I'm the first mom AG, of which I'm very proud. But women are master multi-taskers and know how to get things done."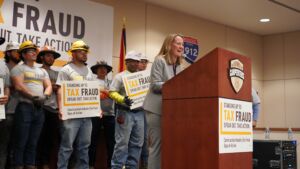 "I've been busy meeting with leaders in our office and across Arizona to discuss critical issues facing our communities. From the fentanyl crisis to protecting vulnerable groups like seniors and children, cracking down on fraud and cyber scams, combating human trafficking, fighting organized retail theft, and protecting our natural resources, I don't have to tell you – there is a lot of work to do."
To what extent have you been able to start fulfilling the campaign promises you made last year over these first three months?
"We're hard at work fulfilling the promises I made to the people of Arizona on the campaign trail. For instance, we just established the Reproductive Rights unit in the Arizona Attorney General's office, and we see how critical that is now with the recent rulings on medication abortions."
"The landscape would look drastically different now if I had not been elected. Mifepristone access is secure for Arizonans for the time being because we are part of the lawsuit in the Eastern District of Washington. That shows how important it is to have an Attorney General committed to fighting for the rights of Arizonans to make their own personal medical decisions."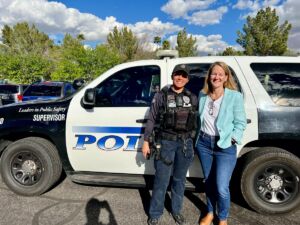 "We still have a lot of work to do. But, I am fighting every day for Arizonan's ability to make their own personal medical decisions, addressing the fentanyl crisis in our communities, fighting for consumers, working to ensure our state's water future, and being a lawyer for the people of this great state."
What have been the most pleasant surprises of being Attorney General?
"Meeting and working with the wonderful staff at the Attorney General's office. This office is staffed with incredibly talented individuals who come to work every day to protect the rights of Arizonans, and it's an honor to serve alongside them."
What have been the most challenging parts of being the Attorney General?
"The sheer breadth of the issues we have to deal with. There are so many things that require the urgent attention of this office. But every day, I roll up my sleeves and get to work."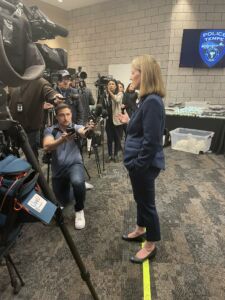 What is your reaction to the slim Republican majority at the State Legislature still persisting in passing bills that still cater to the theme of the 2020 Big Lie, restricting reproductive freedom, and other measures designed to pull the state backward with regard to legal protections and personal freedom/safety? Please explain. 
"Their priorities are wildly out of touch with what the people of Arizona want us as their leaders to focus on. But I've had productive conversations on various issues with legislators from both parties, so that gives me hope. And I think there are several issues we can work on in a bipartisan fashion, like the fentanyl and water crises. But no matter what, I will stand firm in defending our democracy and protecting the privacy rights of every Arizonan. Full stop."