The Arizona Daily Star has endorsed Canyon Fence businessman (and attorney) Tom Tronsdal in the Ward 3 Democratic primary.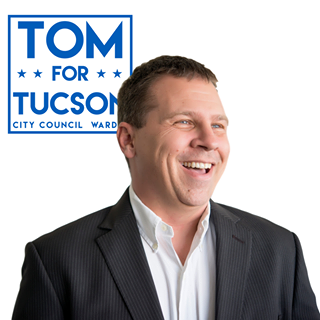 Here's the Star article:
http://tucson.com/opinion/local/star-opinion-why-we-like-tom-tronsdal-best-for-city/article_e3cf7db7-e7b6-5195-b6f5-c8623ade43ad.html
Tom is a political newcomer, and his campaign website is:
https://www.facebook.com/tomtronsdal/. He faces opposition from Felicia Chew, a teacher at Mansfeld Middle School and  retired attorney Paul Durham, former Chief of Staff for Ward 6 Councilwoman Nina Trasoff.
Tom's bio from his FB page:
"Tom has called Tucson home for over three decades. He is a graduate of Salpointe Catholic High School and the University of Arizona. He then went on to earn a law degree from the University of Kansas before returning to Tucson and settling in Ward 3 in 2001.
As a passionate community leader who is committed to improving the lives of Tucson residents, Tom dedicates extensive time to volunteerism and has served on multiple boards including the Prince Salvation Army, City of Tucson Parks and Recreation Commission, City of Tucson Small Business Commission, as well as his neighborhood association. In recognition for his service, Tom was recently awarded the Alumni Service Award for Outstanding Humanitarian Efforts from Salpointe High School.
Inspired by his own son, Tom founded The Great Pumpkin Race, one of the largest 5k races in Tucson, which raises funds to support causes focused on neurological conditions. He currently serves on The Abbie School Board of Directors, Arizona Center for Autism Board of Directors, and the Arizona Hydrocephalus Association Board.
Tom Tronsdal and his wife, Amanda, have been residents of Ward 3 for the past 15 years. Their son, Mac, is a 6th grader at The Abbie School. As the owner of the Canyon Fence Company, Tom employs 26 people serving Southern Arizona."
Vote wisely on or before August 29, 2017. Early ballots go out on August 9, 2017.