Arizona Secretary of State Adrian Fontes has one of the most watched elected positions in the country.
With the Grand Canyon State becoming truly purple and a battleground state in 2024 and beyond, Secretary Fonte's and his team's role in presiding over a smooth election process is pivotal to ensuring the right to vote is secured and Democracy is protected.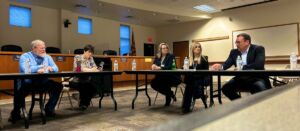 Since taking office in January, the Secretary has organized a team whose primary goal is to ensure elections in all of Arizona's 15 counties are conducted safely, fairly, and securely with full staffing complements.
They are also working to improve the statewide voter registration system so everyone who has a right to turn out does not face any challenges.
Secretary Fontes graciously took the time to discuss his first 100 days in office.
The questions and his responses are below.
Secretary, please tell us about your overall feelings about being Secretary of State after a hundred days in office.
"Well, I feel very confident that we've built a phenomenal team. I think that's the key to any leader's success. You're really measured by your accomplishments, but you can't really accomplish much on your own. I've assembled a stellar group of folks who are not going to get distracted by shiny objects."
"We've laid out some very ambitious plans. We've made great headway in working with the legislature on our budget and some other priorities."
"I'm very pleased with where we're at."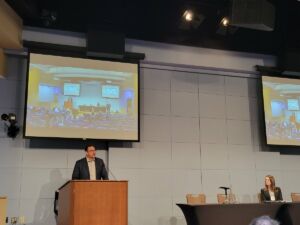 To what extent have you been able to start fulfilling the campaign promises you made last year over the first three months?
"We are already working diligently to improve the statewide voter registration system, which is going to allow us to do the ballot tracking system that we promised during the campaign. One is the backbone of the other. We've got to make sure the core system that exists here in the office is healthy first. That's on track, and I'm excited about that. We gained a new posture in the secretary's office regarding internet security and technical security information. The security profile is much more robust than it was. I'm excited about that. That's something that I talked a lot about during the campaign and we're moving and shaking when it comes to business services. These are mostly technical improvements that we're making behind the scenes that are going to have an impact as we move forward."
"We've laid some solid groundwork to succeed and I'm excited about that."
What have been your two most pleasant surprises since taking office?
"First, I'm very surprised that there are so many groups who come down to visit from all over the world. I've met people from all over the place on my daily walks down through Wesley Bolin Plaza. So that's been nice to be able to visit with folks from all over the place. So that was my first most pleasant surprise.
But the other thing is there's been a heck of a lot of support and people are really excited to help from across all of state government. We've had good working relationships that we're building and that we've built. I think more than just the state government. We've been very pleased to see that the folks out in the counties are working really, hard to make sure that 2024 works well, even against the backdrop of losing so many elections officials in the last year and a half. I think we're moving in the right direction and that, that makes me feel good."
Does that include administrators like those in Cochise County and some of the more radical members of the legislature?
"We have lost elect senior election officials in at least 10 of our 15 counties, many of them to threats and a very difficult work situation because of the political atmosphere. But many of the folks who've stepped in are very strong champions for voters regardless of their party affiliation. I've spoken with and visited with many of them so far, and I'm excited to say that on their team, and I am excited to have the Department of State support them in their efforts."
What have been the two most unexpected challenges since you've taken office? It could be expected as well.
It's a very different type of environment when your legislative body is comprised of 90 members in two houses versus five members in one house. Going from the county to the state has several levels of complexity deeper on that side. There's a challenge adjusting to that. I think communication is always a challenge. We're emerging from Covid and so communicating with folks across the very different spaces that we operate in is also challenging as well in intra-office, from the libraries and archives to the business services to our election folks. Then we've got offices around different parts of the state. Just making sure everybody stays connected is, is an ongoing challenge, but we welcome it.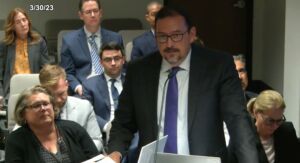 You mentioned threats among the election workers. Has security beefed up for you and your family personally? Have you received any threats since taking office?
All elections officials continue to receive threats. None of them welcome, of course. If you look at our budget, you'll see the initiation of state-funded security is part of our budget request. So we're hoping to be able to get that part of the request fulfilled in this budget cycle.
What is your reaction to the slim Republican majority at the State Legislature persisting in passing bills that still catered to the theme of the 2020 Big Lie? Please explain.
"Well, I guess sometimes the record skips and you have to listen to that same musical phrase over and over again. Eventually, the needle will move on and cooler heads will prevail. But for now, if your only policy is a grievance about 2020, that's your only policy, man., I'm hoping they'll start paying attention to water, strengthening our economy, supporting neighborhood schools, and moving forward on helping Arizonans live better, healthier, and cleaner lives."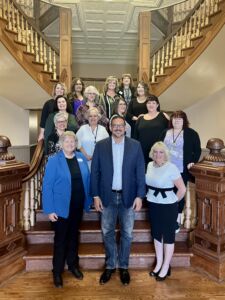 Is there anything not covered in the first five questions that you would like the reader to know about your first one hundred days in office?
"I think folks should know that I am very proud to be in this office. But more than that, I'm humble and grateful. There was a lot of work done by a lot of people across the entire state to help put me here. I just feel very lucky every day when I get to walk in here and sit at former Governor Castro's desk and make decisions that are going to help make Arizona a better place to raise our families."