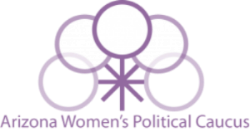 The Arizona Women's Political Caucus is proud to announce our
2016 Primary Election Candidate Endorsements.
Please help us in congratulating all our endorsed candidates and be sure to click on the links below to learn more about the candidates in your district and how you can help push them to victory!
If you are unsure about your district click 
here
.
*Designates incumbent or Previously Endorsed
Pima County Races:
Pima County Board of Supervisors District 3
Pima County Attorney                                   
Pima County Recorder                                  
Arizona Legislature:
LD 2
LD 3
Senate              Olivia Cajero Bedford*
LD 4
LD 6
LD 8
LD 9
LD 10
LD 11
LD 16
LD 17
LD 18
LD 23
LD 24
LD 25
LD 27
LD 28
As a multi partisan organization and affiliate of the National Women's Political Caucus, AWPC works across party boundaries to gain equality; whether a candidate is Republican, Democrat or Independent, we support pro-choice candidates and officials in elected and appointed office.
Thank you for your continued support. Your commitment has helped AWPC make a positive difference in Arizona politics since 1971!

Together we are changing the face of Arizona politics!

Sincerely,

Stephanie Coronado, AWPC State President