Pastor Helen Hunter, a community organizer, social justice fighter, and businesswoman wants to bring a new leadership style and governing philosophy to the constituents of Arizona Legislative District 16.
That would be a welcome change to the East Mesa and Apache Junction residents in the district because they have been served by fringe reactionary figures like Kelly "Donna Trump" Townsend and John "masks are like Holocaust tattoos"  Fillmore.
Those figures and new State House Nominee Jacqueline Parker (Townsend is running for the Senate) have continually championed positions that would turn the clock backward on progress.
Examples of this are demonstrated by Townsend and Fillmore's voting records. They show their:
Hostility towards members of the LGBTQ Community.
Willingness to build a border wall without building permits.
Reluctance to fully fund education.
Determination to make the minimum wage lower for teenagers.
Support to make the ballot initiative process harder.
Approval to allow loaded weapons on school campuses.
Determination to restrict a woman's right to choose.
They have also been hostile to mask-wearing during the COVID 19 Pandemic and Doug Ducey's half measures to contain it. They think he goes too far.
Helen Hunter would bring a new approach to governing in LD 16.
She wants to build bridges and include the whole community in the process.
She wants to move the district forward.
If elected, she would work to:
Protect the environment and water supply.
Champion social justice.
Promote sensible gun safety laws and criminal justice reform.
Strengthen public education.
Get quality, affordable, and accessible health care to people.
Provide fair and affordable housing.
Promote women's rights and equality for all.
Pastor Hunter graciously took the time to respond to questions regarding her candidacy.
The questions and her answers are below.
1) Please tell the voters two reasons they should pick you over your opponent.
"I should be elected to the AZ legislature because I am committed to addressing the needs and issues of all Arizonans, and not those of the select few, regardless of party affiliation, race, creed, religion, ethnicity, gender, or socioeconomic status. I will be a representative OF the PEOPLE, BY the PEOPLE and FOR the PEOPLE."
"My primary and initial focus upon entering the AZ House will be:
"Making affordable HEALTHCARE available to all Arizonians (especially in light of the current COVID 19 Pandemic)"
"Ensuring and providing funding and adequate, safe resources for K-12 education (especially in light of the current COVID 19 Pandemic)"
"Restoring and growing the AZ economy – job creation and supplementing the income and benefits of ARIZONANS, out of work because of the PANDEMIC."
"I will provide compassionate, comprehensive, competent and inclusive representation and leadership. I will be the Representative and Leader who listens to and acts on behalf of the people electing me to serve."
2) Please tell the voters at least two ways your opponent does not reflect the vision of LD 16.
"My opponents' position is not reflective of the needs of the PEOPLE as stated in goals such as "Don't CA my AZ", and "Stop Government Overreach". I am NOT in favor of reducing/eliminating protections for the PEOPLE of Arizona who are most vulnerable, in terms of healthcare, education, economics/jobs, environmental impacts, and social justice. Government purview and protections are necessary for PEOPLE whose only protection and representation is that of the Government."
 "My opponents' seem to show more interest in party politics rather than people politics, maintaining DIVISION vs creating UNITY, and "Keep Arizona Red!" vs "Keep Arizona healthy and safe."
3) Please tell the voters at least three public policy issues you will advance if you are elected.
"Making affordable HEALTHCARE available to all Arizonians (especially in light of COVID 19.)"
"Ensuring and providing funding, adequate, and safe resources for K-12 education (especially in light of COVID 19.)"
"Restoring and growing the AZ economy in a safe, just, healthy, and inclusive manner." 
4) Is there anything you would like the voter to know about you or your candidacy that has not been asked in the first three questions.
"I too have strong family values: I am a Pastor, Wife, Mother, Grandmother.  I am sensitive to HUMAN needs and I have my finger on the pulse of common everyday PEOPLE, through my training and work as a hospital chaplain and through my community and social justice advocacy.  I want to do everything within my power to keep my family, friends, colleagues, neighbors, and myself healthy and safe.  This means we all must DO THE MASK!"
For more information on Pastor Hunter and her candidacy, please click on her website here, her Facebook page here, and view one of her ads below.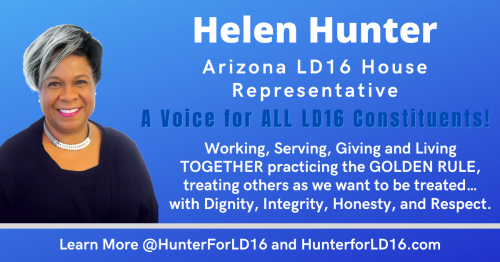 Please remember:
The General Election Day is on November 3. 2020. Please see the below graphic for all-important voting dates. 
Please check your voter registration at vote.
Register/sign up for the Permanent Early Voting List (PEVL) in Arizona or any state that allows early or absentee balloting and mail. Arizona residents can sign up at vote. 
Arizona residents, mail your General Election ballot by October 27, 2020, for the November 3, 2020 election. With recent issues with the Post Office, you should consider mailing them out by October 23, 2020, if not earlier. 
Check-in with the Secretary of State's office where you live to verify your mail-in ballot was received, processed, verified, and counted.
Know the voter ID requirements in your state.
If you can, support Clean Election Candidates with a small contribution.
Also, please remember to stay informed on all the candidates and vote for all the offices on the ballot.
Also, remember to research all the ballot initiatives, sign to get them on the ballot if you support the measure, and vote on them as well.