Arizona Legislative District (LD) 21, which includes all or parts of Peoria, Surprise, El Mirage, Youngtown, and Sun City, is one of the districts the Arizona Democratic Legislative Campaign Committee (ADLCC) is targeting for potential Democratic Party legislative pickups in 2020.
The Democrats are fielding 2018 Senate Candidate Kathy Knecht as a single shot candidate for one of the two-State House seats.
They have also recruited Brian Whitman to run against incumbent Rick Gray, for the Districts State Senate Seat.
An educator and volunteer with organizations such as the American Cancer Society, Mr. Whitman is running to secure all Arizonans quality and affordable health care, a well funded public education system with well paid highly qualified instructors, and a living wage for everyone.
Mr. Whitman graciously took some time to discuss his qualifications and his candidacy.
The questions and his responses are below.
Please tell the reader about yourself (education and experiences).
"I received my A.A. in Physical Education from Berkshire Community College. Received my B.S. in Physical Education from Bridgewater State College."
I have done many things throughout my adult life: YMCA staff, teacher, coach, racetrack staff/management, United States Bowling Congress tournament staff/management, and American Cancer Society staff, and many other things in-between."
"My wife and I moved back to AZ (for the third time) in 2013, settling in Peoria."
Please tell the reader what are at least three qualifications you have for the Legislative seat you are seeking.
"Leadership – I am a servant leader, meaning that I place the needs of those that I am leading above my own. Whether it was paid staff or volunteers, my philosophy did not waver. I was there to make those around me successful."
"Background – While I am new to politics, I am not new to "public service". I have worked with people from across the country, in almost every walk of life, working together to achieve a common goal. These experiences will serve me well as I attempt to bring balance back to the state capitol."
"Flexibility – I have proven over the years that I can adapt and adjust to various challenges and circumstances. I have been open to learn new skills, grow new relationships, and flourish in new situations and environments."
"PLUS – My wife and I love Arizona and the West Valley!!"
What are at least two reasons you would be a better public servant than your likely Republican opponent?
"I will be accountable and available to the residents of LD21 with coffee hours, newsletters, and "meet-ups", I will be visible and willing to meet and talk issues and legislation."
"I am open to working across the aisle and utilizing compromise to get things accomplished to better the lives of ALL LD21and Arizona residents."
If elected, please describe the top two education issues you would like to focus on as a legislator?
"Increase spending on public education (teacher's salaries, money spent per pupil, school counselors.) I support the Invest In Ed Initiative. It will bring $940 million in new, annual, permanent funding to educate our students in public schools."
"I would ban the expansion of Empowerment Scholarship Accounts (ESA) otherwise known as vouchers. Public money (taxpayer revenue) should be used for public education not for private school enrollment (in most cases)."
If elected, please describe the top two healthcare issues you would like to focus on as a legislator?
"I favor AHCCCS expansion to allow a buy-in option for individuals or families who qualify."
 "Health Equity. Arizona citizens should have access to affordable and equitable healthcare regardless of their age, income, education, or ethnic background." This would include telemedicine (telehealth) coverage for all services that would normally be covered for an in-person visit.
If elected, please describe the top two sustainability issues you would like to focus on as a legislator?
"Water – Water is a valuable resource and should be treated as one. We all want businesses and families moving to Arizona, that's what keeps our state alive and vital. Incentivizing Xeriscaping on all new builds of facilities and houses would be a step in the right direction."
"Renewable Energy – Place more emphasis on solar (we average 299 sunny days in Phoenix per year) and wind to generate electricity."
If elected, please describe the top two helping children issues you would like to focus on as a legislator?
"I want to ensure that every child has access to healthcare."
 "There should be a promotion of safe gun storage in homes. Far too often we hear the story of a child finding a loaded gun in their home. Most of these stories have tragic endings. "'
"I also support kinship foster care services for a child who has been removed from the child's home."
If elected, please describe the top two helping the most vulnerable issues you would like to focus on as a legislator?
"Reducing homelessness in LD21 and Arizona."
 "Increasing the minimum wage to $15 an hour in the next few years."
If elected, please describe the top two law enforcement issues you would like to focus on as a legislator?
"Arizona has one of the highest incarceration rates in the country. I would work with law enforcement and district attorneys to lessen that rate."
"Encourage community involvement by local police departments (volunteer coaches, mentors, etc.)"
If elected, please describe the top two immigration issues you would like to focus on as a legislator?
"Secure our border in a humane and compassionate way."
 "To process border applications for asylum in a prompt, safe, and equitable fashion."
If elected, please describe the top issues facing women, minorities, and the LGBTQ communities that you would like to focus on as a legislator?
"There should be no discrimination against women, minorities, or the LGBTQ community regarding pay, housing, healthcare, education, or any other rights or opportunities afforded any citizen of Arizona."
If elected, please describe the top two government reform issues you would like to focus on as a legislator?
"To avoid any questionable circumstances or actions, and to give consequences to those actions, the Legislature should adopt ethics rules governing personal relationships with lobbyists."
 "End Legislative Immunity in Arizona. All Arizona laws should apply to lawmakers."
"Dirty Money, or Dark Money, means political spending when the original source remains secret. I support transparency and the Outlaw Dirty Money Initiative."
Is there anything you would like to let the reader know about yourself that has not been addressed by the previous questions?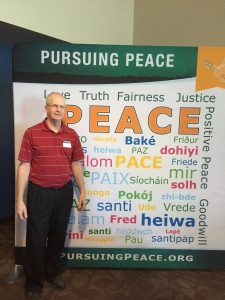 "If anyone would like to contact me with questions and/or concerns please email me at whitman2020@yahoo.com or visit our campaign website: www.whitmanazld21.com "
Rick Gray, the Republican leader in the State Senate, has a voting record that leans more right and less forward than the legislative agenda Mr. Whitman would pursue.
During his tenure in the Senate and earlier in the State House, Mr. Gray has voted for:
Funding education at pre-2008 levels.
Giving lower minimum wages to younger residents.
Putting obstacles in front of the ballot initiative process.
Restricting a woman's right to choose.
Doing away with some campaign finance reforms.
Allowing individuals to carry concealed weapons.
Brian Whitman offers the people of LD 21 a more positive, forward, and inclusive vision than the current Senate incumbent.
The people should consider his program and prescriptions to help the residents of LD 21 when deciding whom to support in November 2020.
Please remember to:
Turn out and vote.
Register/sign up for the Permanent Early Voting List (PEVL) in Arizona or any state that allows early or absentee balloting and mail. Arizona residents can sign up at servicearizona.com
Arizona residents, mail your General Election ballot by October 28, 2020, for the November 3, 2020 election.
Check-in with the Secretary of State's office where you live to verify your mail-in ballot was received, processed, verified, and counted.
Know the voter ID requirements in your state.
If you can, support Clean Election Candidates with a small contribution.
Also, please remember to stay informed on all the candidates and vote for all the offices on the ballot.
Also, remember to research all the ballot initiatives and vote on them as well.
Remember Election Day is on November 3. 2020.