There are two candidates vying to be the next Maricopa County Treasurer.
Retired Army Chief Warrant Officer Dan Toporek wants to work for the people.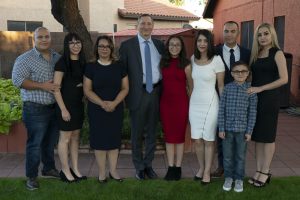 His military service demonstrates that.
Arizona State Legislator John Allen wants to work for the special interests.
His voting record, including his support to shield businesses from liability suits during the pandemic, not wanting two-year colleges to offer four-year degrees, allowing the construction of a border wall without building permits, wanting to reduce the minimum wage for teenagers, and allowing gun sales without background checks demonstrates that.
Pledging to be transparent, collaborative, and innovative, Mr. Toporek vows to work with others, prudently invest in the long-term future of the County, and be accountable to the people he serves.
Endorsed by the Realtors Association PAC and the County Employees Union Workers, Mr. Toporek graciously took the time to discuss his candidacy and goals for the Treasurers' office.
The questions and his responses are below.
Please tell the voters two reasons they should pick you over your opponent?
  "I will increase the transparency, collaboration, and innovation of the Treasurer's Office."
"Transparency is important because the Treasurer handles the people's money, and the people not only deserve to see how their tax dollars are collected, invested, and disbursed, they must have visibility so they can hold me and the other elected officials accountable, the people of Maricopa County are not customers, they are the boss."
 "We need to increase collaboration with the other agencies inside Maricopa County, the past Treasurer treated Maricopa County as an island unto itself. I will reverse that and work with the other County Treasurers and the State Treasurer to ensure we bring best practices to our office and significantly increase our investment leverage in a time when revenues will be down due to the economic impact of COVID."
 "Innovation is another important priority. I will leverage the experience of the professional staff of the Treasurer's office and listen to their ideas and empower them to find new ways to do our job of collecting taxes, disbursing the funds, and safely investing the people's money to generate revenue without raising taxes."
 "We also need to revise the county website which has not adequately published the county's investment performance since 2017. One of the Treasurer's jobs is to educate voters on how their money is being spent. If they do not see how their money is spent, they cannot hold the people entrusted with the money accountable.  We will put information on the site that people can use to understand how the Treasurer's Office is performing and how the people's money is being spent."
  "I have dedicated my life as a public servant and a defender of the Constitution."
"I have only one allegiance and that is to work for the people of Maricopa County. I do not have any further political goals, so I will not put my political career ahead of the interests of the people.  My opponent has made politics his career, he has many political allegiances that he needs to maintain to further his career goals, and he has many political foes.  He has time and time again put his party ahead of the interests of the people.  I will listen to ideas and work with Democrats and Republicans to ensure the best policies are put into place to support the people's interests."
Tell the voters at least two ways your opponent does not reflect the vision or direction of the Treasurer's office.
 "My opponent is a career politician that is looking to win his next election.  He started his political career in 2000 and has been a candidate in every election since, except in 2010.  His priority to advance his political career over his duty to serve the people's interest is clear."
 "My opponent has spent his long, political career serving his own interests and those of his friends and political allies.  I believe that an elected official's most important responsibility is to uphold their oath of office to serve the people that elected them.  I swore an oath to defend the Constitution, and I kept that oath even when real bullets were flying towards me.  My opponent put his political alliances ahead of his oath when, as Chair of the House Ethics Committee, he dismissed an investigation of ethical violations against a political ally.  I would have put the people's interest first and let the investigation finish.  If his ally did not have any violations the evidence would have shown the charges were wrong. The oath should be to the State Constitution and not your political allies."
Tell the voters at least two public policy issues you will advance if you are elected to the Maricopa County Treasurer's office?
 "I will advocate updating the way low-income seniors are evaluated for property tax increase deferment. Right now, the law is based on a fixed dollar amount that is so low, that few low-income seniors qualify.  This forces them to decide on paying for needed expenses or paying their property tax."
 "I will look for new ways to increase revenue, whether through collaboration, advocating for new revenue sources, or sharing cost savings practices across County offices. I will also hire a Deputy Chief that has a strong investment background to find ways to lower costs and improve revenue without raising taxes.  It is important to know if my opponent will also commit to replacing the current Deputy Chief, Russell Pearce."
 "I oppose HB2445 which fundamentally and detrimentally changes property tax enforcement. My opponent voted for HB2445, even though 14 of 15 Arizona County Treasurers opposed the bill. It is designed to cure a problem that does not exist. Once we learn the facts, we have to put partisan politics aside and oppose special interest laws that harm the people's interest."
Is there anything you would like the voters to know about you or your candidacy that has not been asked in the first three questions?
 "My job is to execute the programs in the people's interests, not fulfill a political agenda. The only policies I am going to advocate for are the ones in the people's interests. I do not care if a good idea comes from a Democrat or a Republican. If it is a good idea that serves the people's interests, I will advocate for it.  If not, I will oppose it regardless if it comes from a Democrat or a Republican."
 "Please compare my life of service with my opponent's political track record and judge who is more likely to work for the public good."
 "This job requires someone with a history of planning for contingencies, such as the revenue reduction we will face due to the COVID-19 crisis, rather than short-term political expediency. I will use the experience I gained as a military planner to make sure that the office is set up to serve the long-term interests of the people."
 For more information on Dan Toporek and his candidacy for the Maricopa County Treasurers office, please click on his interview with Maricopa County School Superintendent Candidate Jeanne Casteen here, his campaign website here and Facebook Page here.
Please remember:
The General Election Day is on November 3. 2020. Please see the below graphic for all-important voting dates. 
Please check your voter registration at vote.
Register/sign up for the Permanent Early Voting List (PEVL) in Arizona or any state that allows early or absentee balloting and mail. Arizona residents can sign up at vote. 
Arizona residents, mail your General Election ballot by October 27, 2020, for the November 3, 2020 election. With recent issues with the Post Office, you should consider mailing them out by October 23, 2020, if not earlier. 
Check-in with the Secretary of State's office where you live to verify your mail-in ballot was received, processed, verified, and counted.
Know the voter ID requirements in your state.
If you can, support Clean Election Candidates with a small contribution.
Also, please remember to stay informed on all the candidates and vote for all the offices on the ballot.
Also, remember to research all the ballot initiatives, sign to get them on the ballot if you support the measure, and vote on them as well.