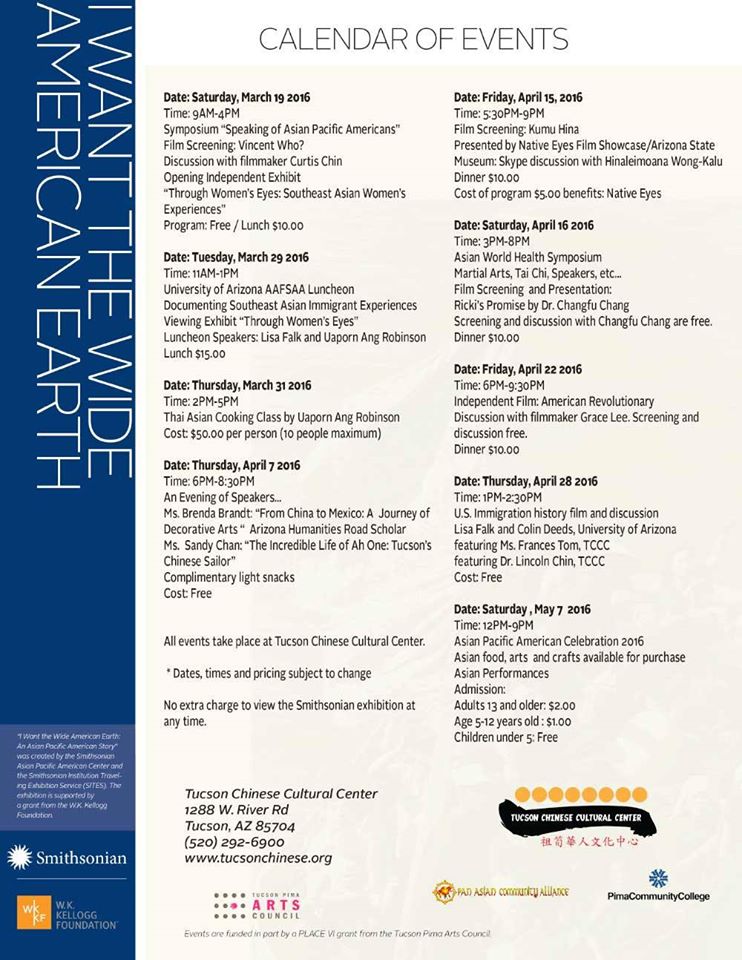 "I Want the Wide American Earth: An Asian Pacific American Story" was created by the Smithsonian Asian Pacific American Center and the Smithsonian Institution Traveling Exhibition Service (SITES). The exhibition is supported by a grant from the W.K.Kellogg Foundation and is a set of large panels about Asian Pacific American history. It will be at the Tucson Chinese Cultural Center through May 29, 2016.
Desert Leaf magazine (March 2016, pages 42-47)  had a good article about what Asian Pacific Americans have endured in America:  http://trendmag2.trendoffset.com/publication/?m=12024&l=1. As a former Legislative Aide to the late U.S. Senator Daniel Inouye (D-Hawaii) I know this story well.
More info: www.tucsonchinese.org and flyers of each of the upcoming events on Facebook: https://www.facebook.com/TucsonChineseCulturalCenter/?fref=ts.
UPDATE: March 29 event time has changed to 6 to 8:30 p.m. (dinner), not a luncheon. And May 7 event only goes to 7 p.m., not 9 p.m.
March 19 opening schedule for "Speaking of Asian Pacific Americans" below: