Last week in an interview with the Chicago Tribune, Attorney General William "Coverup" Barr spewed all kinds of bullshit about how mail-in voting was not secure and susceptible to fraud, offering only hypotheticals and not providing any evidence.
And then he went completely off the rails.
When asked about all the recent reports on whether Donald Trump would peaceably leave office if he lost the election, Barr responded:
"You know liberals project. All this bullshit about how the president is going to stay in office and seize power? I've never heard of any of that crap. I mean, I'm the attorney general. I would think I would have heard about it. They are projecting. They are creating an incendiary situation where there will be loss of confidence in the vote."
Oh really? Just since "Billie belongs behind Barr's" interview:
The Post's Greg Sargent explains, Trump just repeated his ugliest claim about the election. Why isn't it bigger news? (excerpt):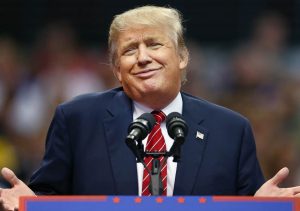 At his Nevada "covid superspreader" rally, Donald Trump railed that Democrats are rigging the election, "because it's the only way they're gonna win."
And Trump recently told supporters in Wisconsin that "the only way we're going to lose this election is if the election is rigged."
Trump and his top advisers only occasionally face follow-up questions about this. When Fox's Chris Wallace pressed Trump recently on whether he "might not accept the results of the election," Trump replied: "No. I have to see."
Appearing on "Fox & Friends" on Tuesday morning, President Trump again told his supporters to believe that if the election doesn't deliver the result they want, the outcome is inherently illegitimate — that there are no democratically legitimate circumstances under which he and his supporters can lose in a fair election.
By my count, this is the third time he has stated this explicitly in recent weeks. Trump will generally say both that the election is likely to be rigged and fraudulent — say, due to vote-by-mail — and that he can lose only if that happens. Yet the political press usually responds by fact-checking only the first half of this, by debunking his claims about fraud.
But the political media seem to largely tolerate or avert their eyes from the second underlying idea — that the political system cannot deliver a legitimate outcome in which he loses. He and his top advisers almost never face any tough questioning about that second series of claims.
That can't be okay. In so doing, we're letting the entire deception campaign directed at his supporters to fake-justify his efforts to corrupt the election and so much more go largely unexamined.
What Trump is telling supporters
Should we care about this? One might argue that it doesn't matter what Trump says about it — that Trump's declaration of intent not to accept a loss will be irrelevant to who actually wins the electoral college.
But that misses a key aspect of what makes all this so pernicious: Trump is telling untold numbers of supporters that they shouldn't accept a losing outcome as legitimate.
And the larger context here is important: This comes even as Trump has also suggested to his supporters in every which way that they should prepare to resist such an outcome as well.
For instance, Trump and his advisers have repeatedly insisted that the winner must be declared on election night or soon after. When you take that along with his frequent insistence that late-counted mail ballots will be automatically rigged against him, that amounts to an exhortation to supporters to be on guard against an effort to steal the election from them via mail votes.
That's the key context for understanding Trump's claim that no losing outcome can be legitimate. It creates a framework within which Trump supporters are supposed to see it as entirely justified if and when he seeks to declare untold numbers of ballots cast against him illegitimate.
Yes, it might not matter to the actual outcome what he tells them to think. But it certainly makes political violence or other deep civic damage more likely.
Long-time Donald Trump confidant and GOP ratfucker, and convicted felon, Roger Stone said that the president should declare "martial law" to seize power if he loses what Stone characterized as an already corrupt election. Roger Stone Calls For Trump To 'Declare Martial Law' To Seize Power If He Loses: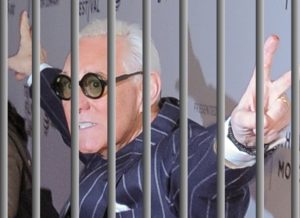 The results will only be legitimate if the "real winner" — Trump — takes office, regardless of what the votes say, Stone declared. A loss would apparently be justification for Trump to use force to take over the nation.
Stone, who worked as an adviser in the last Trump campaign, made the astonishing statements Thursday on the InfoWars program of far-right conspiracy theorist Alex Jones. Both men talked of an ongoing "coup" against Trump, and Stone inexplicably claimed that he predicted "almost three decades ago that this moment would come."
Stone appeared resigned to a Trump loss — but blamed it on the baseless claim that early voting has already been "corrupted."
To safeguard Trump's position, Stone called for federal authorities to seize ballots in Nevada, for FBI agents to physically block certain voters from casting their ballots, and for Trump to use his powers for widespread arrests to solidify his power, Media Matters first reported.
Under martial law and the Insurrection Act, Trump will have "the authority" to arrest Facebook CEO Mark Zuckerberg, Apple CEO Tim Cook, "the Clintons" and "anybody else who can be proven to be involved in illegal activity," Stone said. He also called for the immediate arrest of former defense secretary James Mattis for "sedition," apparently because he feared Trump was unfit for office, according to Washington Post journalist's to Bob Woodward's upcoming book, "Rage."
In addition, Stone warned, journalist also risk arrest. "If the Daily Beast is involved in provably seditious … acts" in a new Trump future, their "entire staff can be taken into custody and their office can be shut down." "They want to play war, this is war," he added.
Stone demanded that "the ballots in Nevada on election night should be seized by federal marshals" and not counted, claiming with absolutely no evidence that "they are completely corrupted."
Former Nixon White House counsel John Dean blasted Stone for calling on Trump to "declare himself America's dictator" — voicing what "many Republicans crave."
Roger Stone wants Trump to declare himself America's dictator. Roger is saying what many Republicans crave — a Trump dictatorship. Roger will be one of those provoking violence when Trump loses. Indeed, he will be leading the fruitcake's protest parade. https://t.co/TdWVwIcqal

— John W. Dean (@JohnWDean) September 12, 2020
And then there is Roger Stone's protege, and equally mentally unstable Michael R. Caputo, who somehow has an official position at the Center for Disease Control (CDC). Trump Health Aide Pushes Bizarre Conspiracies and Warns of Armed Revolt: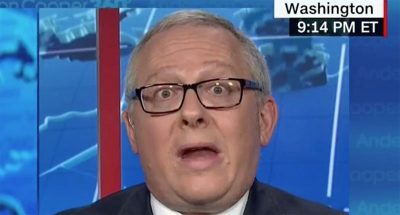 The top communications official at the powerful cabinet department in charge of combating the coronavirus made outlandish and false accusations on Sunday that career government scientists were engaging in "sedition" in their handling of the pandemic and that left-wing hit squads were preparing for armed insurrection after the election.
Michael R. Caputo, the assistant secretary of public affairs at the Department of Health and Human Services, accused the Centers for Disease Control and Prevention of harboring a "resistance unit" determined to undermine President Trump, even if that opposition bolsters the Covid-19 death toll.
Mr. Caputo, who has faced intense criticism for leading efforts to warp C.D.C. weekly bulletins to fit Mr. Trump's pandemic narrative, suggested that he personally could be in danger from opponents of the administration. "If you carry guns, buy ammunition, ladies and gentlemen, because it's going to be hard to get," he urged his followers.
"You understand that they're going to have to kill me, and unfortunately, I think that's where this is going," Caputo also said.
He went further, saying his physical health was in question, and his "mental health has definitely failed."
Well no shit, Sherlock! What was your first clue?
"I don't like being alone in Washington," Mr. Caputo said, describing "shadows on the ceiling in my apartment, there alone, shadows are so long." He also said the mounting number of Covid-19 deaths was taking a toll on him, telling his viewers, "You are not waking up every morning and talking about dead Americans." The United States has lost more than 194,200 people to the virus.
"I see dead people."
Michael Caputo is some serious piece of shit like Roger Stone, as Yahoo News describes:
A disciple of Nixonian "dirty trickster" Roger Stone, Caputo has worked for Oliver North, Russian energy giant Gazprom and, most recently, Trump, joining his presidential campaign back when few were taking that campaign seriously.
Caputo did not last long on Team Trump: Mockery of Corey Lewandowski, who had just been deposed as Trump's campaign manager, led to Caputo's own departure. Yet he remained unfailingly loyal to his former boss. That was especially the case during the investigation of Russian electoral interference conducted by special counsel Robert Mueller.
Given his own dealings in Russia (he had lived and worked there in the 1990s), Caputo himself became a minor figure in the investigation. He admitted that being questioned by Mueller's team was "kind of frightening," but when Mueller finally released his report, Caputo, like Trump, treated it as a complete exoneration. "All the haters can go to hell," he said at the time.
His unfailing support of Trump was followed by his appointment at HHS. Some reports said the hiring had been facilitated by Daniel Scavino, the president's former golf caddie who is now a top West Wing adviser. Scavino, however, told Yahoo News he had nothing to do with the decision to hire Caputo to manage communications at HHS.
Critically, "Caputo has no experience in health or medicine."
Recent days have seen Caputo's standing erode, following a Politico report that he and his advisers were pressuring the CDC to alter language in its routinely published studies, known as Morbidity and Mortality Weekly Reports, to more closely reflect Trump's own [insane] views and imperatives.
"Nothing to go out unless I read and agree with the findings how they CDC, wrote it and I tweak it to ensure it is fair and balanced and 'complete,'" went one email to CDC Director Robert Redfield from Paul Alexander, a Canadian health researcher Caputo hired, who has a habit of questioning medical consensus.
UPDATE: CNN reports today, HHS says spokesman will take a two-month 'leave of absence' following apology for conspiracy-laden rant:
"Today, the Department of Health and Human Services is announcing that HHS Assistant Secretary for Public Affairs Michael Caputo has decided to take a leave of absence to focus on his health and the well-being of his family. Mr. Caputo will be on leave for the next 60 days," HHS said in a statement.
60 days? Dude, just resign now. Your time is almost over anyway.
Finally, there is the Trump-centric conspiracy theory QAnon, which has been linked to violence, and an FBI intelligence bulletin from the bureau's Phoenix field office, dated May 30, 2019 (Scribd), describes as "conspiracy theory-driven domestic extremists," and a growing domestic terrorism threat.
QAnon Follower Calls for "Patriots To Take Matters into Their Own Hands" and Arrest Democrats: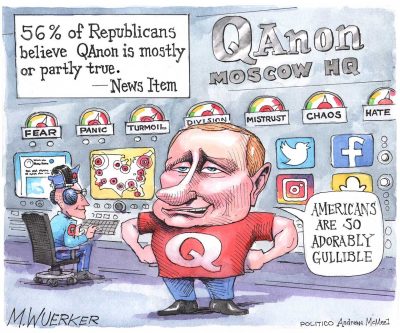 QAnon conspiracy theorist Mark Taylor appeared on Chris McDonald's "The MC Files" YouTube program and called for "patriots to take matters into their own hands" if Trump doesn't start arresting prominent members of the Democratic leadership.
Taylor acknowledged that President Donald Trump "can't go in and start arresting a lot of these people right now because it would look like he was a dictator trying to arrest his opposition during the election" but nevertheless said the president "can't wait too long because we don't want a civil war starting because the patriots are fed up with this."
"[There] was a very well-known and reputable a military-type of Twitter account that put out a statement from an ex-veteran that was basically putting the warning out that you guys better get your stuff together because if we take matters into our own hands to take back this country, it ain't going to be good. And that's what I've been warning about," he said.
Taylor continued, saying he has a group of "veteran friends" who he can call on to arrest Democrats if it came to that.
"One of them, he said, 'We've got 14 million veterans that can walk into combat today.' Today. Think about that. In this country. I have warned that if they wait too late, if we're not careful, if they don't show something, that justice is coming—at least show the patriots that justice is coming—it will buy some time until the election," he said.
Those who subscribe to the QAnon conspiracy theory believe a cabal of Satan-worshipping pedophiles who run a global child sex-trafficking ring are plotting to undermine President Trump and oust him from office. The president generated controversy last month after he praised subscribers of the QAnon conspiracy theory, saying they "love our country."
I don't know what makes this nutball think that all military veterans are Trumpsters and unhinged QAnon head-cases like him. Many veterans and active duty military take their oath of service seriously and are loyal Americans who will defend their country and the Constitution against these insurrectionists who want to get their "civil war" fantasy on. Don't dare to call yourselves patriots. You Russian "useful idiots" don't even know the meaning of the word.