by David Safier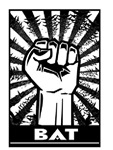 This is one of those times when bad is good and badass is even better. A loose confederation of educators around the country have formed a group, Badass Teachers (BAT), to speak out against corporate education reform. It's been around for a week and has 19,000 members in its Facebook group. According to the Badass Teachers Association website,
This association is for every teacher who refuses to be blamed for the failure of our society to erase poverty and inequality, and refuses to accept assessments, tests and evaluations imposed by those who have contempt for real teaching and learning.
We're watching the beginning of a movement to fight back against the conservative/corporate "education reformers." Teachers want to be able to teach, and parents are growing tired of seeing their kids alternate between testing and being taught how to become better test takers while they watch their neighborhood schools being shut down. And both the left and the right are questioning the Common Core, for different though not entirely dissimilar reasons.
For Facebook folks who want to keep up with the progressive education movement, join the Badass Teachers and Network for Public Education. You'll get links to articles and blog posts from around the nation, including a few from yours truly.
You can watch a short BAT video below the fold.