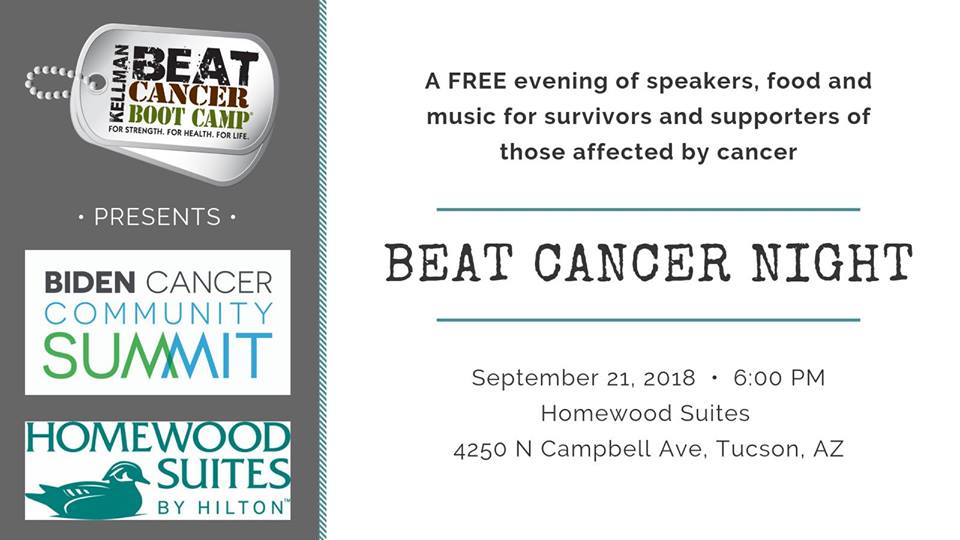 "Hear from experts in the field of cancer treatment and inspirational speakers whose lives have been forever changed by their battle with cancer.
A FREE EVENING presented by Beat Cancer Boot camp in conjunction with Biden Cancer Initiative filled with speakers, food music and SUPPORT.
We strive to focus on the patient's journey through the process from prevention through a cancer diagnosis, treatment, and survivorship.
But a conversation on the national stage is not enough… The Biden Cancer Initiative aims to make this Summit relevant to the concerns of patients, families, and communities."
https://www.facebook.com/events/254924798561604/

Carolyn's note: Most of us know someone who is battling cancer right now, or did not survive it (like my 37 year old aunt who died from stomach cancer). Good medical care and support groups like this didn't exist years ago, so check out Beat Cancer Night.
Support volunteer citizen journalism at the Blog for Arizona with a donation today. Your PayPal contribution keeps the Blog online and sustains a free press in Arizona.