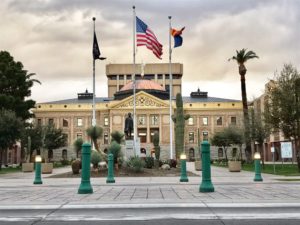 Recent reports have revealed the extent legislators have relied on outside extremist groups to craft legislation to be considered on the State House and Senate Floors.
Other accounts, by reporters like  Laurie Roberts of the Arizona Republic and Jim Small of the Arizona Mirror have focused on some public servants like LD 20 State Representative Anthony Kern (who supported a bill that would take bad cops like him off a public list) and LD 14 State Senator David Gowan (who supported legislation that would improve his fireworks business) that have run for office with a primary goal to enrich and benefit themselves instead of working for the people they represent.
Unfortunately, these are not the only legislators that have robbed from the taxpayer so they can give to themselves.
First, there are State Senators (LD 12) Eddie Farnsworth and Steve Yarbrough (formerly of LD 17) who, as recent articles revealed, either wrote, sponsored, or supported charter school and school voucher legislation that financially benefited them. Mr. Farnsworth made approximately 14 million from selling his Benjamin Franklin Charter School chain along with securing a well-compensated consulting package. Mr. Yarborough profited from the Empowerment Scholarship tax credits he helped make law as a landlord for some of the private schools that collected these tax credit receipts.
There is State Representative 13 Tim Dunn, a crop grower from Yuma County who is the primary sponsor of HB2275 which provided for a Transaction Privilege Tax exemption and crop production tools, like fertilizer, pesticides, insecticides, and similar products.
There is LD 11 State Representative Bret Roberts, who is a constable and who is the primary sponsor of HB2521 which will allow constables to carry firearms when they are off duty.
There is LD 21 State Representative Kevin Payne, a food truck owner and primary sponsor of HB2636, which would regulate where mobile food vendors can operate.
There is LD 12 State Representative Travis Grantham, a business owner who passionately sponsored the, thankfully, now dead HB2523 which would have reduced the minimum wage to $7.25 for people under 22.
There is LD Five State Representative Leo Biasiucci, whose family owns a driving school and has a vested interest in the passage of HB2265 which mandates a course curriculum for defensive driving schools. Mr. Biasicucci is a co-sponsor of this bill.
There is LD Eight State Representative David Cook who, as a cattle rancher and who is the primary sponsor of HB2604 that would regulate the sale of meat, poultry, and what can be labeled "meat" (AKA the "fake meet bill").
Finally, there was former LD One State Representative David Stringer, who not surprisingly given the revelation of his past sexual transgressions in Baltimore, is the co-sponsor of HB2300, which put limits on sex offender registration.
When a political party champions officeholders who put their self dealing personal interests ahead of the needs of the public, then that shows a dying movement that is decadent and rotting from the inside. When a political party condones racist and condescending rhetoric from its members without repercussions to those individuals, then that shows a dying movement that is decadent and rotting from the inside.
Fortunately the Democrats, after much prodding, have persuaded the Republicans to craft a code of conduct for all House legislative members. This is a step in the right direction. Hopefully, it will set new standards for all legislators to follow.
When the 2020 election cycle begins, voters need to review the bills these and other public servants have supported and ask the question: who benefited? Was it the people they swore to represent or just themselves? If it is the later, voters need to realize that these public servants serve their own interests, not the peoples and they need to be voted out because they have shown they only care for themselves.