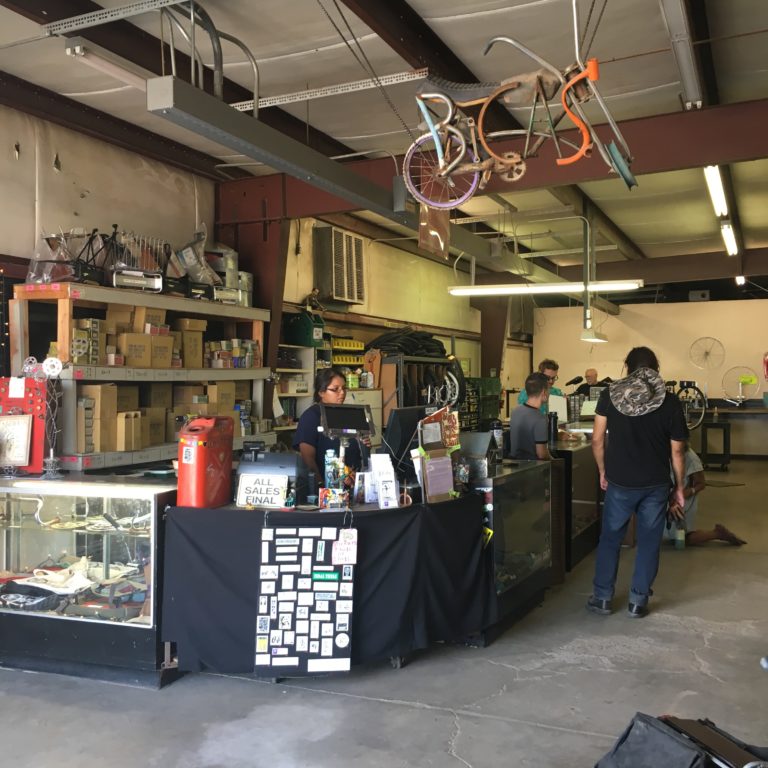 Bicycle Inter-Community Art & Salvage (BICAS) store has moved to 2001 N. 7th Avenue, south of  Grant Rd, east of Stone Ave.  They had a big blast shop warming party last night, which we attended, with raffle prizes, tours, beer from Dragoon Brewery, refreshments from Whole Foods market, together with lots of well wishers and bike patrons.  Reasons for the recent September move from the Citizens Warehouse at 44 W. 6th St.  are explained below:
"Our move was prompted by the Downtown Links roadway that will leave us without a parking lot and make access more difficult.
Our new location, which we purchased rather than leased, is a block east of Stone Avenue and four blocks south of Grant Road."
More info: http://bicas.org/.
"Through advocacy and bicycle salvage, our mission is to participate in affordable bicycle transportation, education, and creative recycling with our greater Tucson Community.
Through donations from the community, BICAS provides the following to those who would otherwise not have the opportunity: an Earn-A-Bike Program, Worktrade, Community Service, Bike Repair and Community Tools. We believe in the bicycle as accessible transportation for all and do our best to make it so."
UPDATE: My husband and I are pictured in this photo on Saturday night at the opening party: