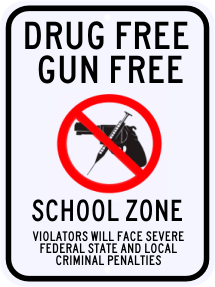 In a profile in courage against the National Russ… Rifle Association, Republican State Senators Kate Brophy McGee (from LD 28) and Heather Carter (LD 15) provided the crucial swing votes in defeating a measure (House Bill 2693,) sponsored by LD 12 State Representative Warren Petersen that proposed allowing individuals to store weapons in their vehicles while parked on school grounds.
In an earlier piece commenting on this idea as it made its way through the State House, it was pointed out that only tragedies could result if this measure became law.
On hearing of the Senate Rejection of the measure, Superintendent of Public Instruction Kathy Hoffman commented that:
"I'm glad the Senate made the sensible choice in voting down this bill. Our goal should be less guns on school campuses, not more."
Educator and former LD 15 State House Candidate Jennifer Samuels stated that:
"I applaud the rejection of firearms on school grounds. We must continue to make these kind of decisions to ensure the safety of our community's schools."
Educator and former/current LD 23 House Candidate Eric Kurland relayed that:
"Adult behavior has been on the decline this decade and we all need to be better. Let's start by giving our kids the safest possible environment. Schools need to remain gun-free zones."
Moving forward, It would be better to focus on investing resources in counselors, psychologists, and other areas that prevent school violence. Hopefully, the bipartisan spirit exhibited in the rejection of this poorly conceived bill sanctioned by the National Russ…Rifle Association will carry over towards budget negotiations that will provide better care, resources, and services for our state's children.