Being as early voting has already begun in the Arizona PPE (U.S. Presidential Preference Election) and that there are 2 Green Party candidates running in their election, both Dr. Kent Mesplay and Dr. Jill Stein will be appearing in Tucson on Thurs. March 10. See flyers below for details on the 3 events.
The PPE is on March 22, 2016  so vote on or before then. More bio info on both candidates on our Calendar listings: https://blogforarizona.net/calendar-2/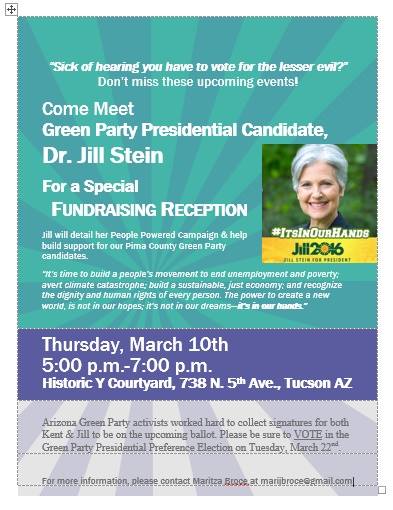 More info on the Arizona Green Party: http://www.azgp.org/. There are 1,350 registered Green party voters in Pima County.
"Founded in May 1990, the Arizona Green Party has previously achieved ballot status five times in our party history: 1992, 2000, 2008, 2010 & 2012.  And, we will be on the ballot for the 2016 & 2018 elections!  We currently have over 4600+ registered Greens statewide, and have active county chapters in Maricopa and Pima County. 
The first 5 Key Values of the Green Party are: Grassroots Democracy, Social Justice & Equal Opportunity, Ecological Wisdom, Non-violence, and Decentralization. The next 5 Key Values of the Green Party are: Community-Based Economics, Feminism and Gender Equity (Egalitarian Values), Respect for Diversity, Personal & Global Responsibility, and Future Focus & Sustainability."