Laurie Roberts of The Arizona Republic should take note of this: State panel outlaws 'dark money' in California political campaigns: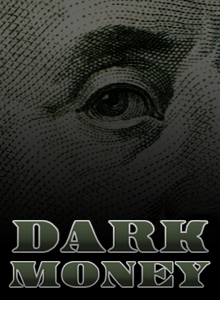 California's campaign finance watchdog agency on Thursday adopted new requirements that nonprofit groups that contribute through a federal political action committee to support or oppose ballot measures or candidates in California must disclose their donors.
"The amendment to this regulation clarifies that so-called 'dark money,' originating from nonprofit or other organizations whose donors are not disclosed, is not permitted in California elections," said Hyla P. Wagner, general counsel for the state Fair Political Practices Commission in a report to the panel.
Legislation and previous action by the commission had generally required disclosure of donors where money went to support or oppose candidates and ballot measures in California.
But state officials were concerned about a possible loophole that would allow nondisclosure of donors if nonprofits make contributions through federal or out-of-state political action committees, rather than in-state PACs.
"It is significant that dark money will not be coming into California," said Jodi Remke, the commission's chairwoman, after the vote. "We heard rumblings from various federal PACs and out-of-state committees about this rule not applying to them. This closes a major potential loophole in California's reporting requirements to stop any kind of undisclosed donors and dark money."
The action implements a change authorized last year by the Legislature in response to an FPPC investigation into the dark-money issue.
That probe resulted in fines against two Arizona nonprofits for hiding the true source of funds they put into a campaign to fight Gov. Jerry Brown's 2012 tax-hike campaign and to promote a measure intended to curtail unions' political influence.
[The Small Business Action Committee, and the California Future Fund for Free Markets, both received money laundered through the Arizona-based Center to Protect Patient Rights, now known as American Encore, operated by "Kochtopus" bag man Sean Noble for billionaire
Republican donors Charles and David Koch. California officials also reached a settlement with the two Arizona nonprofits — the Center to Protect Patient Rights and Americans for Responsible Leadership — involved in the $11-million donation received by the Small Business Action Committee. California hammers Sean Noble's 'Kochtopus' dark money organizations. "Under California law, the failure to disclose this initially was campaign money laundering. At $11 million, this is the largest contribution ever disclosed as campaign money laundering in California history." California Fair Political Practices Commission.]
With several initiatives expected to be on the 2016 ballot, the FPPC's action is timely because it will allow voters to better see which donors are trying to influence the election, according to Kim Alexander, president of the California Voter Foundation, which works to improve voter participation.
Alexander testified before the commission in favor of the new regulation, as did Gavin Baker of California Common Cause.
"There should be no dark money in California," Baker told the panel.
The panel also voted Thursday to improve its popular program that identifies the top ten donors to ballot measures on the FPPC website.
If one of the top ten donors is a group with a generic name that doesn't indicate who is behind it, the new rules would require it to disclose its top two contributors, according to Jay Wierenga, a spokesman for the commission.
"The public is frustrated by people and groups hiding behind generic committee names that fail to disclose their true sources of funding," Remke said.
California has done what Arizona's queen of voter suppression, Secretary of State Michele Reagan, claims that she is unable to do — actually simply refuses to do (she also rejects following California's model law on campaign finance regulation, the toughest in the nation).