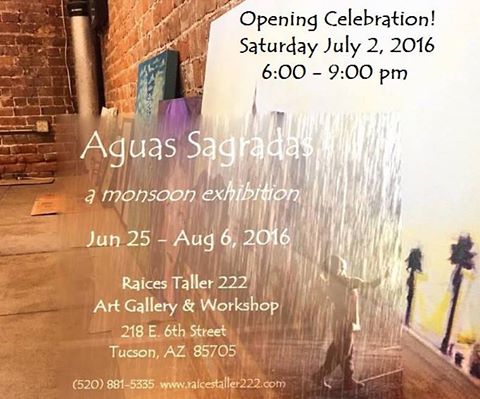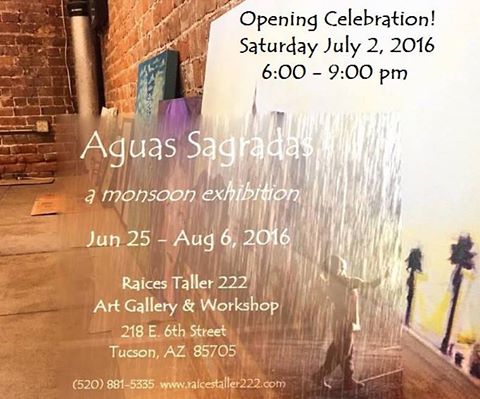 "Aguas Sagradas (Sacred Waters)
As the humidity rises and we await our annual monsoon rains, it becomes evident that there's nothing more universal than water, it is the substance that sustains life on Earth.
The presence of water often has a joyous symbolic meaning, creating a feeling of pureness, sustaining & life-giving or it can be a strong natural force.
Water is also political – a major natural resource at the root of environmentalism as our planet struggles to accommodate a growing population that demands more and more.
Come and see our guest artists' interpretations of these and other aspects of water with paintings, drawings, photography, sculpture and mixed media for Aguas Sagradas – an exhibition honoring all things water!
AGUAS SAGRADAS
OPENING CELEBRATION
SATURDAY JULY 2, 2016
6:00 – 9:00 PM
RAICES TALLER 222 ART GALLERY & WORKSHOP
218 E. 6th Street
Tucson, AZ 85705
(520) 881-5335
visit us at www.raicestaller222.com
Raices Taller 222 Art Gallery & Workshop is Tucson's only Latino based nonprofit cooperative contemporary art gallery located in the Downtown Historic Warehouse District."
Carolyn's note:  Indeed, sacred waters. Got caught in that torrential rainstorm today at about 11 a.m. and started praying that my car wouldn't stall at Stone Avenue and Speedway Blvd, where it was a virtual, gushing river.  It was very scary and made me appreciate the beauty and power of rainfall and water.  Enjoy the summer monsoons and this upcoming art show.