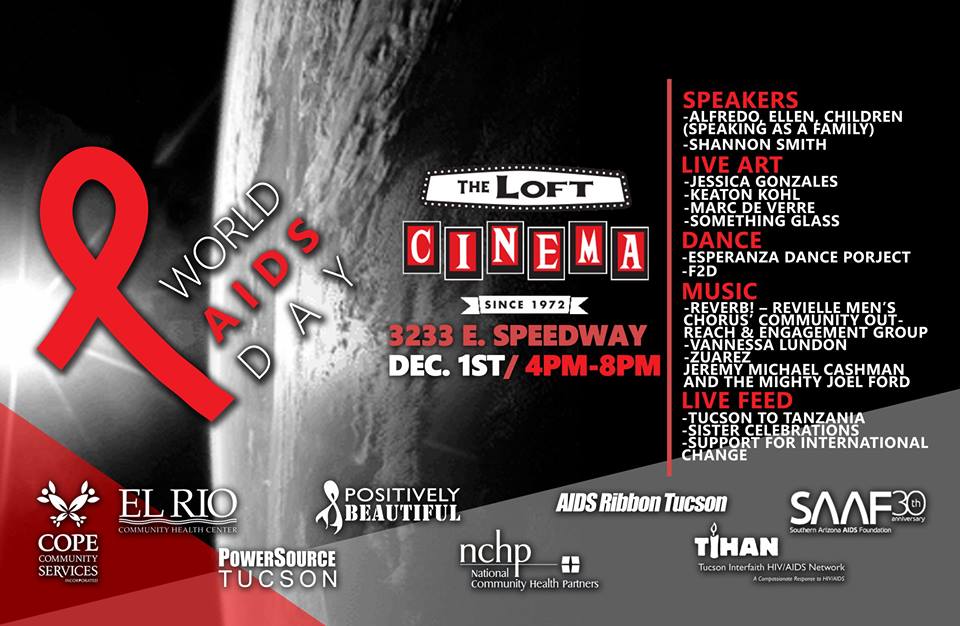 Please join Tucson's World AIDS Day – to celebrate how far we have come in the fight against HIV/AIDS, remember those we have lost, and promote awareness of HIV prevention.
There will be live Music, Dance, Art and Speakers
LIVE FEED/Sister celebration with TANZANIA!
Music!
Jeremy Michael Cashman and Mighty Joel Ford
Vannessa Lundon
Reverb
Dance!
Esperanza Dance Troup
Youth Hip Hop
Live Artists!
Jessica Gonzales
Keaton Kohl
Austin Pierson
FREE ADMISSION! (from Loft Cinema website)
WORLD AIDS DAY IN A NEW LIGHT
TUESDAY, DECEMBER 1 FROM 4:00PM – 8:00PM | FREE ADMISSION | ON THE LOFT PATIO
---
World AIDS Day 2015 promises to shed a new light on a life long journey to find a cure and an end to HIV and AIDS . This year the World AIDS Day Committee in Tucson and The Loft Cinema join forces to present this annual commemoration and community event.
SAAF, TIHAN, The Peterson Clinic, Cope Community Services and El Rio Health Center will be in attendance to provide prevention awareness and on site confidential HIV testing. Reveille Men's Chorus Reverb, The Esperanza Dance Project and other community arts organizations will perform through the course of the afternoon. A live on-air feed with an AIDS affected region of Africa is expected, as are other Skype connection to World AIDS Day events in Southern Arizona. Local food Trucks will be available as well.
Please join us for this momentous occasion and shedding a new light on the HIV/AIDS crisis and the community wide effort to find a life long cure.
For more information please contact: Rick Small , Heather Moroso and John Jackson through the World AIDS Day Tucson Facebook page. https://www.facebook.com/WorldAIDSDay.Tucson