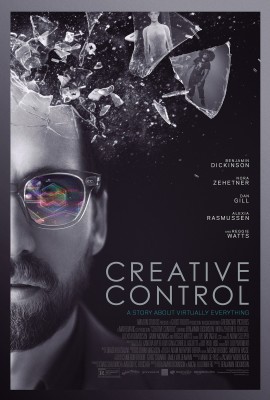 This futuristic movie just opened on March 18 at the Loft theater (3233 E. Speedway in Tucson), and here's the official description:
"Creative Control is a smart, stylish sci-fi comedy that redefines meaningful human interaction in the 21st century.  The setting is New York, five minutes in the future. The glorious technological advances and communication devices of the near future meant to increase connectivity and alleviate boredom are only increasing the anxiety level of the insecure New Yorkers who've inherited them.  David (writer/director Benjamin Dickinson) is an overworked, tech-addled advertising executive developing a high-profile marketing campaign, featuring musician/comedian Reggie Watts, for a new generation of Augmented Reality glasses.   Feeling stuck in his relationship with yoga teacher Juliette (Nora Zehetner, "Maron"), he envies the charmed life of his best friend, fashion photographer Wim (Dan Gill, The Wedding Ringer), and his entrancing girlfriend Sophie (Alexia Ramussen, California Solo) – so he uses the glasses to develop a real-life avatar of her.   Unwittingly, fantasy and reality begin to blur. As passions escalate and things get increasingly out of hand, the friends are forced to deal with the impending collision between their public, private and imaginary lives. (Dir. by Benjamin Dickinson, 2015, USA, 97 mins., Rated R)".
Carolyn's comments:  Yes, the movie is all that plus more – very clever, New York movie about singles working at a future ad agency, doing the usual of trying to make big bucks by promoting a client into fame. David, however is on a drug-indused downward spiral, and the Augmenta virtual reality glasses don't seem to help him, till the end of the movie.  He lives in a fantasy world (but don't we all?) and begins to confuse so-called reality with fantasy, until he thinks he finds "true love."  David is anxiously seeking "creative control" over his ad work, but jealousy and human frailty get in the way, despite all the machines/gadgets these New Yorkers use.  Beautifully shot in black and white, the movie is not that at all. It 's about basic human connection, already missing in the high tech world we now live in.  This movie embraces the nightmare that could happen in the future, with more technical, virtual reality and less human contact and basic communication.  Made me want to go out & hug someone.
 Unfortunately 5 people walked out of the first showing of this film at the Loft Theater last night, but then maybe they have a different reality.  Go see it & let me know what you experienced….virtual or not. It's at the Loft for at least a week, hopefully more.