Arizona Legislative District Six presents a genuine opportunity for Democratic Legislative pickups in the 2020 elections.
Army and National Guard Colonel Felicia French, a 2018 State House candidate, has decided to run for the State Senate seat currently occupied by State Senator Sylvia Allen, an officeholder who has come under repeated scrutiny for racist comments.
The district, whose boundaries are in parts of four counties (Coconino, Gila, Navajo, and Yavapai), which include cities and towns like Flagstaff, Cottonwood, Sedona, and Payson, had a closely contested Senate race in 2018 with Allen prevailing by less than 2,000 votes. The district's State House race was even closer, with only 577 preventing a Democratic pickup (a vote margin of less than .03 percent).
Colonel French wants to continue her 30 plus years of public service to represent the people of Legislative District Six as the next State Senator.
Meeting at the Old Town Red Rooster Café in Cottonwood (excellent food), Colonel French and her interim campaign manager discussed her background and views on the issues.
The questions and her responses are below.
Please tell the reader about yourself (education and experiences).
"I am a third-generation Arizonian. I served 32 years in the U.S. Army and Arizona National Guard, rising from Private to Colonel.  During that my three decades of service, I was a nurse, medical evacuation helicopter pilot, a state equal opportunity and employment manager, a medical advisor and a commander.   After retiring from the military, I volunteered with Civil Air Patrol and Search & Rescue, while also serving as a registered nurse and college educator.   I currently volunteer with Take Pride Pine and CERT (Community Emergency Response Team), as a veterans' hospice nurse and as a volunteer nurse with Americares."

"I earned a Bachelor's in Nursing and a Master's of Science in Sustainable Solutions from Arizona State University, and a Master's in Systems Management from the University of Southern California."
2. Please tell the reader what are at least three qualifications you have for the Legislative seat you are seeking.
 "I am well-versed in matters of the military, healthcare, and education, which has shaped my political platform. I am a strong advocate of public education starting with early childhood, all the way through vocational schools and college, affordable, quality healthcare for all, and strengthening local control to improve infrastructure and bring stable, high-wage, renewable energy jobs to LD 6." 
3. What are at least two reasons you would be a better public servant than your likely Republican opponent? 
"Career politicians often talk about patriotism, but I have actually lived it! My priority is to fund public education so all children have a quality education, and we have a skilled workforce, as opposed to subsidizing for-profit schools. I am an experienced leader and problem solver, a mother and former commander who is concerned about our children's future. I am a dedicated public servant, who prioritizes transparency, not special interests." 
4. If elected, please describe the top two education issues you would like to focus on as a legislator?
"Education funding has been under attack by the Arizona legislature for over a decade. That means almost an entire generation of our children has been underserved during the most critical, formative period of their lives. Fully funding public education is a major priority and that includes increasing teacher's salaries to meet the costs of living and to be on par with the national average. It also means hiring more teachers to reduce class sizes and improve learning. No publicly-funded charter school should operate for profits, and every school should have equal, proper oversight.
5. If elected, please describe the top two healthcare issues you would like to focus on as a legislator?
"Rural areas have limited healthcare providers, specialists, emergency care and evacuation services.  Additionally, the cost of insurance premiums and deductibles are a financial burden for many households. We need to make healthcare affordable and accessible by promoting telemedicine and grants for nurses and providing other caregivers with education to address current and projected shortages. I also support expanding Arizonans' access to Medicaid."
6. If elected, please describe the top two sustainability issues you would like to focus on as a legislator? 
"Many roads in my district are not well maintained, and more public transit is needed. Broadband service is non-existent or unreliable in many areas. Infrastructure needs affect the quality of our schools, businesses, and telemedicine, and must be a priority when we strengthen local control."  
"I will also advocate for renewable energy and water conservation. Focus on these two critical needs will not only protect our health and strengthen our economy, but it will also mitigate the dangerous effects of drought as coal, nuclear and hydroelectric all are water-intensive forms of energy production. This will also provide long term, safe and high-wage jobs for AZ – and that's why I am against uranium mining in the area."
7. If elected, please describe the top two helping children issues you would like to focus on as a legislator? 
"On the education side, I support public-funded preschool and all-day kindergarten, as well as including qualified nurses and mental health counselors at every school."
8. If elected, please describe the top two helping the most vulnerable issues you would like to focus on as a legislator? 
"I want to fight homelessness by helping people obtain affordable housing. A school in Oak Creek closed because of a lack of affordable housing for working families. Housing and food insecurity (food deserts) are huge issues in the district. Veterans that do not have access to nearby facilities and healthy food sources need assistance."
9. If elected, please describe the top two law enforcement issues you would like to focus on as a legislator? 
"Mandatory de-escalation training for all law enforcement officers (arming our police force with the skills to diffuse a potentially dangerous situation will reduce harm for our police and the communities they serve). Criminal justice reform should include the decriminalizing of non-violent drug offenses. Moreover, private prisons should not be allowed to operate based on the incentive to imprison more people for profit."
10. If elected, please describe the top two immigration issues you would like to focus on as a legislator? 
"I would advocate for DACA's passage, keeping parents and children together, and ending the practice of caging families. Contrast this with what we are doing with U.S. Hurricane Dorian Emergency relief efforts in the Bahamas, where children are kept together with their families. Asylum seekers should be treated with due process, not as criminals. Illegal border entries should be processed fairly and efficiently, and penalties for immigration violations should be applied as appropriate. To address our immigration needs, we should be investing in smarter technologies at the border."
11. If elected, please describe the top issues facing women, minorities, and the LGBTQ communities that you would like to focus on as a legislator? 
"I support equal pay for equal work and will advocate for Arizona becoming the 38th state to ratify the E.R.A. I am both pro-child and pro-choice. Women, not legislators, are best able to make life-altering health decisions about their own bodies. Women, the LGBTQ community, and all people should have the same rights that straight white males have! In addition, I also want to improve voter access for those with disabilities." 
12. If elected, please describe the top three government reform issues you would like to focus on as a legislator? 
"Enact finance reform such as the "Outlaw Dirty Money" ballot initiative, so we have transparency as to where the money is coming from, voter rights protection (especially for disabled, minorities, and Native Americans). Continue to limit House and Senate service to eight years, but change the length of a term to four-years, as opposed to the current two-year terms."
13. Are there any issues not mentioned in the previous questions that you feel should be addressed by the Legislature? 
"The current State Legislature has preempted the ability of local governments to solve local problems, like controlling short-term rentals and fighting river pollution related to disposable plastics." 
14. Is there anything you would like to let the reader know about yourself that has not been addressed by the previous questions. 
"On a recent, 800-mile long hike on the Arizona Trail this spring and summer, I got the chance to experience our great state and its people firsthand. I saw once again how beautiful Arizona is because of the diversity of its landscape, wildlife, and most importantly, people. That diversity is what I love most about AZ and why I want to protect and preserve it."
"I'm a U.S. Army and Arizona National Guard Veteran who has served our country for 32 years. I want to continue that service by representing our legislative district in the Arizona State Senate. As a resident of Pine, I want to make sure the voices and concerns of Rural Arizona are heard in Phoenix."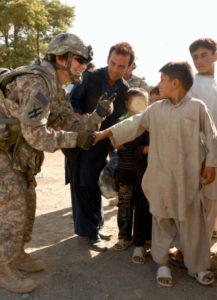 Colonel French's background, positions on the issues, and commitment to service have provided the people in Legislative District Six with a uniquely qualified candidate for the AZ State Senate.  
The French team has been reaching out to all the communities in Legislative District Six hoping to attract Independents and like-minded Republicans, as well as Democrats. At meetings, they have met potential constituents that were surprised there were so many Democratic supporters and voters in their local community.
Their volunteer group, called Team French, is coordinating canvassing and events with the Democratic organizations in the district's four counties.
Colonel French's background, positions on the issues, and commitment to service have provided the people in Legislative District Six with an opportunity to choose a candidate that will work for all the people in a common-sense problem-solving fashion. She will not pursue a reactionary agenda like the current occupant.
She is a candidate that the voters in Legislative District Six should research and consider in 2020.
For more information on Colonel French and her candidacy, visit her website at frenchforaz.com and her Facebook Page at www.facebook.com/frenchforaz/