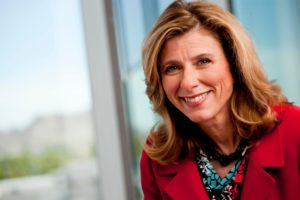 Since becoming the Democratic State Party Chair in 2018, Felecia Rotellini has presided over steady Democratic gains in local, state, and national offices.
She and other Democratic State activists feel that the trend to a more Blue Arizona will continue with the 2020 elections.
Just returning from a very productive party convention in Prescott where all the delegates had an opportunity to express their views, Chairperson Rotellini sat down at the Wildflower on Indian School and 44th Street and discussed the parties potential for 2020 and some recent current events regarding the State Supreme Court and Senator Kyrsten Sinema.
The questions and her responses are below.
Please assess the positive electoral results from the 2018 election season for the Party.
 "After 2016, we knew we had the opportunity to win in 2018 because of how Hillary did. Maricopa County was shifting because of Adrian Fontes win and Paul Penzone got rid of Joe Arpaio. The DNC AND DSCC, watching (Arizona) politics saw an opportunity especially among women and minorities in 2018. Trump helped. We had a ground game of over 100 field organizers who knocked on over million doors across the state and were able to raise the profile with volunteers across the country to see Sinema get elected. We had 27 African American candidates and 11 of them won. We were able to flip four state house seats and now have a 5-4 congressional majority and elected great women (Katie Hobbs, Kathy Hoffman, Sandra Kennedy, and Kyrsten Sinema) to state office. The day after the election, a lot of volunteers became vote curers and were able to cure a significant amount of votes. We had a voter protection hotline from the primary to an election to assist anyone."
 "The reason we won is because we had candidates that talked about the values that matter to all Arizonans. They were in touch with what mattered to Arizonans like affordable health care protecting coverage for pre existing conditions, protecting Medicare and Medicaid, investing in public education and achieving the American Dream."
 "Those are still the issues that matter to most Americans and the Republicans have done nothing to change that to help people in health care or promote public education."
Please assess electoral areas the Party feels improvement continues to be needed.
"We have a 15 county 30 district strategy and every vote counts. We need to engage Democrats. We learned from 2018 that the rural counties are important and is essential for the surge in volunteerism and the need to put a Democrat in White House. We built an infrastructure in all areas of the state. The goal is to visit all 15 counties and Legislative Districts (LD's) and build relationships in order to work together. The ADLCC (Arizona Democratic Legislative Campaign Committee) working within the ADP will be tasked with helping get the majority in our legislature."
In order to achieve better electoral results in 2020, what are at least three infrastructure changes (personnel, technology, expanded offices, for example, coordination with the party apparatus) the party will be making in 2019 and 2020?
"We will increase our field program and we have been training young students and Democrats that will encourage them to come back. We are heavily invested in field organization and working with African Americans, Hispanics, Native Americans, the disabled, and rural communities. We are currently looking for coordinators. The Field Director is currently creating our 2020 state field plan We also have a robust Strategic Plan which includes improving operations and the enhancement of digital program and data that will be more useful in the battleground. We have also launched our ADP Academy, which is available to every PC (working on Spanish translation) to train on everything from the political landscape to how to run a field program. The party has a county investment program from a grant where we allocate portions of $100,000 to each county for what they need."
What are the names of the seats (LD, Congressional, Local, County, and State) that the Party will be targeting going into 2020 and please explain why these seats were chosen?
"We have a great opportunity to take back two corporation seats. We also have a great opportunity to elect Mark Kelly to the Senate. There is a great shot at taking both the State House and State Senate. I think (Republican held seats) like Congressional District Six is in play. We will have a great primary and Schweikert has become embroiled in ethics scandals. There is also a great chance we will win the electoral votes (for the Democratic Presidential Candidate." 
What are your views on the recent State Supreme Court ruling allowing the two printers not to print wedding invitations for the LGBTQ couple?
"This discrimination sets a dangerous precedent and we have to protect the LGBTQ community. We can expect more of that with Ducey's court."
What are your views of the Progressive Caucus push to censure Senator Sinema?
"The best part of being a Democrat is we are a diverse group with diverse views. Progressives have brought us social security and marriage equality and they simply have a different perspective She is doing exactly as she said she would do in representing the whole state. I applaud her for her courage and independence and admire progressives for what they bring to the party."
Right now, Democratic gains in 2020 appear to be an accurate forecast.
There is an unpopular Republican Senator in Martha McSally whose positions and performance (on issues like health care) and allegiance to Donald Trump is scaring Republican donors to support Captain Mark Kelly.
David Schweikert is immersed in an ethics scandal that makes him vulnerable to any of the three Democrats running (Anita Malik, Stephanie Rimmer, and Dr. Hiral Tipirneni) to succeed him.
Debbie Lesko, Andy Biggs, and Paul Gosar are renowned reactionaries from the ultra conservative Freedom Caucus. Biggs is the new head of that group. Their views (including catering to fringe nativist groups) have prompted serious Democratic challengers like Joan Greene, Michael Muscato, and Bob Musselwhite that should attract moderate mainstream Republicans and Independents as well as Democrats.
Talented Democrats like Christine Porter Marsh, Colonel Felicia French,  Linda Patterson, Judy Schwiebert, Doug Ervin, Eric Kurland, and others are looking to prevail in legislative districts that can propel the party to majority status in the State Legislature.
Joe Arpaio wants to run again for Sheriff, which is only good for incumbent Paul Penzone and all the other Democratic county candidates on the ballot.
The future does look good for Democrats in 2020.
The key is working together to achieve it.