Update to Last Nights Post (11/9/22)
The races have tightened. Please click here to see the latest results at AZ Central or the Arizona Secretary of State's site.
Katie Hobbs, Mark Kelly, Adrian Fontes, and Kris Mayes still have leads against their opponents.
For a time, the Mayes Campaign had fallen behind but the latest vote totals from counties, including Maricopa, showed her picking up votes.
Superintendent of Public Instruction Kathy Hoffman has fallen slightly behind Tom Horne.
The rest of the outstanding votes will come primarily from Maricopa, Mohave, Pima, Pinal, and Coconino Counties.
Maricopa County had about 400,000 votes to go before tonight's release. Pima has about 160,000.
We will update again tomorrow at this same time.
Statewide Democratic Nominees Katie Hobbs, Adrian Fontes, Kris Mayes, and Kathy Hoffman along with the attendees at the Arizona Democratic Party get-together at the Renaissance Hotel in downtown Phoenix expressed cautious optimism at the early results coming in for the 2022 election.
With early numbers showing many of the Democratic candidates holding impressive leads with close to 50 percent of the vote counted, all the nominees and Arizona Democratic Party Chair Racquel Teran stressed that the races will get tighter, and the  results may not be known for a couple of days at least and that people should be patient, wait for every vote to be counted, and for, as Teran said, "for Democracy to do its work."
Among the notable comments were:
Gubernatorial Nominee Katie Hobbs said:
"I know we're all eager to find out who won each of these incredibly important races, but we will need to be patient and wait for every vote to be counted. Because every single vote matters, and every single vote counts equally – whether you voted by mail, dropped off your ballot at a secure drop box yesterday, or voted in person today."
Secretary of State Nominee Adrian Fontes thanked everyone for "sticking with us and sticking with Democracy."
Attorney General Nominee Kris Mayes told the attendees "You know what I see when I look at you? Success!" Like Fontes, she said, "we believe in Democracy."
Superintendent of Public Instruction Kathy Hoffman was greeted by chants of "Kathy, Kathy." The Superintendent graciously thanked her family and her supporters. She then reminded the attendees "how critical it is for educators to lead education" and in reference to her clean elections campaign that she "hoped to show this position can not be bought by corrupt politicians."
Please view some of the pictures of the nominees taken at the Phoenix event this evening.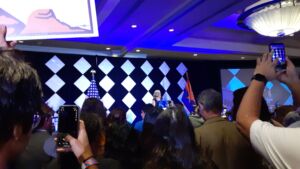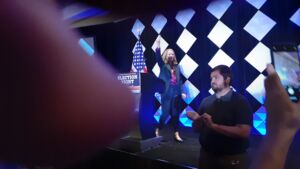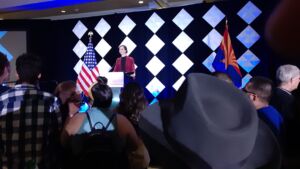 This post will be updated in the coming days as more results come in for all the Arizona races.