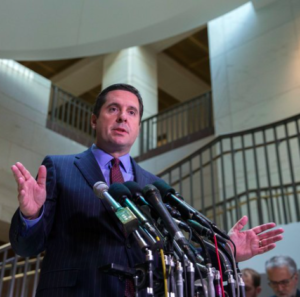 Putin's fifth column of fellow travelers on the House Intelligence Committee, led by "Midnight Run" Devin Nunes, has completed its whitewash investigation of Russian interference in the 2016 campaign. It's cover-up and obstruction of justice is now complete. I truly hope that Rep. Nunes, at a minimum, will be charged as an accessory to obstruction of justice.
Special counsel Robert Mueller is nearly done with his investigation into whether President Donald Trump obstructed justice but may wait to publicize his findings until he has completed other parts of the Russia probe, Bloomberg News reported on Monday.
Greg Sargent of the Washington Post reports, The Republican coverup for Trump just got much worse:
House Republicans may have the power to prevent important facts about President Trump and Russia from coming to public light. But here's what they don't have the power to do: prevent important facts about their own conduct on Trump's behalf from coming to public light.
Republicans on the House Intelligence Committee have announced that they are shutting down their investigation into Russian efforts to sabotage our democracy and into Trump campaign collusion with those efforts. Shockingly, they have reached conclusions that are entirely vindicating for Trump: There was no "collusion," and while Russia did try to interfere, it didn't do so in order to help Trump.
In an interview with me this morning, Rep. Adam B. Schiff — the ranking Democrat on the Intel Committee — confirmed that Democrats will issue a minority report that will seek to rebut the GOP conclusions.
But here's the real point to understand about this minority report: It will detail all the investigative avenues that House Republicans declined to take — the interviews that they didn't conduct, and the leads that they didn't try to chase down and verify. And Schiff confirmed that the report will include new facts — ones that have not been made public yet — that Republicans didn't permit to influence their conclusions.
On this point Steve Benen has a handy summary of evidence ignored by House Republicans:
It's worth taking a moment to consider who and what GOP lawmakers chose to ignore as part of this ridiculous process:

* House Republicans ignored the findings of U.S. intelligence agencies. U.S. intelligence professionals concluded that Russian operatives launched their 2016 intelligence operation in order to help put Donald Trump in power. GOP lawmakers on the intelligence committee decided to reject this politically inconvenient conclusion.

* House Republicans ignored requests to interview key witnesses: Key players in this scandal, including Paul Manafort, Michael Flynn, and George Papadopoulos, were never interviewed by the committee. Not to put too fine a point on this, but a thorough examination of what happened should probably include a private chat with former chairman of the campaign Russia wanted to help – who also happens to be under criminal indictment over his Russian ties.

* House Republicans ignored evidence of witnesses who may have lied to the committee. It's hardly a stretch to believe some of the witnesses the Intelligence Committee spoke to gave false and/or incomplete testimony – which in some cases, may have been a crime. As of yesterday, GOP lawmakers don't appear to care.

* House Republicans ignored potential leads. Last week, the New York Times published an important story about Lebanese-American businessman George Nader, an adviser to the United Arab Emirates, who is now a witness cooperating with Special Counsel Robert Mueller's probe. The article noted that Mueller not only appears to be "examining the influence of foreign money" in the 2016 campaign, but Nader also helped arrange the controversial January 2017 meeting in the Seychelles. A day after the article ran, Rep. Mike Conaway (R-Texas), who helped oversee the House Intelligence Committee's investigation, told a reporter, "I don't have any clue who George Nader is."

* House Republicans ignored their duties: In case anyone's forgotten, a foreign adversary launched an intelligence operation as part of a coordinated attack on the United States. Our attackers may have had allied compatriots who helped with the illegal scheme. GOP lawmakers on the Intelligence Committee had a responsibility to follow the facts wherever they led, not only to better understand what happened and why, but also to hold those responsible accountable.

But from the outset, the Republicans' principal goal had little to do with finding the facts and more to do with finding ways to protect the beneficiary of the Russian attack.
"There's no way for them to reach the conclusions that they want to start with unless they ignore or mischaracterize what we've been able to learn," Schiff said, adding that the minority report would also "set out the investigative steps that were never taken to answer further questions about the Russians and the Trump campaign's conduct."
Schiff had previously said the committee has discovered "ample evidence" of collusion between the Trump campaign and Russia. Led by Chairman Devin Nunes (R-Calif.), however, committee Republicans will soon issue a report they claim will show there was no collusion and that Russia didn't interfere to help Trump — putting House Republicans at odds with U.S. intelligence services and possibly with special counsel Robert S. Mueller III, who recently indicted 13 Russian nationals for an alleged plot to swing the election to Trump.
Schiff told me the minority report would set forth new facts not yet made public that will contradict the House GOP conclusions on both those fronts. He said he expected the GOP's report to be "a far longer version of the Nunes memorandum that will omit key material facts and misrepresent others in order to tell the president's political narrative."
"We will be presenting evidence of collusion, some of which is in the public domain and apparent to everyone willing to see it, and other facts that have not yet come to public light," Schiff told me. "I fully expect that the majority will omit many of these facts in its report and mischaracterize others."
Schiff has said that committee Republicans have failed to sufficiently pressure key Trump associates — such as Donald Trump Jr., Hope Hicks, Attorney General Jeff Sessions and Stephen K. Bannon — to answer questions raised by the committee's investigation. Schiff added to me that the minority report would also detail what further investigative steps "need to be done" to discover the truth — steps that Republicans have declined to take.
The Nunes memo fiasco, redux?
Schiff also raised an interesting possibility: that the House Democrats' minority report will actually be more in line with the bipartisan conclusions reached by the Senate Intelligence Committee (whose probe appears to be somewhat fairer) than the House GOP report will be.
"I suspect that we'll be on a similar page to the analysis by the Senate," Schiff told me. "House Republicans are likely to be out on a political lark." If this comes to pass, then even some Republicans in the Senate will have reached conclusions that House Republicans declined to reach, though we don't know yet what this might look like.
The House GOP decision to end the probe is being widely portrayed in the press (as always) as the result of partisan fighting. Some news accounts have repeated with a straight face the idea that House Republicans are ending the investigation out of frustration with Democratic efforts to use the probe for political purposes. But there is a known and verifiable fact set here about House GOP conduct that renders the reality inescapably clear: One party wants to get to the full truth, and the other simply does not.
The Nunes memo fiasco — in which Nunes's bad-faith efforts to discredit legitimate inquiry into the Trump/Russia scandal crashed and burned — demonstrated for all to see the true nature of the Republican effort to weaponize and pervert the oversight process to protect the president. Hopefully the Democrats' minority report will illustrate this even more comprehensively, with a level of clarity that will punch through the usual both-sides media coverage.
After abdicating their duty to investigate Russian interference in the 2016 campaign and possible crimes by members of the Trump campaign, House Republicans want to turn their attention to investigating the investigators, joining Donald Trump in his conspiracy theory attacks on federal law enforcement agencies. House GOP leaders call for second special counsel to probe alleged bias and surveillance abuse at FBI, DOJ:
The chairmen of two powerful House committees probing the conduct of federal law enforcement agencies asked top Justice Department officials [last week] to appoint a second special counsel to examine questions of bias and alleged surveillance abuse at the Justice Department and the FBI.
In a letter to Attorney General Jeff Sessions and Deputy Attorney General Rod J. Rosenstein, Rep. Bob Goodlatte (R-Va.), who leads the House Judiciary Committee, and Rep. Trey Gowdy (R-S.C.), who heads the House Oversight and Government Reform Committee, wrote that a second special counsel was necessary to probe "certain decisions made and not made by the Department of Justice and FBI in 2016 and 2017," in light of "evidence of bias, trending toward animus, among those charged with investigating serious cases."
The letter from Goodlatte and Gowdy adds further intensity to the pressure from many House Republicans to have a special counsel investigate whether Justice and the FBI acted properly in a series of decisions related to both Russian interference in the 2016 U.S. elections and the federal probe of former secretary of state Hillary Clinton's use of a private email server. The committees chaired by Goodlatte and Gowdy launched a joint investigation into some of these questions late last year over the objections of several Democrats, who see the effort as an attempt to discredit the law enforcement agencies tasked with determining whether President Trump benefited from Russian interference in the 2016 election.
* * *
Democrats blasted the letter, accusing Goodlatte, Gowdy and other Republicans of trying to distract from Mueller's probe and discredit the federal law enforcement agencies behind it.
"House Republicans have failed to substantiate their allegations of 'FISA abuse' at every turn," the top Democrat on the Judiciary Committee, Rep. Jerrold Nadler (D-N.Y.), said in a statement, referring to the surveillance abuse the GOP alleged in their memo. "Chairman Goodlatte and Chairman Gowdy are simply off base . . . where there is no crime, there is no criminal investigation for a second special counsel to manage."
"This may help serve the President's interests, but does nothing to serve the national interest," Rep. Adam B. Schiff (D-Calif.), the top Democrat on the House Intelligence Committee said, charging that Goodlatte and Gowdy "express their interest in investigating everything but what is most important: Russia's interference in our election, the Trump campaign's role, and what we need to do to protect the nation in the future."
Republicans are putting party loyalty before loyalty to country and national security. This cannot be allowed to continue. Vote them out.
UPDATE: House Intelligence Committee Democrats, led by Rep. Adam Schiff, released their own status report on the committee's findings in the Russia investigation. Read the full report here. In addition to the partial list of key witnesses that the Committee has yet to contact or interview above, the report adds that Republicans on the committee "refused to interview" key witnesses including Reince Priebus, Stephen Miller and Sean Spicer.
Democrats announced that they plan to issue a full report detailing their findings soon.