The Republicans in the Arizona State House did something today that on the surface makes sense.
They suspended House rules to allow remote off-site voting from non-Capitol locations.
That makes sense considering that, during this Coronavirus Crisis, no more than 10 people should be together in a social gathering.
Democrats would support this move if it meant passing a "skinny budget" (which is the fiscal 2019 budget with inflationary increases in some line items like K-12 education but no marked augments anywhere else or tax cuts,) emergency measures to deal with the Coronavirus (like "relief for food banks, an eviction moratorium, 90-day supplies of medicines for state Medicaid recipients, paid sick leave, relief for small businesses and streamlined unemployment and food assistance benefits,) and adjourn until the public health crisis passes.
However, the Republican House Leadership appears content to pass the "skinny" budget without addressing the needs associated with the Coronavirus. They also seem surprisingly willing to risk the safety of the majority of the House Legislators and their staffs because the rule waiver only allows for six people to vote remotely outside of the Capitol. Everyone else would have to stay at the Capitol despite the Center for Disease Control guidelines advising a different course.
Apparently, some of the State House Republicans are not taking this public health crisis seriously.
Science denying reactionary Representatives like Anthony Kern, David Gowan, Sonny Borrelli, and Mark Finchem can be seen on this posted Twitter Photo, mocking the curfew on restaurants and bars declared today by Phoenix Mayor Kate Gallego below the caption
"Its 8:15 p.m…….do you know where Phoenix Mayor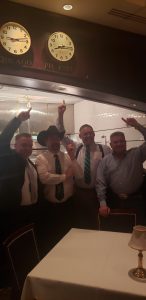 House Democratic Leader Charlene Fernandez issued a statement condemning the short-sighted and dangerous Republican action, stating:
"Instead of a dedicated and reasonable response to this crisis, the conservative majority have instead resorted to partisan politics rather than protecting the people of Arizona."We asked our colleagues to set aside differences and consider some much-needed emergency measures as part of a proposed 'skinny budget.' But now the plan is to rig the rules to allow remote voting for enough members to avoid passing any additional COVID-19 crisis relief package while keeping staff and other members at work."
"Democrats understand the need for a pared-down budget and a quick end to the session. For the safety of the public, our staff and members, we must finish our work and bring this session to an end this week. But this crisis also demands a specific emergency response that includes relief for food banks, an eviction moratorium, 90-day supplies of medicines for AHCCCS recipients, paid sick leave, relief for small businesses and streamlined unemployment and food assistance benefits. The Republican response to these requests was to change the rules to hold onto their majority so that no COVID-19 response can pass. It's shameful and irresponsible. We were elected to lead and be there for our constituents — especially during tough times. Well, the tough times are here. Our constituents are crying out for help. We can finish our work, help our constituents navigate this crisis and shut down now. Empowering a virtual legislature that operates in a vacuum with the public shut out sets a dangerous precedent."
Arizona Senate Republicans, according to The Hour, have not announced any intention to have their members vote off-site and have not formally introduced their budget bills for consideration.
Hopefully, they will be the conservative adults in the room.
House Republicans need to not take advantage of this situation for their own gain. They need to complete the work the people of Arizona expect (which includes providing for the emergency contingency measures associated with the Coronavirus) and adjourn for their safety until it is permissible to return to the Capitol.
They need to realize this health crisis is still very real and not going away anytime soon.
They need to act to protect the people now like the unanimous support they showed last week when the $55 million Anti Coronavirus measure passed both State houses.
They have to realize more is needed than that.
If they do not, they risk making the crisis potentially worse.