Jonathan Swan of Axios did an interview with Donald Trump for "Axios on HBO" on Tuesday.  Swan specifically confronted Trump with the question that a cowered White House press corps has failed to confront him with for much of the past month: "Have you confronted Russian President Vladimir Putin about U.S. intelligence reports that Russia is paying a bounty on the heads of American soldiers serving in Afghanistan"?
As you may have already guessed, Putin's puppet responded, "I have never discussed it with him." Exclusive: Trump never raised Russia's Taliban bounties with Putin:
President Trump has never confronted Vladimir Putin with intelligence indicating Russia paid the Taliban to kill U.S. troops, he told "Axios on HBO" in an interview on Tuesday.
Trump spoke with Putin on Thursday, and [at a press conference] subsequently deflected a question about whether he'd raised the alleged bounty scheme, saying on Monday: "We don't talk about what we discussed, but we had plenty of discussion."
In Tuesday's interview, he was definitive: "I have never discussed it with him."
Pressed on why he didn't raise the matter in Thursday's call, he said: "That was a phone call to discuss other things, and frankly that's an issue that many people said was fake news."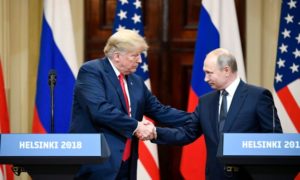 Shades of the Helsinki Summit again, when Donald Trump dismissed the unanimous conclusion of the U.S. intelligence community and his own Director of National Intelligence, to accept the self-serving denial of Vladimir Putin at face value. Remarks by President Trump and President Putin of the Russian Federation in Joint Press Conference:
The final question from the United States will go to Jonathan Lemire, from the AP.
Q Thank you. A question for each President. President Trump, you first. Just now, President Putin denied having anything to do with the election interference in 2016. Every U.S. intelligence agency has concluded that Russia did. What — who — my first question for you, sir, is, who do you believe?
My second question is, would you now, with the whole world watching, tell President Putin — would you denounce what happened in 2016? And would you warn him to never do it again?
PRESIDENT TRUMP: So let me just say that we have two thoughts. You have groups that are wondering why the FBI never took the server. Why haven't they taken the server? Why was the FBI told to leave the office of the Democratic National Committee? I've been wondering that. I've been asking that for months and months, and I've been tweeting it out and calling it out on social media. Where is the server? I want to know, where is the server? And what is the server saying?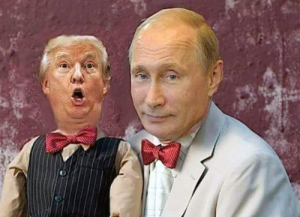 With that being said, all I can do is ask the question. My people came to me — Dan Coats came to me and some others — they said they think it's Russia. I have President Putin; he just said it's not Russia.
I will say this: I don't see any reason why it would be…
So I have great confidence in my intelligence people, but I will tell you that President Putin was extremely strong and powerful in his denial today. And what he did is an incredible offer; he offered to have the people working on the case come and work with their investigators with respect to the 12 people. I think that's an incredible offer.
Okay? Thank you.
At that same press conference, Vladimir Putin earlier had said exactly the opposite, admitting that he did interfere in the U.S. election to assist Donald Trump in winning:
Q: President Putin, did you want President Trump to win the election? And did you direct any of your officials to help him do that?
PRESIDENT PUTIN: (As interpreted.) Yes, I did. Yes, I did. Because he talked about bringing the U.S.-Russia relationship back to normal.
Axios continues:
Trump has spoken to Putin at least eight times since intelligence about the alleged Russian bounties was reportedly included in the President's Daily Brief — his written intelligence briefing — in late February.
Trump's team says he was not verbally briefed on the matter before a June 26 report from the New York Times brought the controversy out into the open.
Former national security adviser John Bolton told colleagues he personally briefed Trump on the intelligence assessment a year earlier, in March 2019. AP sources: White House aware of Russian bounties in 2019. Bolton told CBS News' "The Takeout" podcast" that he would have personally briefed President Trump if he saw intelligence that Russian officials offered bounties to Taliban-linked militants to kill U.S. troops, but cautioned that Trump is simply not receptive to intelligence briefings.
There's no clear consensus within the intelligence community about the strength of the evidence that Russia paid the bounties — though that's not the case when it comes to Russia's broader support for the Taliban.
In 2018, Gen. John Nicholson, then the top U.S. commander in Afghanistan, accused Russia of providing money and arms to the group, saying, "we know that the Russians are involved."
Trump told "Axios on HBO" that he was not aware of Nicholson's comments, and said evidence that Russia was aiding the Taliban "never reached my desk." [More likely he never read it].
UPDATE: The Daily Beast adds, Trump Appears to Defend Russia Arming the Taliban Against U.S. Troops:
Gen. John Nicholson, former head of U.S. forces in Afghanistan has said clearly and on the record that Russia does indeed smuggle weapons across the Tajik border to the Taliban. Asked about whether he believes that is the case, Trump said: "Well, we supplied weapons when they were fighting Russia too. The Taliban, in Afghanistan… I'm just saying, we did that too."
This is eerily similar to Trump's response to Putin killing journalists in 2017. Trump defends Putin: 'You think our country's so innocent?':
President Donald Trump appeared to equate US actions with the authoritarian regime of Russian President Vladimir Putin in an interview with Bill O'Rielly, saying, "There are a lot of killers. You think our country's so innocent?"
"But he's a killer," O'Reilly said to Trump.
"There are a lot of killers. You think our country's so innocent?" Trump replied.
Trump made a similar statement to MSNBC's "Morning Joe" in December 2015.
"I think our country does plenty of killing also, Joe, so you know. There's a lot of stupidity going on in the world right now, a lot of killing, a lot of stupidity," Trump said.
Axios continues:
The New York Times reported in June that U.S. intelligence had concluded "months ago" that an infamous Russian military intelligence unit had offered payments for each U.S. or allied soldier killed.
Those payments were funneled through middlemen and could run as high as $100,000, according to the Times.
The White House claimed that Trump had not been briefed on the matter because the intelligence was inconclusive.
Multiple outlets subsequently reported that the intelligence was included in the PDB, but that Trump may not have read it.
Trump insisted in the interview that he does read the PDB — "they like to say I don't read, I read a lot" — but stood by the claim that the matter "never reached my desk" because U.S. intelligence "didn't think it was real."
While the CIA appears to have concluded months ago that Russia did offer the bounties, the NSA reportedly disagreed.
However, several former national security officials have questioned the rationale for not briefing Trump about such a serious issue, even if the intelligence was not rock solid.
The Kremlin and the Taliban have, unsurprisingly, denied the existence of any bounty scheme.
This issue has featured in Democratic attacks in the lead-up to November's election.
Joe Biden accused Trump of "dereliction of duty," claiming he either wasn't briefed on a life-and-death matter, or "was briefed and nothing was done about this."
Sen. Tammy Duckworth, who has been considered a potential Biden running mate, has been updating a tally of how many days Trump has gone without challenging Russia on the matter.
In a subsequent statement responding to the "Axios on HBO" interview, the Biden campaign calls Trump's failure to raise Russian bounties with Putin "despicable":
Joe Biden's campaign on Wednesday said it was "absolutely despicable" that President Trump failed to confront Vladimir Putin with intelligence indicating Russia paid the Taliban to kill U.S. troops in Afghanistan.
"The most critical and sacred obligation of a commander-in-chief is to protect those who serve our nation in harm's way," the Biden campaign's rapid response director Andrew Bates said in a statement.
"But months after the U.S. intelligence community sounded the alarm — to Donald Trump and to our allies — that Russia was placing bounties on the heads of American servicemen and women in a warzone, our president continues to turn his back on those who put their lives on the line for our country, and on his own duty."
"This continues an indefensible pattern of Donald Trump weakening the United States in the world in a manner that no American president ever has before, and it's absolutely despicable."
This is more than dereliction of duty. Failing to stand up to Vladimir Putin to defend the lives of U.S. service men and women against Russian bounties on their heads is the act of a coward and a traitor, a betrayal of our U.S. service members, as this VoteVets ad from June made clear.
"If you're going to act like a traitor, you don't get to thank us for our service."
Donald Trump remains the single greatest threat to U.S. national security. His cowardly Republican enablers in Congress are complicit and guilty of aiding and abetting this traitorous behavior. They all need to be held accountable for their actions.