Dr. Linda Thor has been a member of the Maricopa County Community College Governing Board since 2017.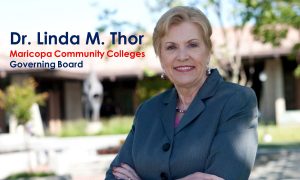 During her tenure, she served as the Board President in 2019.
A renowned and highly praised and regarded educator with 41 years experience in the Community College sphere including twenty at Rio Salado College (where she is the President Emeritus,) Dr. Thor is running to serve a second term on the Governing Board.
If re-elected, she will continue to focus on:
Creating avenues for student success.
Helping to oversee the budget and fiscal process.
Promoting the ten Maricopa Community Colleges as beacons for job and career training, including opportunities for students to pursue bachelor's degrees.
Dr. Thor graciously took the time to respond to questions regarding her qualifications and candidacy for the Maricopa County Community College Governing Board.
The questions and her responses are below.
Please tell the reader what are at least three functions/responsibilities of the Maricopa County Community Colleges Governing Board?
 "Our most important responsibility is to hire, monitor, and evaluate the Chancellor, who is the Chief Executive Officer of the 10-college district."
 "Other primary responsibilities are setting policy for employees and students, setting tuition, setting the property tax, and approving the $1.5 billion budget."
Please describe at least two positive experiences you have had from your tenure on the board?
 "The most gratifying time of the year for anyone in higher education is the spring when we celebrate student success through award ceremonies, convocations, and commencements. Unfortunately, this year, because of COVID-19, these events didn't happen and we all feel the loss."
 "Also, always a positive experience for me is recognizing the achievements of our employees, of which we have over 10,000 full and part-time. This includes awarding emeritus status to 20 plus year faculty members, and all types of awards such as innovation of the year, diversity awards, and completion of mentoring programs."
"The most positive experiences involve the people."
What are the two reasons you would like to seek a new term on the board?
 "The Maricopa Community Colleges are one of the premier college districts of this country and I want to see them stay that way through reasonable and rationale policies, smart resource allocation, and sustaining community support."
 "The college district is facing an exciting, yet challenging future. I want to use my three decades of experience as a community college CEO to help navigate some rough waters while continuing to place student success at the forefront of all we do."
In your opinion, please describe at least two ways the board should handle reopening the community colleges and regulating (if possible) social distancing?
 "We must be flexible and prepare for multiple scenarios. That includes preparing for in-person, hybrid (part in person and part virtual), asynchronous online course (access at any time), and live online (such as zoom)."
 "If we are in-person, we will follow the CDC guidelines which likely will result in fewer students per class, staggering schedules, providing or requiring PPE and no large events."
If re-elected, what are at least three non-COVID 19 important issues the board should consider?
 "Hire and have onboard a new chancellor."
 "Continue the transformation initiative that is focused on increasing student success and organizational efficiency."
 "Advocating for community colleges to offer baccalaureate degrees in certain areas of high workforce demand. 23 other states, including all that surround Arizona, have given their community colleges this ability."
 "Addressing an anticipated enrollment decline and the revenue shortfall that accompanies a decline in enrollment."
Is there anything not covered in the first five questions you would like the reader to know about you or your candidacy?
 I would like to share a little more about my background. I have a doctoral degree in community college administration and leadership. I worked in community colleges for 41 years, including 29 as a college president or chancellor. Specifically, for nearly 20 years I was the president of Rio Salado College so I know this system and our community well. I have served in multiple roles—classified staff, adjunct faculty, manager, and chief executive officer. I am without a doubt a community college lover. I know from personal experience that community colleges change people's lives.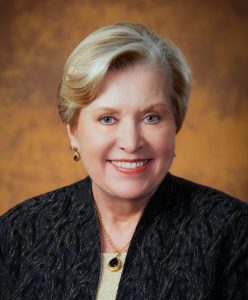 For more information on Dr. Linda Thor and her reelection campaign to return to the Maricopa County Community College Governing Board, please click on her website here, her interview with Maricopa County School Superintendent Candidate Jeanne Casteen here, and her Facebook Page here.
Please remember:
Primary Election Day is on August 4, 2020, and General Election Day is on November 3. 2020. Please see the below graphic for all-important voting dates. 
Please check your voter registration at myarizona.vote.
Register/sign up for the Permanent Early Voting List (PEVL) in Arizona or any state that allows early or absentee balloting and mail. Arizona residents can sign up at myarizona.vote. 
Arizona residents, mail your General Election ballot by October 28, 2020, for the November 3, 2020 election.
Check-in with the Secretary of State's office where you live to verify your mail-in ballot was received, processed, verified, and counted.
Know the voter ID requirements in your state.
If you can, support Clean Election Candidates with a small contribution.
Also, please remember to stay informed on all the candidates and vote for all the offices on the ballot.
Also, remember to research all the ballot initiatives, sign to get them on the ballot if you support the measure, and vote on them as well.