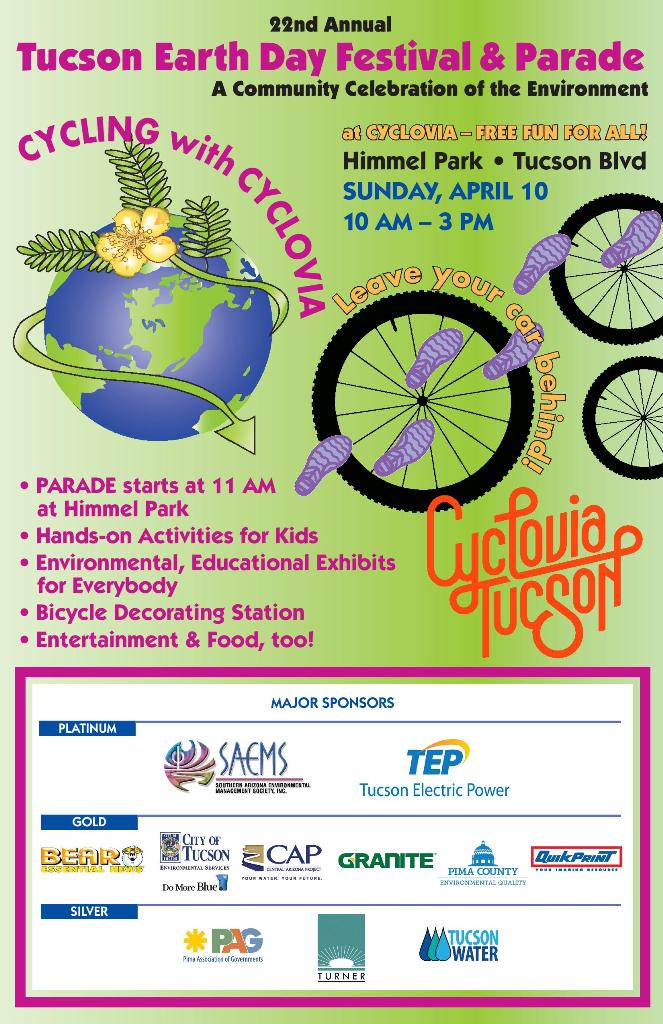 This year the Tucson Earth Day celebration will be on April 10,2016 and not at Reid Park, but at Himmel Park.
"Fun and Engaging Exhibits at the Himmel Park Activity Hub: Decorate your bike and engage in fun hands-on activities while getting smarter about renewable energy, land and water conservation, native plants, invasive species, air quality, climate resiliency, sustainability, and more. Discover how helping the planet helps you too!
 Earth Day Parade at 11:00 a.m.: Gather eco-minded clubs, scouts, schools, families, non-profit organizations, businesses, and agencies to march, bike, skate, dance, or create music in the parade. Line up at 10:45 a.m. on the west side of Himmel Park for an 11:00 a.m. start on this short non-motorized route along Tucson Boulevard and 3rd Street to the Sam Hughes Activity Hub. No registration required, and spectators are welcomed to join in the procession on the spot!"
Enjoy the festivities at Himmel Park, south of Speedway Blvd, along Tucson Blvd. This event coincides with the car free, bicycling event Cyclovia Tucson, which starts off at Himmel park (same area) and goes south on Tucson Blvd. then west to the E. 3rd Street bike route, all the way for 2.5 miles to the Lost Barrio shopping district.
Also for you plant & garden lovers, the Sam Hughes Neighborhood Assn. Garden tour is that same day (just west of Himmel Park) , from 10 a.m. to 4 p.m. More info at www.samhughes.org. Tickets $10, children free with paid adult.