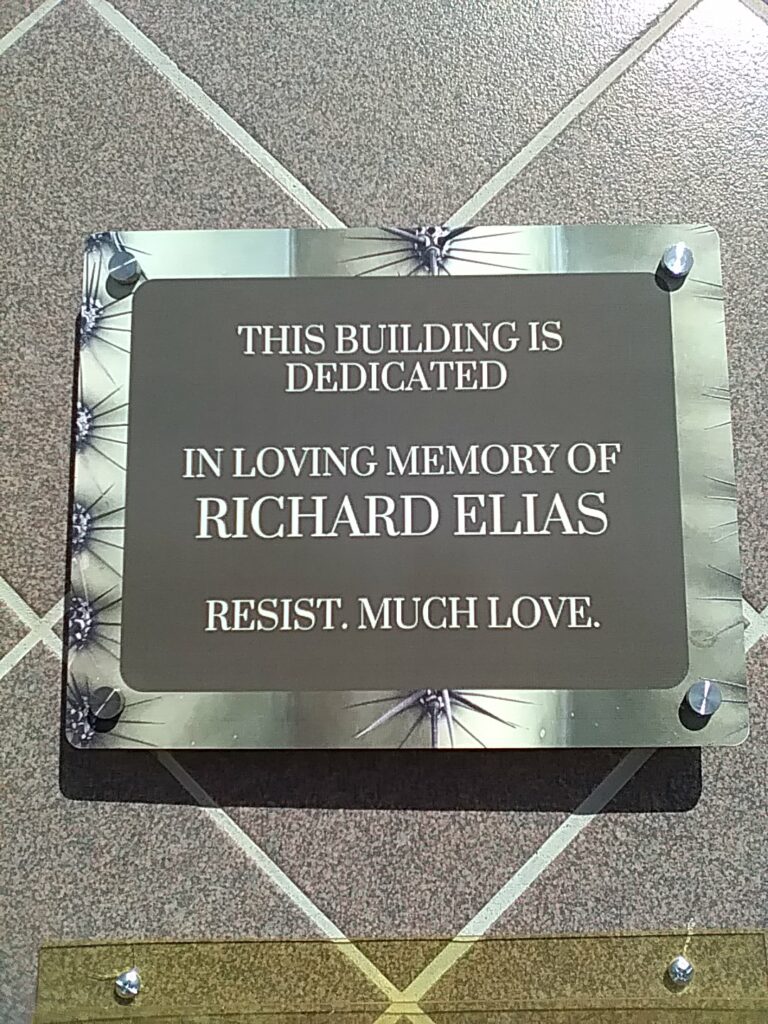 Lot of Pima County officials and family of the late District 5 Pima County Supervisor Richard Elias were present today at the dedication of an administrative builiding for Emerge Center Against Domestic Abuse at 4455 E. 5th Street (between Columbus Ave. and Swan Ave.) in Tucson.
Present were Richard's widow Emily Velde and their daughter Luz Elias and her fiance. Other family members stood at the Native American blessing.
Pima County officials present:
Pima County Administrator Jan Lesher
Pima County Assessor Suzanne Droubie
D 1 Supervisor Rex Scott
D 5 Supervisor Adelita Grijalva and her Chief of Staff Keith Bagwell
David Higuera, Chief of Staff for D 2 Supervisor Dr. Matt Heinz
Tucson Mayor Regina Romero
LD 20 House Rep. Betty Villegas, former D 5 Supervisor
Patrick Robles, aide to Governor Katie Hobbs
After a Tohono O'odham blessing, Emerge Executive Director Ed Sakwa welcomed the audience to this "testiment to Richard Elias", in honor of Domestic Violence Awareness month in October. Then Mayor Romero spoke of her long history with Richard, since they both started out at Chicanos Por La Causa, before entering public service. She emphasized Richard's commitment to abolishing D.V. and even that he "challenged what it was to be a Hispanic male". She read the City's Proclamation of D.V. Awareness month, citing the 16,000 domestic abuse phone calls received last year in Tucson.
Mr. Sakwa said that is was "disheartening at times due to the push back to Emerge's efforts, in their goals to create healthier boys and men", when they try to "challenge power and priviledge" in Tucson. He emphasized the need to "return to see the practice of love" in our community. Photo below of Sakwa, taken by me.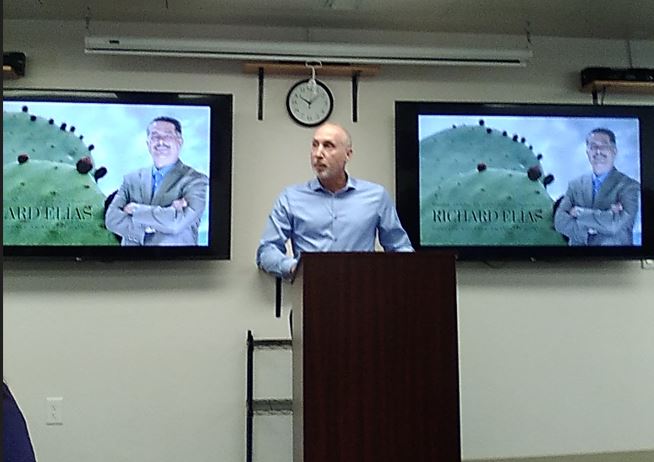 District 5 Supervisor Adelita Grijalva and her Chief of Staff Keith Bagwell spoke next. Keith had worked with Richard for over twenty years and said that Richard was "a man of compassion & equity", had a passion for Emerge's work. Adelita said that Richard had a "lifelong quest for justice, peace & equality."
Emerge's Vice President Anna Harper introduced others of the Emerge staff present, then reminded the audience that Richard often spoke of his own mother Viola's domestic abuse, about this public health issue and that Richard believed that "healing is possible" for the Tucson community.
Then a short video of Richard speaking about his commitment to Emerge and the battle against domestic abuse was viewed. It was very moving, for those of us who hadn't heard Richard's voice since he passed away suddenly in March, 2020.
Richard's daughter Luz thanked Emerge for naming the builiding for her father, who had been "available and vulnerable in any situation", giving himself to the community as a public servant for years. She said that her father would have been proud to receive this honor of a builiding dedication.
Finally LD 20 House Rep./former D 5 Supervisor Betty Villegas spoke with emotion that she had thought she was "Richard's favorite", that "liberation is love."
In closing Mr. Sakwa thanked everyone for attending and said that the true test of support for Emerge was not only during October and D.V. Awareness month, but the other 11 months of the year.
Refreshments followed. Top photo taken by me is of the plaque in memory of Richard to the left of the front door of this Emerge building. R.I.P. Richard Elias, we miss you and your dedication to the betterment of Tucson. And as he always said on FB: "Resist. Much love."
More info about Emerge Center Against Domestic Abuse: https://emergecenter.org/
Carolyn's note: Personally I enjoyed knowing Richard all these years (since he was appinted to the Pima County Board of Supervisors back in 2002). I remember with fondness and respect a meeting we had in his D 5 office, along with my neighbors, and how direct & efficient he was in his response. Thank you again Richard for your decisiveness and assistance to our neighborhood concerns.