Remember all the times that Donald Trump dismissed Russian interference in the 2016 presidential election as a "Democratic hoax," Every Russia story Trump said was a hoax by Democrats: A timeline (June 1, 2017), a claim frequently repeated by our Trump trolls and Putin's troll farm in comments at this blog? This premise has been repudiated today.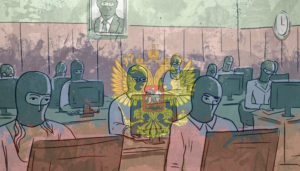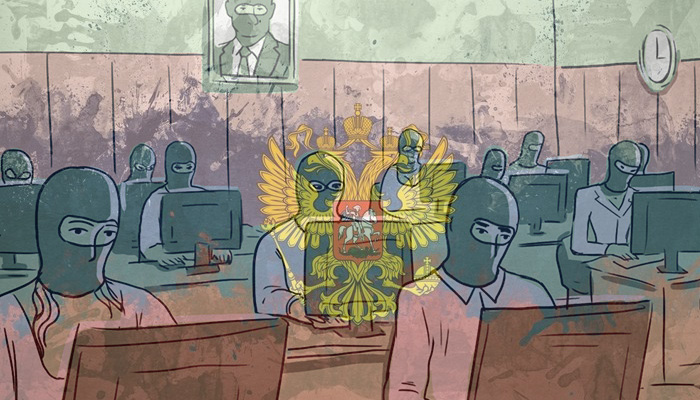 On Friday, Special Counsel Robert Mueller's team announced a "speaking" indictment of 13 Russians and corporate entities associated with Putin's troll farm in St. Petersburg, Russia for "Information warfare against the United States of America" in social media,
part of a larger interference operation known as "Project Lakhta" which began in 2013. Read the Internet Research Agency, LLC Indictment (.pdf).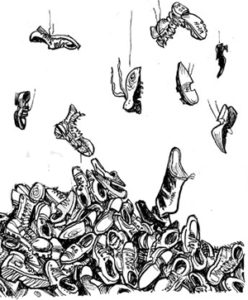 This specific indictment does not address the Russian hacking of the DNC or John Podesta. This specific indictment also does not address any coordination or cooperation by the Trump Campaign with the Russian interference in the U.S. election, beyond unnamed local grassroots Trump campaign activists referenced in this indictment as "unwitting Americans."
This specific indictment also does not call into question the role that America's social media platforms, e.g., Facebook, Instagram, Twitter, Google, etc., may have played in the Russian attack.
Today's indictment was just the first shoe of several more shoes to drop in the Special Counsel's Russia investigation.
The Washington Post reports, Russian troll farm, 13 suspects indicted for interference in U.S. election:
The Justice Department's special counsel announced the indictment Friday of a notorious Russian troll farm — charging 13 individuals with an audacious scheme to criminally interfere with the 2016 U.S. presidential election.
The Internet Research Agency, based in St. Petersburg, was named in the indictment as the hub of an ambitious effort to trick Americans into following Russian-fed propaganda that pushed U.S. voters toward then-Republican candidate Donald Trump and away from Democrat Hillary Clinton.
The indictment charges that some of the Russian suspects interacted with Americans associated with the Trump campaign, but those associates did not realize they were being manipulated.
Deputy Attorney General Rod J. Rosenstein called the charges "a reminder that people are not always who they appear on the Internet. The indictment alleges that the Russian conspirators want to promote social discord in the United States and undermine public confidence in democracy. We must not allow them to succeed."
[T]he 37-page indictment provides the most detailed description from the U.S. government of Russian interference in the election.
Prosecutors said the Internet Research Agency kept a list of real Americans who its employees had contacted using false personas and had asked to assist the effort. The list, which numbered over 100 people by late August 2016, included the U.S. citizens' contact information, a summary of each person's political views and the activities the Russians had asked them to undertake.
None of those charged are in custody, according to Peter Carr, a spokesman for the special counsel's office. Russia does not typically allow any of its citizens to be extradited to the United States to face trial, so it is unlikely the individuals will be turned over, but it will likely prevent them from traveling outside Russia.
Some of the Russians posed as U.S. people and, without revealing their Russian identities, "communicated with unwitting individuals associated with the Trump campaign and with other political activists to seek to coordinate political activities," the indictment said.
By February 2016, the suspects had decided whom they were supporting in the 2016 race. According to the indictment, Internet Research Agency specialists were instructed to "use any opportunity to criticize Hillary and the rest (except Sanders and Trump — we support them.)"
* * *
The charges include conspiracy to defraud the United States, conspiracy to commit wire fraud and bank fraud and aggravated identity theft.
One of those indicted is Yevgeniy Viktorovich Prigozhin, who has long been identified in the Russian media as the financial backer of the Internet Research Agency. He is a caterer who has been nicknamed "Putin's chef" because of his close ties to the Russian president. Concord Consulting and Concord Catering, two Russian businesses also charged by Mueller's team Friday, have previously been identified as Prigozhin vehicles.
* * *
The Internet Research Agency was at the center of Silicon Valley's investigation into Russian meddling during the 2016 presidential election. Facebook, Twitter, Instagram and Google all found evidence that the private firm used social media to divide American voters across a range of polarizing issues, including race, religion, gun rights and immigration.
Tweets and Facebook posts that have been made public as part of these investigations make clear that the Russian disinformation effort broadly sought to favor Trump and undermine the support for Clinton. This conclusion has been backed by the work of several independent researchers.
Typically called a "troll farm," the Internet Research Agency is regarded as the most prominent part of the Russian disinformation campaign, though congressional investigators pushed for evidence of other operations, including from countries other than Russia, that shared the same purpose.
Overall, Facebook acknowledged to Congress that the Internet Research Agency had bought 3,000 ads on its platform that reached 11.4 million users. The agency's employees also reportedly made many free posts that reached 126 million users. In addition to polarizing online political conversation, Facebook reported that the Internet Research Agency used Facebook pages to organize 129 real-world events that drew the attention of nearly 340,000 Facebook users.
One of these, organized by a group called Heart of Texas, took place on May 21, 2016, under the banner of "Stop Islamization of Texas." On that same day, another Russian-controlled Facebook group, called United Muslims of America, publicized a competing rally to "Save Islamic Knowledge" at the same place and time.
Twitter has acknowledged finding 3,814 accounts linked to the IRA, which together posted some 176,000 tweets in the 10 weeks preceding the election. The company also found 50,258 automated accounts it said were connected to the Russian government and tweeted more than a million times.
One particularly notorious account linked to the Russian firm claimed to speak for Tennessee Republicans. It persuaded a wide range of American politicians, celebrities and journalists to share tweets with their own massive lists of followers. The list of prominent people who tweeted out links from the account, @Ten_GOP, which Twitter shut down in August, included political figures such Michael Flynn, who became Trump's first national security adviser, and former Trump campaign adviser Roger Stone, celebrities such as Nicki Minaj and James Woods and media personalities such as Ann Coulter and Chris Hayes.
The IRA Twitter accounts frequently used links from prominent American news organizations, including The Washington Post and the San Francisco Chronicle, to push particular narratives related to the campaign, according to research from Columbia University social media researcher Jonathan Albright.
Twitter declined to comment Friday on the indictment.
In a related matter, Special Counsel Robert Mueller's team announced a "criminal information" and plea agreement for another cooperating witness, Richard Pinedo of California, who plead guilty to circumventing online payment security systems using stolen identities. Read the Richard Pinedo Criminal Information (.pdf).
Richard Pinedo may, or may not be, an insider in the Russian operation who provided the level of detail in the "speaking" indictment announced today (there could be an insider in Putin's troll farm as well).
Newsweek reports, Who Is Richard Pinedo, Who Pleaded Guilty In Mueller's Trump-Russia Probe?
Richard Pinedo, of Santa Paula, ran an online service called Auction Essistance, through which he bought and sold bank account numbers that would help users circumvent security measures of digital payment companies. Pinedo transferred, possessed and used the identities of other people in connection with unlawful activity, according to a statement of the offense. He pleaded guilty on February 12, according to court documents.
Pinedo faces up to 15 years in prison and a $250,000 fine, according to the plea agreement. It said he has no criminal history and that he agrees to cooperate with Mueller's office.
* * *
A LinkedIn page that appears to belong to Pinedo said he worked for Auction Essistance between November 2012 and February 2014 as a customer marketing manager. (Court documents state he worked for Auction Essistance from 2014 at least through December 2017.) According to the LinkedIn page, he most recently worked for a digital marketing company called SEO Distortion, which lists the same phone number as Auction Essistance. Under a section labeled "Who We Are," the website for SEO Distortion lists Pinedo as the only employee, with the title of CEO.
The SEO Distortion website appears to contain testimonials from people who do not exist. The site features a photo of a woman it names as Georgina Nichollas and says is an executive director at Rogerson Law Firm. But no such law firm appears to exist, and the image matches one on the LinkedIn page for a woman in the Netherlands with a different name. Another testimonial says it is from David Brandford, apparently an admissions director at West Virginia Tech. But a representative for the school said it had never hired anyone with the last name Brandford. A third testimonial says it is by Lisa Reynolds of "Quality Dallas Realty Service." But no one by that name has a real estate license in Texas, and the image matches a sample picture on a website for a Dallas company that does headshots.
Pinedo, 28, also said he got an associate degree in computer science from Ventura College in 2009. The LinkedIn page indicates he worked various jobs between 2009 and 2012, including as a sales associate for LA Fitness, a gym.
Russia is engaged in an ongoing cyber war against the United States to undermine our elections and our governmental institutions. What is the U.S. response to this war? Donald Trump has done nothing, even refusing to impose sanctions on Russia mandated by Congress.