Arizona State Legislative District (LD) Six is an area of the Grand Canyon State that Democrats feel has an excellent chance for turning blue in one of the House seats and the Senate race.
That is because of the caliber of the candidates.
Flagstaff Mayor Coral Evans, the third of four generations living in Northern Arizona, is the outstanding candidate Democrats recruited to run for one of the LD Six House seats as a single shot candidate.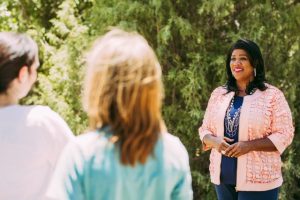 She is running in tandem with Colonel Felicia French who is running for the district Senate seat.
Her opponents are incumbent Walter Blackman and newcomer Brenda Barton.
In the State House, Mr. Blackman has not always served the people's interests. During his tenure at the State House, he has:
Supported liability protections for businesses over the people during the COVID 19 Pandemic.
Favored measures that discriminate against transgender high school athletes.
Been against increased credits for low-income housing,
Voted for building the border wall without a building permit.
Not supported fully funding education.
Wanted teenagers to receive a lower minimum wage.
Mayor Evans, if elected to the Arizona State Legislature this November, would offer a different governing vision than Mr. Blackman and Ms.Barton.
She would work on solving problems, arriving at consensus, and representing everyone.
She would champion causes such as education, local control, small business development, and water conservation.
Mayor Evans graciously took the time to discuss her qualifications and candidacy for the State House seat in LD Six.
The questions and responses are below:
1) Please tell the voters three reasons they should pick you over any one of your general election opponents.
"I am a small-town mayor.  At the municipal level mayors and councilmembers are elected in nonpartisan elections.  As Mayor, I represent the people who voted for me, the people who did not vote for me, and the people who could not vote for me (children, undocumented residents, and people who have prison background records that are unable to vote).  As mayor, it is my job to make sure that all their voices are heard and to ensure that they all of them are represented."
"When someone calls me and says that they have a pothole in front of their house I don't ask them if the pothole is democratic or republican, I ask them where the pothole is so it can be fixed.  Period."
"The issue down at the state is that people have been elected to office who have never been servant leaders and as such, they are unable to work with people who are not like them to get things done for the people that they represent."
Voters should vote for me because –
"1) I have a history of getting things done for the people that I represent; e.g. the Northern Arizona Veterans Home (an 80-bed facility, 280 jobs that is being built in Flagstaff because I went and asked for it) and the Rio de Flag Flood Control Project (this project languished for 20 years, I became Mayor, I went to DC and I got the $54M needed to finish the project)"
" 2) I am from small-town Arizona and I understand the importance of community and working together.  I have a longstanding history of working with and building long-lasting relationships with people who are different from me and making sure that everyone is heard and part of the decision-making process."
"3) I don't play politics. I represent people and I will work hard for the communities that I represent."
2) Please tell the voters at least three ways your opponents do not reflect the vision or direction of LD Six.
"Education has been the #1 issue in Arizona for almost a decade. We are #49th or 47th depending on which measurement is used.  My opponents have been in office for years and during that time the status of education in our state has gotten worst.  It is clear that they do not value education and have not seen fit to make it a real priority."
"Local Control – As someone from Arizona I understand local control and the importance of residents determining what works in their community for them, their families, and their businesses. Since in office, my opponents have continually stripped local communities of their rights to govern themselves and in fact, have gone so far as to sue the communities that they are supposed to represent for trying to address issues at a local level (for example the Air-B-N-B/Short-term rental issue that has created major housing shortages and decreased property value issues in our communities)."
"Small Business are the backbone of Arizona's rural economy. In Arizona, something like 99% of us works for a small business (500 or fewer employees) and rural Arizona the majority of us work for a business of fewer than 50 employees, most often times less than 10. My opponents have not made small businesses in rural Arizona a priority (as can been seen by their lack of response during the COVID-19 crisis) and prioritized their need to remain solvent and grow.  Instead, they have continued to provide tax credits and incentives to big corporations."
3) Please tell the voters at least three public policy issues you will advance if you are elected to the State Legislature.
1) "Arizona #1 in the Nation in Education: I believe that whether our children go to public, charter or private schools and no matter what part of Arizona they live in (rural or urban) the system as a whole needs to provide a high-quality education to our youth who are in it."
"I believe the issue with education funding is two-part; 1) what are we spending our money on currently (e.g. private prisons) and 2) who isn't paying their share (75% of the large corporations here in this state pay no State Income Tax yet our small businesses do)."
"We need to address teacher pay and provide direct incentives (e.g. scholarships, student loans, and housing assistance) when it comes to the recruitment of qualified teachers to rural underserved areas of Arizona."
"We need to include a deliberate focus on preschool and all-day kindergarten, community colleges should be able to offer four-year degrees and we need a renewed focus on the trades and apprenticeship programs. Everyone who graduates from high school should have a diploma that allows them to continue on to college if they so choose AND a certification in a trade so that they can go and get a job, eat and take care of themselves and their family."
I support Invest in Ed as it is an investment in our youth and our youth are our future.
2)" Restoring Local Control to Rural Arizona – local control needs to be returned to local communities so that they can govern themselves. Specifically, SB1350 and SB1487 (which takes monies away from cities and towns who attempt to address local issues at a local level) need to be rescinded.  We are Arizonans, we do not need big government telling us what to do and how to deal with our local issues.  If we need big brother's help with something we will ask."
3) "Comprehensive Rural Management Area Ground Water Legislation (Act): Water is life and it is a finite resource.  Rural northern Arizona cities and towns have been in water litigation since the 1960s."
"In many cases, our small towns and cities, our ranchers and farmers and those that are trying to ensure our rivers and springs continue to flow and provide a recreational opportunity for all of us are expending hundreds of thousands of dollars annually to continue to fight for their right for and access to water."
"There are many areas in LD6 that don't have access to running water and others that cannot grow and/or dying due to the inability to access water needed to sustain and thrive."
"We need to address the issues that are preventing the Navajo-Hopi Relocation Act authored by Senator McCain from being completed as well as re-access the viability of the Navajo pipeline concept that was presented by Senator Kyle."
"We need to look at the cost of water and what is happening with reclaimed water in the region and what innovative ideas we can implement to ensure access to potable water."
"Arizona needs a comprehensive rural management area groundwater policy/legislation/act."
"Arizona needs to have a local and statewide adaptation and sustainability plan to meet rising temperatures and the water supply. We need a comprehensive rural water management plan."
4) Please tell the voters if you feel Doug Ducey should open a special session to deal with the urgent problems (like COVID 19, assistance to the most vulnerable, funding schools to safely reopen, legal reform) facing Arizona? Please explain. 
"Yes.  The Governor should open a special session to address COVID-19 and the impacts that Arizonans are currently dealing with because of it."
"My opponents went home when the crisis hit Arizona, returning only to officially close out the session while millions of Arizonans were left to try and figure out how to pay rent, care for sick family members, put food on the table and manage through a global crisis.  It is time for representatives to get back to work and clearly develop and implement a plan that will address what is needed to get Arizona back on her feet and moving forward."
"That plan needs to clearly identify (at a minimum) how the following will be addressed in rural/small town Arizona;"
"Access to education and healthcare (including broadband like telehealth and bridging the digital divide in schools.)"
"Infrastructure (including expanded broadband & technology as well as roads and public transportation.)"
"Small business preservation, expansion and assistance."
"Housing Assistance (including rental and foreclosure prevention.)"
"Workforce Development & Retraining (many jobs lost are not coming back.)"
"Economic development."
"Community reinvestment and redevelopment (including redevelopment assistance for the rebuilding of main streets and downtowns.)"
5) Is there anything you would like the voter to know about you or your candidacy that has not been asked in the first four questions.
"I am a third-generation daughter of Arizona."
"I am blessed to live in a house that my grandfather built-in 1942."
"I got my first job when I was 13."
"I own a small business and I used to be a teacher."
"I care deeply about rural Arizona and the future of our children's children."
"I am committed to assisting our small businesses to grow and flourish, increasing the wealth of Arizona's working-class families and looking after our veterans (my dad is a United States Air Force Officer, Retired 28 years)."
"I believe in Arizona."
"I love Arizona and I am very proud to be an Arizonan."
For more information on Mayor Coral Evans and her candidacy, please visit her website www.coralevansaz.com, her Facebook/Instagram/Twitter at coral4az, and a profile completed earlier this year for Blog for Arizona here. 
Please remember:
The General Election Day is on November 3. 2020. Please see the below graphic for all-important voting dates.
Please check your voter registration at vote.
Register/sign up for the Permanent Early Voting List (PEVL) in Arizona or any state that allows early or absentee balloting and mail. Arizona residents can sign up at vote.
Arizona residents, mail your General Election ballot by October 28, 2020, for the November 3, 2020 election. With recent issues with the Post Office, you should consider mailing them out by October 23, 2020, if not earlier.
Check-in with the Secretary of State's office where you live to verify your mail-in ballot was received, processed, verified, and counted.
Know the voter ID requirements in your state.
If you can, support Clean Election Candidates with a small contribution.
Also, please remember to stay informed on all the candidates and vote for all the offices on the ballot.
Also, remember to research all the ballot initiatives, sign to get them on the ballot if you support the measure, and vote on them as well.