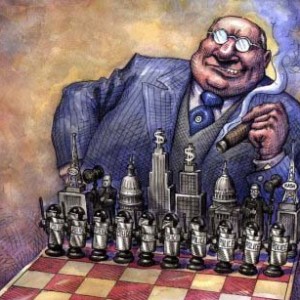 Our corporate overlords got their lickspittle servants in the GOP to enact a requirement in 2017 that all efforts by voters to enact their own laws by citizen initiative must be in "strict compliance" with each and every election statute, reversing more than 70 years of the courts applying the "substantial compliance" doctrine.
Our corporate overlords got their lickspittle servants in the GOP to enact a 2014 law that requires judges to toss signatures from circulators who don't show up in court in response to a subpoena. Failure to show up in court in response to the subpoena means a judge must invalidate all the signatures collected by that individual – even if those signatures are valid.
These two provisions of law designed to undermine your constitutional right to enact laws through citizen initiatives were successfully used by the forces of "dark money" to prevent the Outlaw Dirty Money initiative from qualifying for the ballot. An appeal has been filed.
The Arizona Capitol Times reports, Court ruling, lack of signatures sink 'dark money' ballot measure:
A new court decision Thursday has left backers of a ban on "dark money" even further from their goal of getting the measure on the ballot.
In an extensive ruling, Maricopa County Superior Court Judge Teresa Sanders rejected arguments by attorney Kim Demarchi that Secretary of State Michele Reagan had improperly and illegally disqualified some petitions submitted in July. Sanders said Reagan acted within what the law requires when petitions do not conform with legal requirements, i.e., strict compliance.
And Demarchi failed to convince Sanders that she should require Reagan to count the signatures on petitions submitted by people who foes of the initiative argued were not legally qualified to circulate them.
Attorney Kory Langhofer who represents initiative foes had alleged that some of the circulators were convicted felons while others had failed to provide legally required addresses. But Sanders did not have to specifically address whether those claims were true.
She pointed out that Langhofer had issued valid subpoenas for each of the people whose eligibility to circulate petitions was in question. When they did not show up in court, Sanders said she had no choice under Arizona law but to declare that all signatures collected by each of them could not be counted.
A few of the claims over whether signatures should be counted did, in fact, go Demarchi's way. But she conceded that the number of signatures that the judge disqualified exceeded the number she ordered restored to the count.
Demarchi said she was still tallying the numbers. But Langhofer said he believes the ruling, unless overturned, leaves initiative proponents about 8,000 short of what they need.
The ruling is the second bit of bad news for the initiative in as many days. On Wednesday, Reagan said the random sample of signatures reviewed by the 15 county recorders showed the measure came up 2,071 short of the 225,963 valid signatures needed to put the issue on the November ballot.
GOP attorney Korey Langhofer, who is representing tentacles of the "Kochtopus" challenging the Outlaw Dirty Money initiative, the Free Enterprise Club, Americans for Prosperity and Concerned Veterans for America, so-called "social welfare" groups that now are exempt from disclosure but would be subject to it if the initiative were to pass.
Thursday's ruling does not end the legal battle.
Aside from Demarchi's lawsuits against county recorders, she is challenging the constitutionality of two laws that put additional hurdles in the path of those trying to put measures on the ballot.
The larger issue is a 2017 law that requires all initiative petitions to be in "strict compliance" with each and every election law. Prior to then, courts had ruled that petitions need be only in "substantial compliance" with the law.
Demarchi argued that the Republicans who approved the change were interfering with the constitutional right of people to propose their own laws.
But Sanders pointed out the "substantial compliance" standard is not in the Arizona Constitution but instead strictly a court interpretation. She said that means state lawmakers were free to alter the standard without infringing on the rights of the courts.
And the judge said that mandating strict compliance with election laws "are reasonable means of pursuing important state interests."
That ruling is virtually certain to be reviewed by the Arizona Supreme Court, as a judge in another case, this one dealing with a tax hike on the rich to fund education, declared the standard to be unconstitutional. But Sanders' ruling is in line with a judge in a third case, this one on whether the renewable energy measure can be on the ballot, who said lawmakers are free to alter the standard.
Sanders also rejected an argument by Demarchi that lawmakers have no legal right to require judges to automatically throw out petitions — and all the signatures on them — if a circulator does not respond to a subpoena. The judge said the law "represents a reasonable means of fostering transparency, facilitating the judicial fact-finding process, inducing compliance with valid compulsory process, and mitigating the threat of fraud or other wrongdoing infecting the petition process."
Demarchi said she also will seek Supreme Court review of that ruling.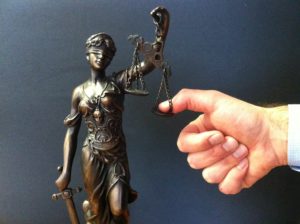 So this citizen initiative will be decided not at the ballot box by the voters, but by seven justices of the Arizona Supreme Court, and our lawless GOP legislature which put a thumb on the scales of justice in favor of their corporate masters over the citizens of Arizona.
Arizona voters should remove these Republican legislators from office en masse so that the next legislature can reverse these onerous laws and restore your constitutional right to citizens initiatives — as well as legislatively enact laws requiring transparency and disclosure in campaign finance.
---
Support volunteer citizen journalism at the Blog for Arizona with a donation today. Your PayPal contribution keeps the Blog online and sustains a free press in Arizona.
---