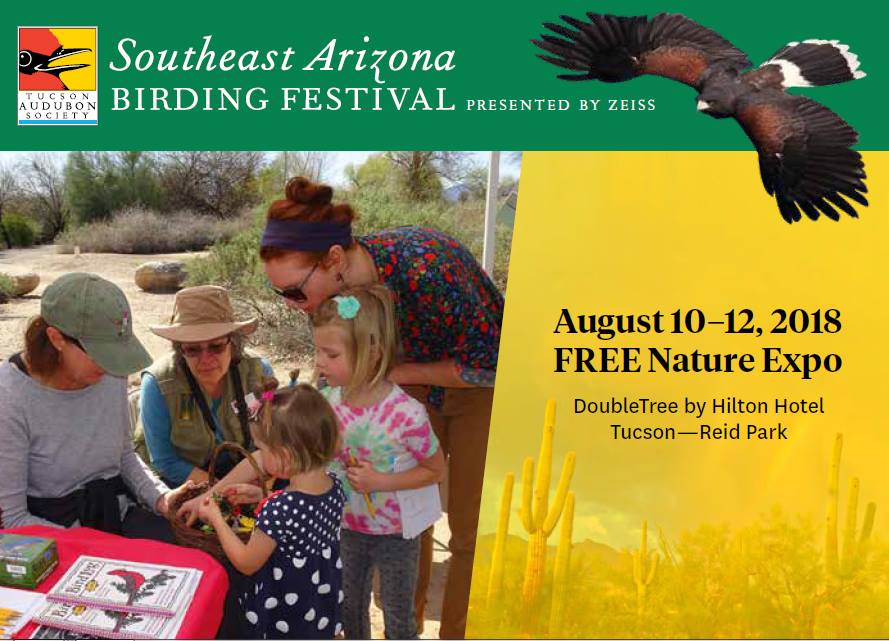 FREE Nature Expo
Join the festivities at the Nature Expo! Featuring fun, games, free talks and vendors all held at the DoubleTree by Hilton Hotel Tucson – Reid Park.
Hours:
Friday, August 10, 12:00pm — 6:00pm
Saturday, August 11, 10:00am — 6:00pm
Sunday, August 12, 10:00am — 2:00pm
"Our Nature Expo will feature family-friendly activities in the all new Kids Zone, which includes live animals from the Reid Park Zoo, live raptors from Wildlife Rehabilitation of Northwest Tucson, face painting, owl pellet dissection, and Nestlings Storytime.
Nature lovers will also find opportunities to learn about birds and other wildlife at the Nature Expo. Free and paid workshops and talks will cover birds and birding optics, hummingbird photography, bats, bears, nestboxes, insects, conservation, rattlesnakes, home habitat creation, and much more. If you've never tried it, you can go bird watching on one of the many casual walks around the hotel grounds led by an expert.
The vendor fair features a unique variety of exhibitors that everyone will enjoy. Find the work of local artisans, learn from conservation organizations, purchase a new camera or pair of binoculars, or plan your next birding or nature vacation. Tucson Audubon will have several booths where you can get involved, including the Habitat at Home and Ecosystem Restoration Programs and the Nature Shop."
https://www.facebook.com/events/2172433116162519/
Full schedule of events here: http://tucsonaudubon.org/news-events/southeast-arizona-birding-festival/vendor-fair/
Please donate to Blog for Arizona:
Support volunteer citizen journalism at the Blog for Arizona with a donation today. Your PayPal contribution keeps the Blog online and sustains a free press in Arizona.