A product of the rural community of Pisin' Mo'o, Arizona (an area where it still takes an hour to drive to the nearest post office, grocery, and library,) Gabriella Cázares-Kelly has worked hard to help those in need, including children and residents in rural and Native American communities.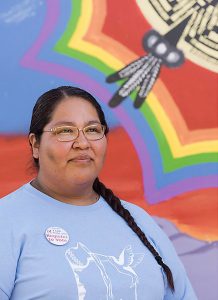 Over the last several years, Ms. Cázares-Kelly has worked at fostering civic engagement for those communities and the Tucson area, where she lives with her family.  She also has worked at connecting multiple communities with others. She has served as a co-founder of Indivisible Tohono, President of the Progressive Democrats of Southern Arizona, and the Arizona Democratic Party's Native American Caucus. 
She would now like to continue her work with increasing voter registration and turnout in Pima County by becoming the next Pima County Recorder. 
Ms. Cázares-Kelly graciously took the time to answer questions about herself, her candidacy, and her goals as Pima County Recorder should she win the election on November 3, 2020. 
The questions and her responses are below. 
Please tell the reader what are two reasons you want to run for Pima County Recorder.
"I want to make voter registration and early voting easier, faster, and more accessible for all voters. Through my voter outreach efforts, I have found that many Pima County residents have questions about voter registration and early voting, but they don't know where to go for answers.  I start out every presentation by telling people more about what the office does because many simply have no idea what a Recorder does. Everyday constituents should be able to access the services of this office. I want us to stretch the imagination of what we can expect of the Recorder's office. I want this office to be constituent based and proactive towards pushing forward practical policies that help voters."
Please tell the readers what are at least two qualifications you have to run for Pima County Recorder

.
" I'm a community organizer, skilled at relationship and consensus-building, and I've excelled at highlighting and creating a sense of urgency around issues impacting our county. I have been working with rural and tribal communities for over 14 years, addressing issues that are unique to those communities and which often get overlooked in urban settings. Through my community outreach efforts in urban areas, I have discovered the lack of rural and tribal representation and have worked to bridge those communities together.  I am a community builder who has established relationships with communities across our county, and I've invested my time and energy to see inclusive progress on that scale. I have a bachelor's degree in Secondary English Education from the University of Arizona and a Master's degree in Educational Leadership from Northern Arizona University.  I have spent the majority of my adult life working at the community college level and more recently at the high school level.  It was during my time working at a community college when I realized how difficult it was for college students and young people to register to vote and was disappointed by the lack of clarity for those students. I also realized that many people with felonies did not know their rights and many falsely assumed they were ineligible to vote.  I realized that there was a disconnect between the Recorder's office and its constituents and those practical experiences are why I am seeking this office."
Please tell the reader what are at least two goals you want to pursue if elected in November 2020
"I am committed to providing better resources to community organizations invested in voter outreach and education.  I also plan to utilize existing technology and practical solutions to ensure voters feel confident casting early ballots. This includes solutions such as ballot drop boxes and automatic electronic alerts to voters when the Recorder's Office receives their early ballots. Another area for growth is with advertising.  The lack of advertising of critical voting information puts the burden on others to create materials (and possibly misinform voters) and to distribute them only within their circles of reach. This creates silos of information that continue to exclude others and doesn't get the necessary information to new voters or low propensity voters.  We have to change the voting culture in Pima County and I am committed to exploring new and innovative ways to do that effectively. "
 

What are at least two reasons you would be a better Pima County Recorder than your Republican opponent?
"We should not be concerned with defeating Republicans; we should be concerned with how best to serve our community. Pima County is a Democratic County. The County has a democratic majority on the Board of Supervisors. Tucson, Pima County's largest metro area has a Democratic Mayor and council. Arizona state legislators who serve in LD2, LD3, LD4, LD9, and LD10 in our county are currently all democratic, as are all three of the Congressional Representatives who serve in our region. I've seen that the Republican candidate in this race is knowledgeable about elections, but I've also seen that he's helped put forth lawsuits suppressing local voters' rights to direct democracy.  During this global pandemic, he is advertising neighborhood canvases with no mention of safety and health precautions for either volunteers nor constituents.  I do not believe he has the well-being of our county at heart."
"As for my democratic opponent, Kimberly has been kind, and a great help in my many interactions with the Recorder's office and I appreciate her work. I'm not running against Kimberly, I am running to promote progressive policies that this office can use to register and empower more voters, and better serve the people of Pima County.  I'm running on a platform with an emphasis on unique vision, and leadership." 
Please describe your position on PEVL and to what extent do you encourage all Pima County residents to enroll in it.
"I strongly support voters signing up to be on the Permanent Early Voting List (PEVL), as it has been very successful statewide.  However, it's important to acknowledge that some communities require additional resources. There are some communities that struggle with shared P.O. Boxes or long distances to collect their mail.  There are also those who need language translation services or assistance and accommodations to vote and will still need to do so in person.  I support those services continuing to be made available but encourage as many people to vote by mail as possible to lessen the threat of exposure to Covid-19." 
"I am in favor of high school graduates registering to vote when they graduate.  I also strongly support statewide automatic voter registration legislation, which would allow us to utilize the Motor Vehicle Division's Database to register all eligible voters in their system. Imagine what we could do with our resources if we could reduce the voter registration outreach efforts and increase the voter education efforts instead!" 
Please tell the reader anything you would like them to know about yourself or the new campaign not covered in the previous five questions.
 "I am the granddaughter of a woman who did not have the right to vote in Arizona until 1948 when she was 30 years old.  The law changed after two Native American combat veterans sued the state of Arizona after being denied the right to register to vote.  But my grandmother, Catherine, and other people of color in this country were still not guaranteed the right to actually submit a ballot until the passing of the Voting Rights Act of 1965. Additionally, my Hu'uli-bat (my late grandmother) didn't speak English, she only spoke O'odham and did not have the right to a translator until 1975, which wasn't that long ago.  We have to recognize that voter suppression tactics still impact us even now.  Not everyone has equal access to the ballot."  
"When elected I will be the first Native American to hold an elected office in Pima County.  That distinction is bittersweet, as it is an amazing accomplishment, but also demonstrates the lack of representation that we're accustomed to in this county.  I am extremely motivated about the excitement my campaign has generated in the community and throughout the state.  Pima County is ready to have tough conversations about equity and we're ready for change."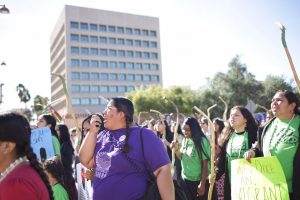 For more information on Gabriella Cazares-Kelly and her candidacy, please click on her website here and her Facebook Page here. 
Please remember to:
Turn out and vote.
Register/sign up for the Permanent Early Voting List (PEVL) in Arizona or any state that allows early or absentee balloting and mail. Arizona residents can sign up at servicearizona.com
Arizona residents, mail your General Election ballot by October 28, 2020, for the November 3, 2020 election.
Check-in with the Secretary of State's office where you live to verify your mail-in ballot was received, processed, verified, and counted.
Know the voter ID requirements in your state.
If you can, support Clean Election Candidates with a small contribution.
Also, please remember to stay informed on all the candidates and vote for all the offices on the ballot.
Also, remember to research all the ballot initiatives and vote on them as well.
Remember Election Day is on November 3. 2020.