"Everyone is Creative. Everyone is Welcome."
https:B//creativemornings.com/cities/tuc/talks?fbclid=IwAR1_XAFN5bsUzw2pTWiGqVoUJ5fA1xfbzkPkH0kIYgxE_CZ8UEe-R9HJz6s
I've been hearing about these Creative Mornings to meet up with creative people. Then I noticed that former AZ Daily Star reporter Becky Pallack (now with AZ Luminaria, featured image) gave one of the talks, so I finally checked them out. Becky's talk was entertaining & illuminating about journalism. See link above. And an excerpt of who they are below:
"Simply put, Tucson is on the up. And as it grows it's going to take us, the creative community, to maintain the heartbeat of our city. It's important we foster our own ecosystem and work together; that's where CreativeMornings comes in.
Join us at our next event and let's get creating together.
Sign up for our email newsletter to get the latest event announcements and details!"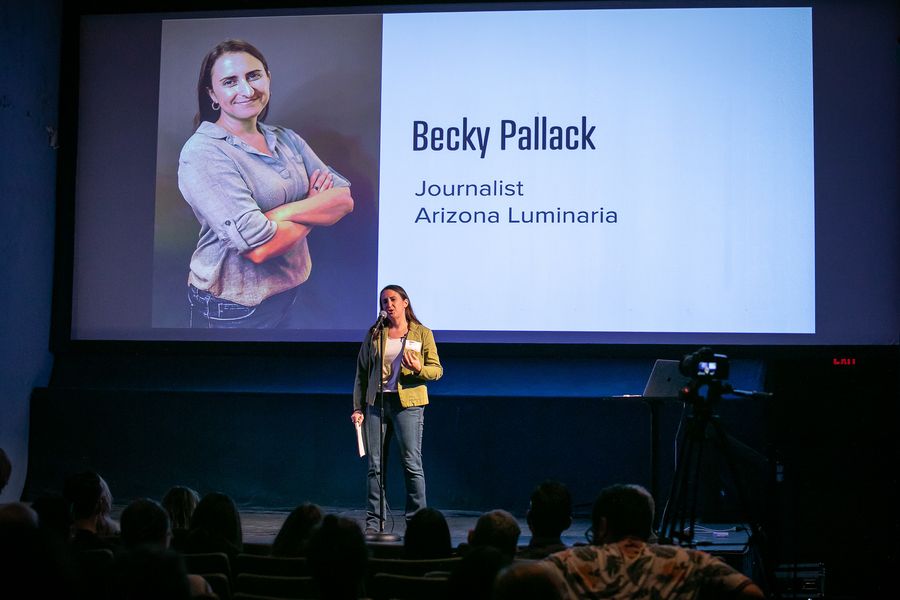 I know others who have given talks on their list: Former Tucson City Mgr. Mike Letcher, former PCC Board member Demion Clinco, and of course artists in Tucson: Kimi Eisele, Mel Dominguez, Lauren Rabb, Daniel Buckley (formerly with Tucson Citizen), and serving as a volunteer photographer Kathleen Dreier.
So…sign up (I just did) to receive their email newsletter and join in with these creative talks. Next one is September 22, featuring writer Elena Acoba, speaking on "Simplicity". It will be at The Screening Room, at 8:30 a.m. in the morning, at 127 E. Congress St. downtown Tucson.