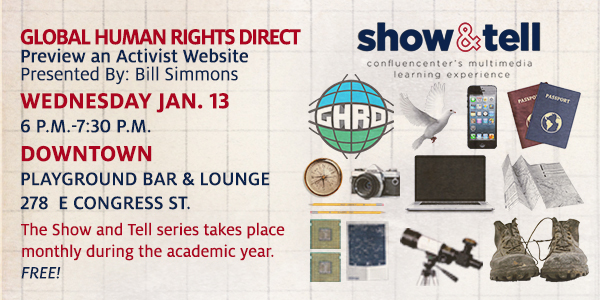 FOR IMMEDIATE RELEASE
Contact: Jamie Manser
jlmanser@email.arizona.edu, 621-0599
Show & Tell @ Playground: Global Human Rights Direct
Preview an activist website
Wednesday, Jan. 13, 6 p.m.-7:30 p.m.
278 E. Congress St.
"It doesn't take more than a quick glance at news headlines to see a terrible fact: human rights are compromised in every part of the globe. But, behind these headlines, there are groups of people working to stop human rights abuses. They are survivors, activists, scholars, translators, and policymakers from around the world who want to build connections, share their knowledge and create solutions.
Inspired by his work in the classroom and his activism around the globe addressing human rights abuses, UA Associate Professor of Gender and Women's Studies Bill Simmons is launching a website that aims to revolutionize how human rights is taught and globally communicated, with an eye on defending those rights and to ultimately find achievable solutions to ending abuses.
Funded by a Confluencenter "Innovation Farm" grant, the website – GlobalHumanRightsDirect.com – is set to launch in January. It will be previewed at Confluencenter's Jan. 13 Show & Tell event. During the presentation, Dr. Simmons will showcase the features of Global Human Rights Direct (GHRD), which allows members to: video conference with human rights experts, connect with individuals and groups interested in similar human rights issues, learn more about important human rights' topics, publicize human rights causes/organizations, and become educated in ways to contribute to stopping abuses.
"Our main goals are to revolutionize how human rights is taught, how it is conceived, and what counts as expert knowledge in rights discourses," said Simmons. "By doing so, we hope to address human rights abuses in novel ways that take into account the voices of those not normally heard."
Javier Duran, Director of the Confluencenter, lauds the project's achievements: "Bill Simmons' website and project is a testimony of the highly positive impact that Confluencenter's Innovation Farm program will have in the field of human rights. GHRD is poised to transform the global conversation about human rights and social justice issues for the next decade. The project is creating a new model for a multiplicity of actors to become engaged and closely connected in many areas of the world. The innovative and collaborative nature of the project demonstrates how the University of Arizona's talented and passionate faculty are working together to provide solutions to humanity's grand challenges."
The Confluencenter for Creative InquiryworkswithfacultyinthecollegesofHumanities, Fine ArtsandSocialandBehavioralSciences, awardingFacultyCollaborationGrantsforinterdisciplinaryresearchalongwithsupportingaGraduateFellowsProgram.Moredetailsareavailable atConfluencenter.arizona.edu.