The New York Times continues its dogged reporting into the shady finances and tax fraud schemes of Donald J. Trump. In 2018, The Times reported Trump Engaged in Suspect Tax Schemes as He Reaped Riches From His Father: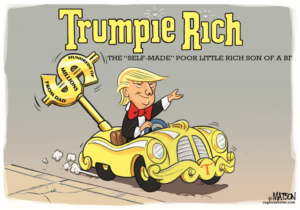 President Trump participated in dubious tax schemes during the 1990s, including instances of outright fraud, that greatly increased the fortune he received from his parents, an investigation by The New York Times has found.
Mr. Trump won the presidency proclaiming himself a self-made billionaire, and he has long insisted that his father, the legendary New York City builder Fred C. Trump, provided almost no financial help.
But The Times's investigation, based on a vast trove of confidential tax returns and financial records, reveals that Mr. Trump received the equivalent today of at least $413 million from his father's real estate empire, starting when he was a toddler and continuing to this day.
Much of this money came to Mr. Trump because he helped his parents dodge taxes. He and his siblings set up a sham corporation to disguise millions of dollars in gifts from their parents, records and interviews show. Records indicate that Mr. Trump helped his father take improper tax deductions worth millions more. He also helped formulate a strategy to undervalue his parents' real estate holdings by hundreds of millions of dollars on tax returns, sharply reducing the tax bill when those properties were transferred to him and his siblings.
President Donald Trump's older sister, Maryanne Trump Barry, retired as a federal appellate judge earlier this year and thereby ended an investigation into whether she broke judicial conduct rules by allegedly engaging in tax fraud based on this reporting, The New York Times reported.
Tuesday night, The Times reported on Donald Trump's failure to pay taxes for the better part of a decade at a time when he was selling himself as a successful businessman back in the 1980s. In fact, "Trump appears to have lost more money than nearly any other individual American taxpayer." Decade in the Red: Trump Tax Figures Show Over $1 Billion in Business Losses:
By the time his master-of-the-universe memoir "Trump: The Art of the Deal" hit bookstores in 1987, Donald J. Trump was already in deep financial distress, losing tens of millions of dollars on troubled business deals, according to previously unrevealed figures from his federal income tax returns.
Tony Schwartz, who had ghostwritten Trump's 1987 memoir "Trump: The Art of the Deal," later expressed deep remorse for creating the myth of Donald Trump. Donald Trump's Ghostwriter Tells All:
"I put lipstick on a pig," he said. "I feel a deep sense of remorse that I contributed to presenting Trump in a way that brought him wider attention and made him more appealing than he is." He went on, "I genuinely believe that if Trump wins and gets the nuclear codes there is an excellent possibility it will lead to the end of civilization."

If he were writing "The Art of the Deal" today, Schwartz said, it would be a very different book with a very different title. Asked what he would call it, he answered, "The Sociopath."
Mr. Trump was propelled to the presidency, in part, by a self-spun narrative of business success and of setbacks triumphantly overcome. He has attributed his first run of reversals and bankruptcies to the recession that took hold in 1990. But 10 years of tax information obtained by The New York Times paints a different, and far bleaker, picture of his deal-making abilities and financial condition.
The data — printouts from Mr. Trump's official Internal Revenue Service tax transcripts, with the figures from his federal tax form, the 1040, for the years 1985 to 1994 — represents the fullest and most detailed look to date at the president's taxes, information he has kept from public view. Though the information does not cover the tax years at the center of an escalating battle between the Trump administration and Congress, it traces the most tumultuous chapter in a long business career — an era of fevered acquisition and spectacular collapse.
The numbers show that in 1985, Mr. Trump reported losses of $46.1 million from his core businesses — largely casinos, hotels and retail space in apartment buildings. They continued to lose money every year, totaling $1.17 billion in losses for the decade.
In fact, year after year, Mr. Trump appears to have lost more money than nearly any other individual American taxpayer, The Times found when it compared his results with detailed information the I.R.S. compiles on an annual sampling of high-income earners. His core business losses in 1990 and 1991 — more than $250 million each year — were more than double those of the nearest taxpayers in the I.R.S. information for those years.
Over all, Mr. Trump lost so much money that he was able to avoid paying income taxes for eight of the 10 years. It is not known whether the I.R.S. later required changes after audits.
Since the 2016 presidential campaign, journalists at The Times and elsewhere have been trying to piece together Mr. Trump's complex and concealed finances. While The Times did not obtain the president's actual tax returns, it received the information contained in the returns from someone who had legal access to it. The Times was then able to find matching results in the I.R.S. information on top earners — a publicly available database that each year comprises a one-third sampling of those taxpayers, with identifying details removed. It also confirmed significant findings using other public documents, along with confidential Trump family tax and financial records from the newspaper's 2018 investigation into the origin of the president's wealth.
* * *
On Saturday, after further inquiries from The Times, a lawyer for the president, Charles J. Harder, wrote that the tax information was "demonstrably false," and that the paper's statements "about the president's tax returns and business from 30 years ago are highly inaccurate." He cited no specific errors, but on Tuesday added that "I.R.S. transcripts, particularly before the days of electronic filing, are notoriously inaccurate" and "would not be able to provide a reasonable picture of any taxpayer's return."
Mark J. Mazur, a former director of research, analysis and statistics at the I.R.S., said that, far from being considered unreliable, data used to create such transcripts had undergone quality control for decades and had been used to analyze economic trends and set national policy. In addition, I.R.S. auditors often refer to the transcripts as "handy" summaries of tax returns, said Mr. Mazur, now director of the nonpartisan Urban-Brookings Tax Policy Center in Washington.
In fact, the source of The Times's newly obtained information was able to provide several years of unpublished tax figures from the president's father, the builder Fred C. Trump. They matched up precisely with Fred Trump's actual returns, which had been obtained by The Times in the earlier investigation.
* * *
But in the granular detail of tax results, it gives a precise accounting of the president's financial failures and of the constantly shifting focus that would characterize his decades in business. In contrast to his father's stable and profitable empire of rental apartments in Brooklyn and Queens, Mr. Trump's primary sources of income changed year after year, from big stock earnings, to a single year of more than $67.1 million in salary, to a mysterious $52.9 million windfall in interest income. But always, those gains were overwhelmed by losses on his casinos and other projects.
The new information also suggests that Mr. Trump's 1990 collapse might have struck several years earlier if not for his brief side career posing as a corporate raider. From 1986 through 1988, while his core businesses languished under increasingly unsupportable debt, Mr. Trump made millions of dollars in the stock market by suggesting that he was about to take over companies. But the figures show that he lost most, if not all, of those gains after investors stopped taking his takeover talk seriously.
* * *
The first of the two previous glimpses of the president's tax returns came from his 1995 filings, pages of which were anonymously mailed to The Times in 2016. They showed that Mr. Trump had declared losses of $915.7 million, giving him a tax deduction so substantial that it could have allowed him to legally avoid paying federal income taxes on hundreds of millions of dollars of income for almost two decades. Several months later, the journalist David Cay Johnston was mailed pages of Mr. Trump's 2005 returns, which showed that by then he had significant sources of income and was paying taxes.
David Cay Johnston previously reported in 2016, New Evidence Donald Trump Didn't Pay Taxes:
New questions about the integrity of Donald Trump's income tax returns, and new indications that he does not pay income taxes, arise from rulings in two tax appeals that Trump filed in the 1990s. Trump lost both cases.
Trump's 1984 federal income tax return included a Schedule C, the form used by sole proprietors, the decision in the first case shows.
Trump listed no income on that form, yet he deducted $626,264 as expenses. His New York City tax return also showed no income, but listed slightly less in expenses: $619,227.
No receipts, invoices, or other documentation were provided when Trump was under audit or during his appeal from what he argued was an unfair demand for more tax.
"The record does not explain how Petitioner [Trump] had significant expenses without any concomitant income from his consulting business," wrote H. Gregory Tillman, the city administrative law judge who heard the case on April 29 and May 28 of 1992.
Jack Mitnick, the lawyer and accountant who prepared Trump's tax returns for more than two decades, was Trump's only witness. Mitnick testified that he was "thoroughly familiar" with the Trump tax returns and all aspects of the finances of Trump Tower, which were central to the appeal.
But when shown a photocopy of Trump's 1984 tax return, Mitnick testified that "we did not" prepare that return, referring to himself and his firm, and he said did not know who did. However, Mitnick did not dispute that it was his signature on the photocopy.
The original tax return was never found, the judge noted.
Among the issues raised by Mitnick's 1992 testimony is whether Trump or someone acting on his behalf substituted a return that he or someone else prepared and then transferred Mitnick's signature using a photocopier.
The second case was before the New York State Division of Tax Appeals in 1994 and concerned taxes on profits from selling units in an East 61st Street apartment building which was 90 percent owned by Trump, with his brother Robert and aide Louise Sunshine splitting the remaining share.
Again the issue was 1984 deductions Trump took without providing any documentation to auditors or when Frank W. Barrie, a state administrative law judge, heard his appeal.
It was in this appeal that the record shows Trump paid no income tax in 1984.
"Mr. Mitnick has prepared Donald Trump's income tax returns for the last 20 years and testified that Mr. Trump had no income tax due against with the credit 'could have been applied,'" Judge Barrie wrote in his 23-page opinion.
In the city case, Judge Tillman noted that Trump complained of double taxation, but found that claim baseless. Using bold face to emphasize his point, Judge Tillman wrote, "The problem at issue is not one of double taxation, but of no taxation."
The Times report continues:
In New York, the attorney general's office is investigating the financing of several major Trump Organization projects; Deutsche Bank has already begun turning over documents. The state attorney general is also examining issues raised last year by The Times's investigation, which revealed that much of the money Mr. Trump had received from his father came from his participation in dubious tax schemes, including instances of outright fraud.
In addition, the New York legislature is moving quickly to allow the release of Mr. Trump's state tax returns to congressional committees. N.Y. Lawmakers Move Closer to Allowing Release of Trump's State Tax Returns.
The Times's report then goes into a lengthy narrative report explaining and putting into context what was going on with Trump's finances each year. Some details that stand out:
Mr. Trump was able to lose all that money without facing the usual consequences — such as a steep drop in his standard of living — in part because most of it belonged to others, to the banks and bond investors who had supplied the cash to fuel his acquisitions. And as The Times's earlier investigation showed, Mr. Trump secretly leaned on his father's wealth to continue living like a winner and to stage a comeback.
* * *
Some fraction of that ocean of red ink represented depreciation on Mr. Trump's real estate. One of the most valuable special benefits in the tax code, depreciation lets owners of commercial real estate write down the cost of their buildings.
Mr. Trump defended this tax strategy on Wednesday and said in a pair of Twitter posts that this was what real estate developers did in the 1980s and 1990s.
* * *
In "The Art of the Deal," Mr. Trump points to one of his Atlantic City casinos to illustrate the magic of depreciation. If the casino's cost was $400 million, he says, he would be able to depreciate it at a rate of 4 percent a year, allowing him to shelter $16 million in taxable income annually.
But while this example is intended to show the benefits of depreciation, it also demonstrates that depreciation cannot account for the hundreds of millions of dollars in losses Mr. Trump declared on his taxes.
The tax code also lets business owners like Mr. Trump use losses to avoid paying tax on future income — a lucrative deduction intended to help troubled businesses get back on their feet. Mr. Trump's losses over the years rolled into the $915.7 million free pass from income taxes — known as net operating loss — that appeared on his 1995 returns.
The newly revealed tax information sheds light on how those net operating losses snowballed. By 1991, they had grown to nearly $418 million, accounting for fully 1 percent of all the losses that the I.R.S. reported had been declared by individual taxpayers that year. And the red ink continued to accumulate apace.
Because Mr. Trump reported a negative adjusted gross income in each of the 10 years, he was not allowed to deduct any charitable contributions. So while he has boasted of making large donations at the time, the information obtained by The Times shows no such itemized deductions. Potential deductions could have been carried over to a future year, should Mr. Trump have reported a positive income.
* * *
As with many things Trump, his adventures in the stock market were more image than substance, helped greatly by news reports quoting anonymous sources said to have knowledge of Mr. Trump's actions. An occasional quote from an associate — including his stockbroker, Alan C. Greenberg — helped burnish the myth.
* * *
One number from Mr. Trump's tax returns is particularly striking — and particularly hard to explain: the $52.9 million in interest income he reported in 1989.
Mr. Trump reported $460,566 in interest income in 1986. That number grew to $5.5 million the next year, and $11.8 million the next. Then came the outlier 1989.
Taxpayers can receive interest income from a variety of sources, including bonds, bank accounts and mortgages. High-yield bonds, though less common today, were popular with institutional investors in the 1980s. And to make $52.9 million in interest, for example, Mr. Trump would have had to own roughly $378 million in bonds generating 14 percent a year.
Hard data on most of Mr. Trump's business life is hard to come by, but public findings from New Jersey casino regulators show no evidence that he owned anything capable of generating close to $52.9 million annually in interest income.
Similarly, there is no such evidence in a 1990 report on Mr. Trump's financial condition, prepared by an accounting firm he hired at his bankers' request and based on his most current tax returns and audited financial statements.
* * *
While Donald Trump reported hundreds of millions of dollars in losses for 1990 and 1991, Fred Trump's returns showed a positive income of $53.9 million, with only one major loss: $15 million invested in his son's latest apartment project.
Fred Trump's ne'er-do-well spendthrift son burned through daddy's money, and likely his inheritance after Fred Trump died in 1999. Who has been providing Donald Trump with a stream of income since daddy died? Donald Trump, Jr. said in 2008 that a lot of the family's assets came from Russia. And Eric Trump in 2014: "We have all the funding we need out of Russia". Investigative reporter Michael Hirsh explained How Russian Money Helped Save Trump's Business in 2018. Donald Trump is a wholly owned subsidiary of Russian oligarchs, and a "useful idiot" Russian asset to Vladimir Putin.