There is a scene in the movie "Legends of the Fall" (yeah the one with Brad Pitt) where the eldest son, Alfred Ludlow (portrayed by Aidan Quinn) comes to his father William's (played by Anthony Hopkins) ranch with several local officials to ask for his blessing in his run for Congress in Montana. The Hopkins character (see link below) laughs and asks his son what the accompanying officials expect from him should he win the seat in exchange for their support. The conversation and the relationship between father and son goes poorly from there until the climax of the movie.
The scene is potentially illustrative of the Phoenix Mayoral Runoff Election that will take place on March 12, 2019. The two candidates are the first and second place winners from the November 2018 elections: former Councilpersons Kate Gallego and Daniel Valenzuela. Both candidates are registered Democrats. In that election, Gallego had a 19-point advantage over Valenzuela.
In a bid to erase that deficit and win the runoff, Valenzuela has made alliances with public figures normally associated with Republican political circles (like recruiting John McCain campaign advisors,) resulting in phone calls being conducted asking for Phoenix residents to vote for "Republican" Valenzuela, digital advertisements on Breitbart, Facebook ads subtly reminding conservative voters that his opponent is endorsed by most Democratic-leaning organizations, and receiving endorsements from organizations like the Greater Phoenix Chamber of Commerce that oppose the Councilman's stated views on the minimum wage, campaign donation transparency, comprehensive immigration reform, the Equal Rights Amendment, and a woman's right to choose.
Has the former Councilman unwittingly made a Faustian Bargain by trading his political soul to procure the office he has coveted for so long by going over to the Republican side?
While it is recommended and encouraged that political candidates reach out to all the voters regardless of what political party they belong to, they should do so without compromising their principals.
These are recent examples that voters should consider in evaluating if Councilman Valenzuela has given up his political soul.
Phone Banking for "Republican Danny Valenzuela"
 Sunday Square Host and television journalist Brahm Resnik recently commented on Twitter that he had received a phone bank call asking him to support "Republican Danny Valenzuela for Mayor of Phoenix." Later, a Valenzuela aide had to let everyone know that the Councilman has not switched from being a Democrat to a Republican.
Advertising on Breitbart
 The Councilman is advertising on various sites including the Arizona Republic and Blog for Arizona. He and his supporters are also advertising on Breitbart (see image and date stamp below.) What is a Centrist Progressive Democrat doing advertising on Breitbart, a fringe reactionary nativist anti-immigrant organization that advocates positions most Democrats are against?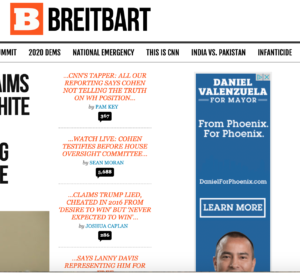 Attacking Councilwoman Gallego for being endorsed by Planned Parenthood and the Sierra Club
 Since October 2018 Councilman Valenzuela's allies have tried to attack Councilwoman Gallego for being embraced by Planned Parenthood and the Sierra Club (two organizations that Mr. Valenzuela, according to the Phoenix New Times, hoped to secure the endorsements for himself.) This trend has continued through subtle digital ads linking Gallego to those same Democratic-leaning organizations (see image below). What Democratic Candidate or his supporters is going to criticize another Democratic Candidate for having the endorsement of Planned Parenthood and the Sierra Club?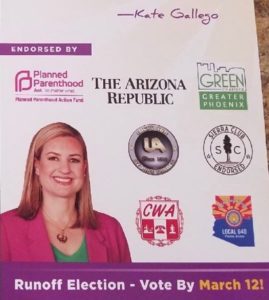 Conservative and Dark Money Endorsements that potentially challenge Councilman Valenzuelas held positions.
Councilman Valenzuela, in an interview profile conducted with Blog For Arizona, expressed views on the minimum wage, dark money, immigration reform, a woman's right to choose, the rights for the LGBTQ community, and the Equal Rights Amendment that are counter to the views of many of his newfound conservative supporters.
One example is Republican State Senator Paul Boyer. An outspoken opponent of the Equal Rights Amendment, a woman's right to choose, and rights for the LGBTQ Community, Mr. Boyer is a noted endorser of Mr. Valenzuela. He is listed on the link below "We Stand with Daniel Valenzuela" under the description of the Councilman explaining his leading the way on passing a city-wide Non-Discrimination Ordinance. Senator Boyers views on choice and marriage, as outlined on his website, also contradict the Councilman. Why has Councilman Valenzuela allied himself with a person whose views are right of even Conservative Democrats?
Another example is the endorsement of the Greater Phoenix Chamber of Commerce. This is an organization that opposed the minimum wage increase from 2016.  They also expressed, while sending representatives to speak at the State Legislature, support for a recent measure to decrease the minimum wage for students 21 and under. While being allies with business and commerce is desirable for the good of the community, why take the support of a group that openly opposes your constituents being able to live on the most basic of needs.
A final example is the use of Dark Money to spawn dubious print, digital, and televised advertisements that have come under scrutiny for their inaccuracy. While the Gallego supporters also fell into this trap on a third party ad criticizing Mr. Valenzuela's ties to billionaires and the Talking Sticks Arena, the problem has been more pronounced with the Councilman. There has been one debunked ad questioning Councilwoman Gallego's commitment to funding law enforcement and public safety and one recent report questioning the identity of a Dark Money group from Oklahoma that funneling media and financial support to Mr. Valenzuela, a candidate that has publicly (like Gallego) decried Dark Money intrusions into campaigns.
Last Minute Mailers
As early voting centers have opened ahead of the March 12 election, the Valenzuela supporters released a mailer (see image below) showcasing the Councilman as the "conservative choice" for mayor and repeats the assertion that she does not support law enforcement. The ad also chastises Councilwoman Gallego for being a superdelegate for Hillary Clinton. What Democratic candidate is going to criticize another for supporting the 2016 Democratic Presidential Candidate and Popular Vote Winner? Is Valenzuela going to allow one of his new found conservative supporters to put an ad on Breitbart that he now agrees with Donald Trump, the person endorsed by the KKK?
Closing Thoughts
 When profiles were composed on both Ms. Gallego and Mr. Valenzuela last summer, Phoenix voters were encouraged to examine the positions and records of both candidates when making their choice for mayor.
While both candidates would, if either wins on Tuesday, probably steer Phoenix in a forward direction, voters need to consider two questions when going to the ballot box. First, to what degree will the candidate use the power of the mayor to advance a forward-looking agenda for Phoenix? Second, voters should consider how the candidates conducted themselves to get to this point. Were they generally consistent with their core beliefs or did they make compromises with them not because of evolving views, but for political gain and power?  As Ms. Gallego said at a rally in Phoenix on March 8, "I'm proud that I will end this campaign with the same values I had when I began it."
Voters will need to ask themselves if they want the progressive candidate that stayed close to their principals or the one that chose expediency and did not.
Do not forget to vote on March 12 if you have not already submitted your mail-in ballot.