Muralist Joe Pagac is at it again…he likes painting giant murals around Tucson. His most recent one was the large historical one on the west side of Mountain Avenue on the TEP substation wall, just south of Prince Road. The dedication was held on Feb. 24, with speakers on site and next door at Habitat for Humanity, 3501 N. Mountain Ave.
Now Joe is hosting a Kickstarter campaign to turn this blank wall near downtown Tucson (NE corner of Stone Avenue and E. 6th Street):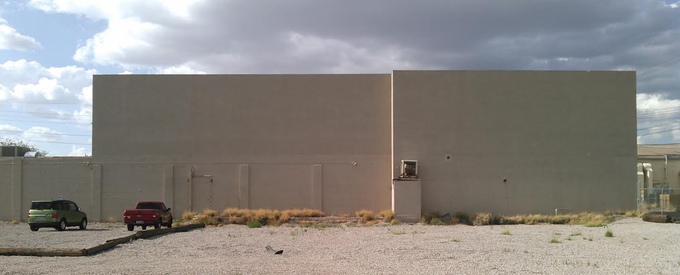 into a bicycling mural (mock up below):

His vision of this mural project:
"I will be painting a 130 foot wide by 30 foot tall mural on the South facing wall of Epic Rides (543 N. Stone Ave.). My mission is to bring the Tucson community together to beautify the city while promoting an active, outdoor lifestyle and cycling. The mural depicts Sonoran cycling with a fun, colorful spin. Biking is dear to my heart as it is to so many of us here in Southern Arizona, and with so many great events like 24 hours in the Old Pueblo and El Tour de Tucson here, I thought this would be a great way to promote our bike loving culture and beautify a building in the heart of our city.
The mural is going on a wall that will face the new Aviation highway and Downtown Tucson, so thousands of commuters and people passing through the city will see it every day. This wall has also had repeated problems with tagging, so the mural will help with graffiti abatement. If you want to pitch in to create some great, lasting art for our city that you can be proud of please pitch in!"
If you want more info or to donate any amount, go to this kickstarter link: https://www.kickstarter.com/projects/1092548129/huge-cycling-bike-mural-for-tucson-arizona.  There's also a good video on that website with Joe explaining his vision for this project. He's also an avid mountain biker.
Joe has raised over $11,000 so far to date (from 172 people) and needs to raise $18,000. He's over half way there.
He has set the deadline as:
All or nothing. This project will only be funded if it reaches its goal by Monday, March 13 2017 7:17 AM MST. 
Please help if you can donate any $ to this project.  Good luck, Joe.