Saying "the facts are on your side," "this is about America," "this is disgusting. We cannot allow America's election to be corrupted," Fox Television "Journalist" Maria Bartiromo provided 2016 and 2020 Popular Vote Loser Donald Trump with a platform this morning (November 29, 2020) to vent his discredited allegations of fraud in the November 3 elections.
Among Trump's false or questionable claims and statements during this event were:
Foreign leaders told him that the election "was messed up."  Of course, Ms. Bartiromo did not ask Mr. Trump the names of those leaders.

"I was called by the biggest people that said congratulations." 

Again, the "journalist did not ask the names of these "biggest people."

Messed up voting machines switched Trump votes to Biden ones.
Cheating in Philadelphia.
Thugs threw out poll watchers in Philadelphia, Detriot, and Milwaukee.
Mail-in ballots are a disaster.
Joe Biden did not get 80,000,000 votes.
Dead people applied for ballots and voted.
Democrats stuffed ballot boxes with Biden votes.
Trump ballots were thrown into a river and under rocks.
We have thousands of votes that will tilt the election toward us.
The non-Trump Supporting Media do not want to report on this and are Fake News/the Enemy of the People.
He condemned the Republican Georgia Secretary of State and said he was "ashamed" he supported Governor Brian Kemp. Democrats hoping to out turn-out the Republicans in the Georgia Senate run-off elections in January are very happy with those comments.
He chastised officials in his own administration like Chris Krebs, the former person in charge of election security at Homeland Security.
He said he was proud to pardon Micheal Flynn, the one who betrayed his country and lied twice to the FBI.
He whined about the Mueller Investigation.
He said he had done more than any President.
When Bartiromo asked Questions
Bartiromo did actually ask, on the surface, reasonable questions but she couched it with selective citations and sources from Reuters and the Federalist Society. Trump gave unhinged answers or evaded the questions.
What about all the judges that ruled against you?
Trump said, "Judges don't want to get involved." Trump neglected to mention that his lawyers have never presented evidence of substantial fraud in any of the over 30 hearings they and their allies have lost. 
What about the FBI and Justice Department getting involved (she asked this twice?)
Trump said they are "missing in action."
What other evidence do you have that you can prove this in court (she obviously forgot about the over 30 cases that have been thrown out in part because of lack of evidence?)
"We're trying to put the evidence in and the judges (including conservative ones, some of whom appointed by Trump) will not allow us to do it."
Asked if Trump could prove the computer controls were not in place (she asked twice)
He did not answer that question.
When would he take his case to the Supreme Court (she asked that twice too?)
He would not say.
The mainstream media has wasted no time in condemning Ms. Bartiromo's "approach" to Mr. Trump. 
Former Ted Cruz speechwriter Amanda Carpenter, before appearing on CNN's Reliable Sources, said:
"Let's be clear. Maria Bartiromo is not interviewing the President. She is providing him a free platform to feed his base talking points uncontested. (Yum yum!) This is propaganda. Watching Maria is like watching an infomercial. 'Can you tell me more about how, how this blender could really make me a smoothie? Please show me how!' This is the level of questioning we are seeing here. Whew Maria went all in on at least three different conspiracies at the 10:42 min mark. She's way off the deep end. This isn't a Trump problem, it's a Fox problem."
Brian Stelter, the host of Reliable Sources, commented that Trump was "unable or unwilling to accept reality." 
He also said of Bartiromo:
"Maria Bartiromo, once a feared and acclaimed journalist, best known for working the floor of the New York Stock Exchange, forcing CEOs to tell the truth, now sits behind a desk and invites the president to lie and lie and lie."
CNN Media reporter Oliver Darcy, also commenting on Reliable Sources, stated:
"Frankly, there is not much daylight between Maria and [Infowars conspiracy theorist] Alex Jones."
Jonathan Rauch, another panelist on Reliable Sources, said Trump's comments and statements were "a classic Russian-style disinformation campaign."
Journalists are not supposed to:
Let people spread knowingly false information.
Encourage people to spread knowingly false information.
Repeat knowingly false information as if it was true.
Cherry-pick informational material and cite references from dubious sources.
Abandon reality.
Maria Bartiromo did all of these things in her "interview" of Donald Trump by embracing his discredited statements and positions.
She has shown all journalists what not to do when given this opportunity.
This is another reason not to watch certain shows, like hers, on Fox Island.
People are better off to watch or read from the below mainstream sources: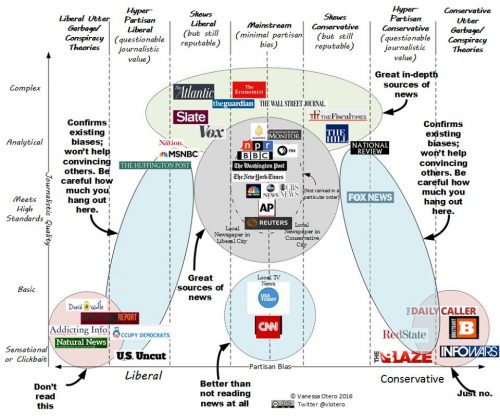 Stay anchored in reality by keeping away from sources like Fox Island and Disinfowars.