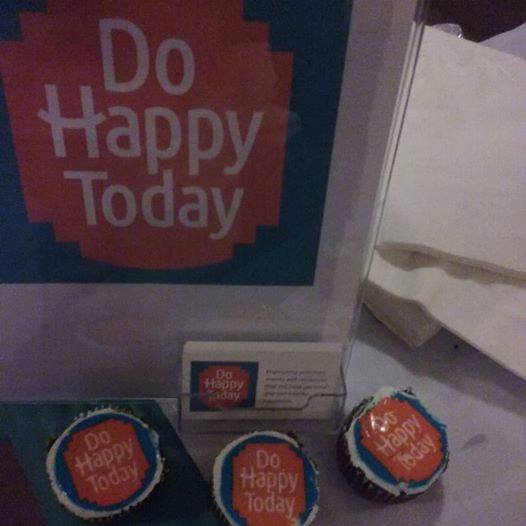 Do Happy Today Partners Weekend, March 18 and 19
7:30 a.m. to 1 p.m., March 18: Tucson Habitat for Humanity Do Happy Today "Rainbow Build" at Copper Vista II, 5761 S. Copper Plate Drive. To volunteer, contact Joseph Howell at 520.260.9959 or joseph@habitattucson.org
10 a.m. to 3 p.m., March 18: DHT at Rillito Bend Neighborhood and Tucson Valley of the Moon Home/Garden Art Tour and Live Happy Wall, 2544 E. Allen Road. Bring your Walkabout Talkabout Book. Free download atwww.communityrenaissance.biz .
March 18-20: 10:30 a.m., March 18: Storytime on Happiness at Himmel Park Branch, Pima County Public Library, 1035 N. Treat Ave. March 18-20:People can fill out a blank flower-shaped paper available at the library's information desk and answer "What makes me happy?" or "How do I share happiness?" (520.594.5305 or www.library.pima.gov/himmel)
10 a.m.-2:00 p.m., March 18: Celebrate Historic South Park Community at Park Ave. Between 27th Street and 31st Street. Family activities, food, music and more. Contact Glenn Davis (520) 870-8109.
4 to 6 p.m., March 19: Limberlost Neighborhood Association Community Fair, Limberlost Park, 4255 N 4th Ave. Café 54 Food Truck (invited), Live Happy Wall, Architectural Design Display for City of Tucson first feng shui well-being path, Limberlost Little Free Library and info from various community groups. Bring your Walkabout Talkabout Book. Free download atwww.communityrenaissance.biz/happyu. City of Tucson's Do Happy TodayProclamation will be featured at the event.
March 20: Official International Day of Happiness
Noon to 2 p.m., March 20: Café 54, 54 E. Pennington St., DHT and TENWEST – Live Happy Wall available to share personal happy thoughts;featuring Tucson Mayor Jonathan Rothschild reading Proclamation at Noon. (www.cafe54.org or 520.622.1907)
March 20: DHT Flowers – Southwest Fair Housing Council to deliver to participating partners
March 20 to March 25: Bentley's House of Coffee & Tea, 1730 E. Speedway: Live Happy Wall available to share personal happy thoughts. (www.bentleyscoffeehouse.com)
March 20 to 24: Happy Wall at Connect Coworking
March 20 to March 24: Make Way for Books, 700 N. Stone, Happy Wall; story time on March 24 at 10 a.m. will focus on happiness (www.makewayforbooks.org)
March 20, noon-3 p.m.: Himmel Branch Library, 1035 N. Treat Ave. – Mah Jong, Healthy Brain and Happiness; 5 p.m. – UA Master Gardener Presentation on Warm Season Vegetable Gardening/Eat Healthy and Happiness
March 20, 4-6 p.m.: Girl Scout Resource Center, 4300 E. Broadway Blvd.: Girl Scouts Troop 1934 "Science of Happiness" Merit Badge Activities, including Happiness Survey, Making a Happiness Journal, Gratitude Cards and Bliss/Happy Bags
March 20: Live Happy Wall for Tucson Medical Center staff and visitors only
March 20: Tucson Downtown Partnership will host an outdoor Live Happy Wall, time and location to be announced.
March 20: Woods Memorial Library, 3455 N. 1st Ave., will host a Tree of Gratitude. Patrons can add their thoughts about what makes them happywww.pima.library.gov/woods .
March 20: Joel D. Valdez Library, 101 N. Stone Ave., will host a Live Happy Wall in the lobby.
"Do Happy Today is an all-volunteer collaborative community effort dedicated to encouraging personal and community happiness and well-being, as well as engaging southern Arizona communities in positive change. DHT is coordinated by Community Renaissance, a locally owned community development business.  This year Do Happy Today is partnering with two national efforts: Happiness Alliance www.happycounts.org and Live Happy Magazine's #happyacts and Happy Walls. The Happy Walls are popups, and content shared will be collected and thematically summarized by Community Renaissance and share via social media."
Other events after March 20: http://betterforusb2b.blogspot.com/2017/03/list-of-events-312-for-do-happy.html?spref=fb:
More information about Do Happy Today is available at www.dohappytoday.com,www.facebook.com/dohappytoday or   www.communityrenaissance.biz .