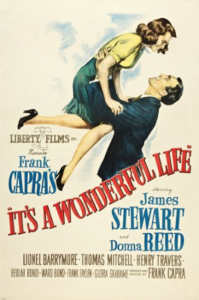 Showing for 2 afternoons at the lovely Fox Tucson Theatre, 17 W. Congress St. on Dec. 20 and 23 (both at 2 p.m.).  Tickets only $5 to $7.
http://foxtucson.com/events/show-all/
"Every time a bell rings, an angel gets his wings."
"Almost 70 years after its release, this film is still one of the greatest movies ever made and a sure-fire holiday favorite. An absolutely magical story that helps anyone who watches it to remember what actually matters in life! George Bailey spends his entire life giving up his big dreams for the good of his town, Bedford Falls, as we see in flashback. But in the present, on Christmas Eve, he is broken and suicidal over the misplacing of an $8000 loan and the machinations of the evil millionaire, Mr. Potter. His guardian angel, Clarence, falls to Earth, literally, and shows him how his town, family, and friends would turn out if he had never been born. George meant so much to so many people; should he really throw it all away?"
Director: Frank Capra
Writers: Frances Goodrich (screenplay), Albert Hackett (screenplay)
Stars: James Stewart, Donna Reed, Lionel Barrymore
Carolyn's note: Haven't you had a lot of adversity (seemingly all at the same time) and felt discouraged in life, wondering why you were alive at all?  That is indeed when we need our Guardian Angels to help us out.  Watch this beloved movie at the beautiful Fox Tucson Theatre downtown, and enjoy the holiday lights.
It is a wonderful life.