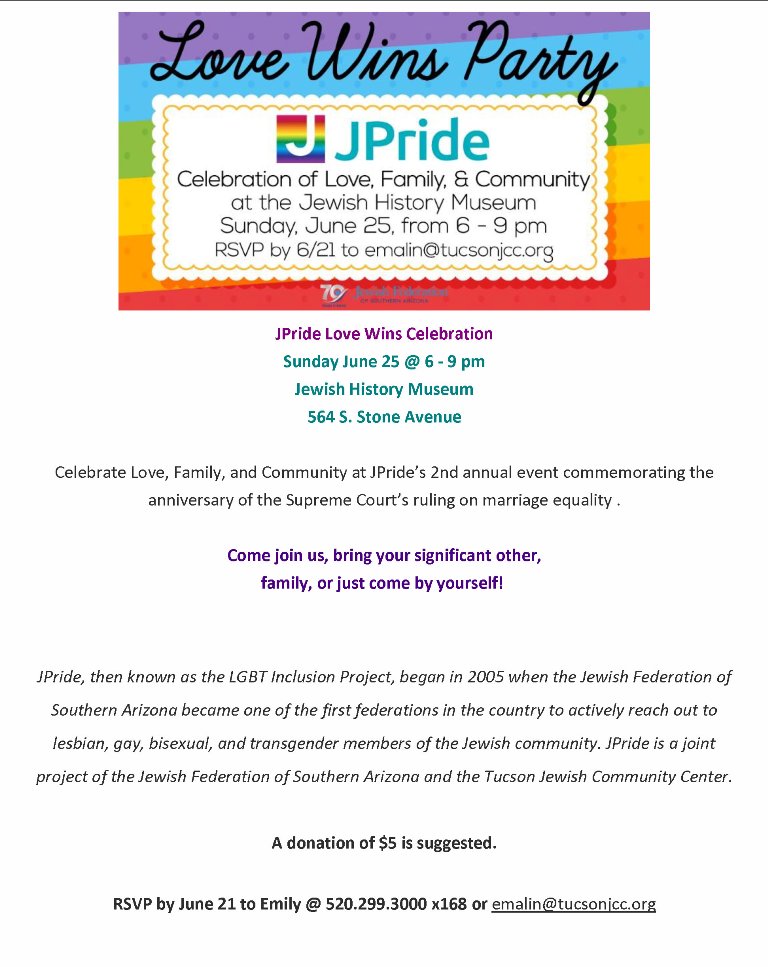 "JPride will sponsor a Celebration of Love, Family, and Community at the Jewish History Museum on Sunday, June 25, from 6 p.m. to 9 p.m. This is the group's second annual event commemorating the anniversary of the Supreme Court's ruling on marriage on June 26, 2015.
Weather permitting, the event will be held in the museum's garden.
JPride, then known as the LGBT Inclusion Project, began in 2005 when the Jewish Federation of Southern Arizona became one of the first federations in the country to actively reach out to lesbian, gay, bisexual, and transgender members of the Jewish community. JPride is a joint project of the Jewish Federation of Southern Arizona and the Tucson Jewish Community Center.
"Come join us and bring your significant other, family, or just come by yourself!" says Thomas Sayler-Brown, event chair.
RSVP by June 21 to Emily Malin at emalin@tucsonjcc.org. A donation of $5 is suggested."
Carolyn's note: I attended this prideful event last summer. Our Tucson Jewish Mayor Jonathan Rothschild was speaking on the patio outside and then a huge monsoon thunderstorm broke out, so we (plus the musicians and the catered food) all had to quickly move into the main museum. We all got soaked, but it was a terrific event to celebrate gay Jewish couples and their love & commitment to each other, and the community's blessings and support.  And it was a great way to beat the summer heat, with the refreshing, monsoon rains.