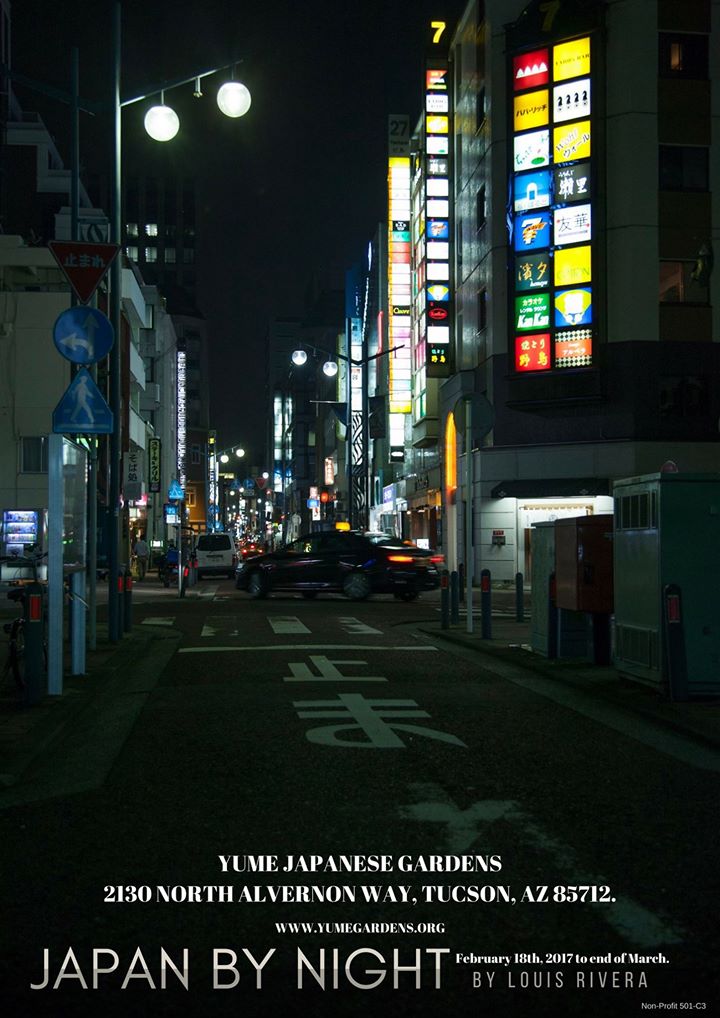 Freelance photographer Louis Rivera will be opening his photo exhibit "Japan by Night" on Feb. 18, 5 to 7 p.m. at Yume Japanese Gardens of Tucson, 2130 N. Alvernon Way.
"Louis  was born and raised in San Diego, California where he first got exposed to Japanese culture thanks to the thriving community and local supermarkets. Wanting to share this culture's beauty, Louis began practicing photography. He also co-founded a blog called Chasing Japan, where he writes about the Japanese culture and his take on photography. As a self-taught Japanese speaker, he also took a Japanese language class for a semester. Last year, Louis took a trip to Japan, covering half the country while recording photographs for the gallery, "Japan By Night." The gallery features pictures of Japan's unique spirit at various places during the summer months."
Carolyn's note: I have lived twice now for short periods of time in Mega-
City Tokyo, and Japan by night is a fascinating experience. Bright, neon lights in a vibrant, safe society. Louis recently served as MC at our Tucson Japanese Festival at PCC Downtown on Jan. 14, 2017. He has studied the Japanese language, traveled in Japan, & speaks better Japanese than me, a Sansei (3rd generation Japanese American).
Photo Exhibit Gallery opening 2/18 (Sat.) 5pm~7pm
Photo Exhibit 2/19(Sun.)~3/28 (Tue.) 10:00 am–4:30 pm
Exhibit included with regular admission to Yume Japanese Gardens.
Info: www.yumegardens.org.
FB page: https://www.facebook.com/events/1273716746041298/
To see other great photos, go to FB page for Louis River Photography: https://www.facebook.com/LouisRiveraPhotography/