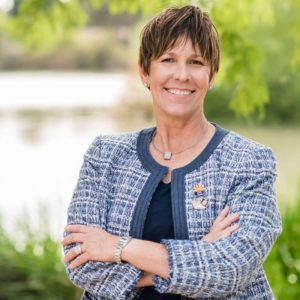 At the same Sozo coffee shop in Chandler where we met before the primaries, Arizona Congressional District Five Democratic Nominee Joan Greene, along with her campaign advisor Ryan Winkle, eagerly communicated that the district is not the "red-headed stepchild that pundits have made it out to be" and the prospects for victory at the representative and local level is real. During our conversation, she relayed how she would campaign to victory over incumbent ultra conservative Andy Biggs and what she would do as the new Arizona Congressional Five House Representative starting in January 2019.
Campaigning to victory in November
 Stating that the people "expect us to fight" and yearn for candidates to give them a "reason to vote," Greene sees a path to defeating incumbent Andy Biggs this November.
Campaigning on the issues of expanding health care, preserving Social Security, Medicare, Medicaid, funding education, and fighting corruption (namely Biggs's), she has found a hungry and enthusiastic following in the district that are "disgusted with Biggs being Trump's puppet, getting us another two trillion in debt and not listening to the people of CD5 but only to his donors."
She believes that she is the candidate, unlike the incumbent who rarely interacts with his constituents, who is the authentic and genuine (as well as uncorrupted) spokesperson for the people in the district and their hopes for the future. She sees herself as the good neighbor who cares for the people in the district and their needs and concerns, contrasting that with her opponent who she maintains "gives nothing to the community," making him a bad neighbor.
She is eager to debate her opponent on his record, her proposals, and the issues most pertinent to the district. However, Biggs seems reluctant at this time to engage with Greene either because he is arrogant to think he is untouchable in an electoral contest or because he is afraid to debate on the all the issues in front of unvetted crowds where his views contradict those of a substantial portion of the populace in this district.
To counter assertions that her views and ideas are weak and border on socialism, she replies that her opponent and allies "they have no idea what the definition of a Socialist is," further commenting "unlike my opponent, I want to protect Social Security, Medicare, and Medicaid for our vulnerable citizens. I want to help our fellow Americans in times of disaster by voting for Hurricane Relief Funding, as an example. I will be working for the people and not wasting taxpayer money. These are not weak ideas but what the constituents of CD5 expect and should receive."
Her first actions as the new Representative from Congressional District Five.
 If elected to the House in November, Greene would immediately pursue three pieces of legislation. These acts are:
"Cracking down on the "legal insider trading" elected officials do to enrich themselves and their families. Enforce 2635.702 Use of public office for private gain."
" Co-sponsor House Resolution 933, the resolution calls on Congress to take all appropriate measures to ensure that the United States Postal Service remains an independent establishment of the Federal Government and not be subject to privatization," including the breaking up of the postal union.
"Joining with my colleagues who will be strengthening our health care system for everyone, which includes pre-existing conditions, and ensuring Social Security, Medicare and Medicaid are not touched by those who wish to do the program's harm."
With regards to the House leadership, she commends former speaker Nancy Pelosi for all that she has done for the Democratic Party. However, she would not commit to supporting the former Speaker for a return to her former role, commenting that she would "weigh the pros and cons of each person (speaker candidate)" and his or her ability to lead and challenge the Republicans "and only then will I be able to render the vote."
With regards to the potential impeachment of President Trump, she relayed that "If the Mueller Investigation recommended it, that would mean crimes were committed and as my opponent likes to say (when it suits his narrative) we are a nation of laws. No person is above the law and legal actions must go forward."
Concluding Thoughts
 Joan Greene is a very passionate Congressional Candidate filled with good ideas on how to lead Arizona Congressional District Five forward. Links to her social media sites and an earlier profile on her candidacy are below. The district is not as red as pundits think and state and national Democratic officials may want to consider sending more resources to this district to help her and the local state candidates within it emerge victoriously.
https://blogforarizona.net/congressional-five-democratic-house-candidate-joan-greene-fights-against-the-cronyism-incompetence-and-corruption-of-incumbent-andy-biggs/#comments
https://www.facebook.com/JoanGreeneAZ/
https://twitter.com/joangreeneaz