From Pima County Clerk of the Board:
Pima County seeking Justice of the Peace applicants
 PIMA COUNTY – Pima County Justice of the Peace José Luis Castillo is retiring effective Aug. 30 and as a result, the county is seeking a replacement for Precinct Two.
Applicants for the position need to meet the following requirements:
18 years of age or older at the time of the appointment
Registered to vote in the precinct
Resident of the precinct
Same political party at the person vacating the office (Democrat)
Interested parties should file the following with the Clerk of the Board:
Letter of Interest
Resume
Financial disclosure statement
The submission deadline is 5 p.m., Aug. 28.
The League of Women Voters will be conducting a public forum to introduce and interview the candidates on Thursday, Sept. 10 from 6 p.m. to 7:30 p.m. at the Eckstrom-Columbus Library, 4350 E. 22nd St..
The Board of Supervisors will make the appointment at their meeting on Sept. 15.
Map of Precinct 2 from Supervisor Ramon Valadez: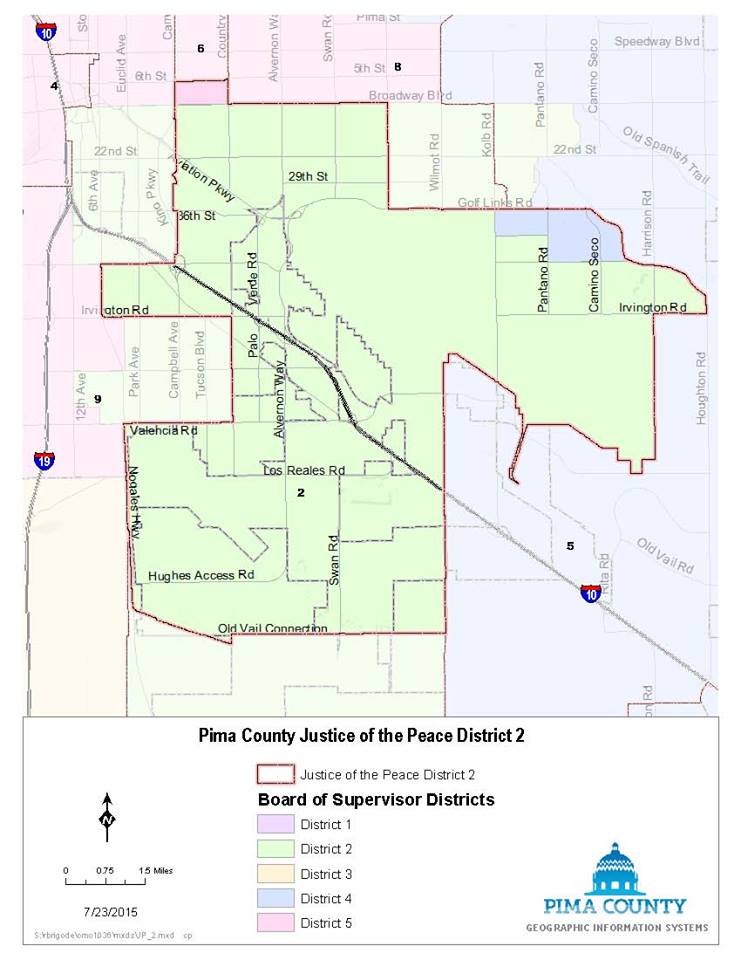 Contact:
Robin Brigode
Clerk of the Board
520-724-8449
robin.brigode@pima.gov
Info on how to apply here at Pima County's webpage: http://webcms.pima.gov/cms/one.aspx?portalId=169&pageId=214831
Biography of Judge Castillo from his webpage:
Judge José Luis Castillo, Jr. is the senior Justice of the Peace in Pima County. He was first elected in September 1994. He is a former public defense attorney who earned his B.A. (anthropology) and his J.D. from the University of Arizona. He honorably served active duty in the United States Marine Corps and thereafter in the Army National Guard. He is a devoted father to his three children for whom he writes stories and poetry. Among his interests are improving court access through the use of technology, the architecture of Luis Barragán, MesoAmerican archaeology, music and the romantic works of Gabriela Mistral, George Eliot, Pablo Neruda and Kahlil Gibran. He has a passion for preserving the history of the Courthouse and particularly the courtroom formerly called "Courtroom F" & known now as "Courtroom 8" since mid 2009. The judge is one of a few fluently bilingual judges in the State of Arizona. 
UPDATE: 8/28 application deadline past: Here's the names of the applicants, to be interviewed at LWV forum before final appointment:
Patrick Alan Moran
Alfonso G. Ramirez
Richard S. Madril
Chris T. Holguin
Arlene D. Leoni
Henry Atha