"The International Day of Peace ("Peace Day") is observed around the world each year on 21 September. Established in 1981 by unanimous United Nations resolution, Peace Day provides a globally shared date for all humanity to commit to Peace above all differences and to contribute to building a Culture of Peace."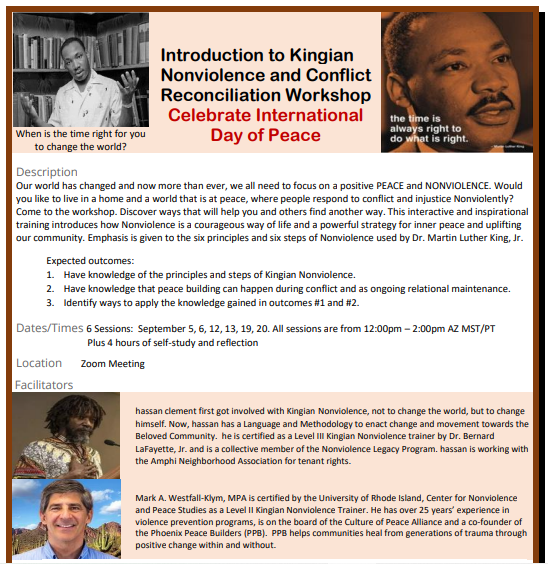 "Cost: This event is offered on a gift economy basis where everyone is welcome regardless of financial status. During the training, the facilitators will explain gift economics and share the cost of producing the course. No fee is required, but donations are gratefully accepted. Some people can donate, some cannot, some raise the funds. Donate here.
Register in advance: Click here. Questions? Call Mark 602.799.4572Or email markaklym@phoenixpeacebuilders.org"
www.phoenixpeacebuilders.org
Carolyn's note: I took these workshops and received a certificate of completion a few years ago. What I got out of these sessions was acceptance that conflict was normal, that one had to just accept it and work through it with all the people one encountered in life that were difficult, in your family, at your work place, in your groups. I also knew that violence and abuse were never effective means to resolving conflicts, after 15 years as a Hearing Officer in Small Claims Court.